It's the best of times and the worst of times for Sherry Williams, owner of culinary landmark King Ribs Bar-B-Q.

She and her husband, David, operate two locations—their flagship store at 3145 W. 16th St., and another at 4130 N. Keystone Ave. Last year, they brought in $3.8 million in revenue and are on track to reach $5 million this year.

That's the good news, of course.

On the other side of the ledger, they're struggling with a slew of issues endemic to the time- and labor-intensive barbecue market. Those include an unquenchable demand for trained staff, rising costs for everything from meat to charcoal, and the logistical hassles of getting their food (which takes anywhere from four hours to half a day to prepare) to customers.

The Williamses, both in their 50s, work seven days a week to help make it happen.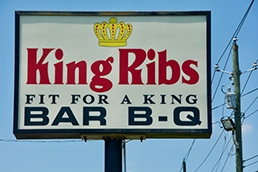 "We've made our money, but we can't do anything with it," Sherry Williams joked. "We don't have time."

During her rare off-the-clock moments, Williams can take pride in the success she's enjoyed in a food-industry niche notorious for chewing up and spitting out competitors.

According to Kell Phelps, publisher of National Barbecue News, about 90 percent of barbecue joints don't survive their first year. Many fall prey to the same error made by budding restaurateurs of every stripe—failing to realize that being a good cook and a good businessperson are two entirely different things.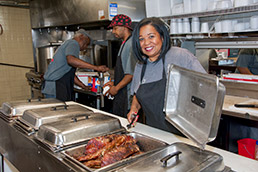 King Ribs owner Sherry Williams is one of only three people who know the recipe for the restaurant's signature sauce.
(IBJ photo/Daniel Axler)
"We see a lot of guys who get started cooking in their back yards, and instead of maybe going into catering, they just start a restaurant—not having a lot of knowledge about what that takes," Phelps said. "Eventually, they wind up hating cooking."

In retrospect, Williams' own entree into the field sounds almost idyllic. It began back in 1990, when her late father, Theopolis Clardy, opened the first King Ribs at 4130 N. Keystone Ave. At the time, she was an accountant at Thomson Consumer Electronics, with no designs on a restaurant career. But after learning the business by working weekends at her father's store, she and her husband opened their own on Lafayette Road in 1992, before moving to their current 16th Street location a few years later.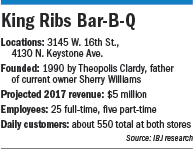 Today, they also operate the original Keystone store. Sherry Williams' sister, Michelle Dean, owns a King Ribs location at 5610 Georgetown Road.

National experts say this family business model is pretty much the norm.

"The backbone of the barbecue-restaurant industry is still mom-and-pop, single-store locations," said Stuart Meyer, CEO of the National Barbecue & Grilling Association.

Meyer reckons there are something like 14,000 barbecue and grilling establishments in the United States, and that the industry generates $2.7 billion in annual revenue. There are a handful of regional and national chains—like Columbus, Ohio-based City Barbeque, with 36 locations, and Minneapolis-based Famous Dave's, with 163—but for the most part, the niche is dominated by small, family-owned players.

Any potential McDonald's-caliber national contender would face the same problems that bedevil King Ribs. It's tough to find knowledgeable help, and the food is hard to prepare consistently and well.

"The biggest challenge for any barbecue restaurant trying to scale up is maintaining the quality and constancy that a lot of these places build their reputations on," Meyer said. "It's very difficult. That's why you see so many families in these restaurants—because it's typically going to be a family member who opens the next store."

Not that barbecue isn't popular. People come from as far afield as South Korea, Japan and Australia to attend the NBGA's annual convention.

"American-style barbecue joints are expanding all over the world," Meyer said. "There are six or seven restaurants in Paris right now. These are exciting times for our industry."

If you can make a go of it, that is. Williams said one of her biggest problems is locating enough qualified help. When she finds good workers, she does everything in her power to retain them. King Ribs recently instituted a 401(k) retirement plan for its roughly 25 full-time employees (augmented by five part-timers).

"I think we've got great people here," Williams said. "I'll put them up against any other restaurant. If it wasn't for our employees, we would not have made it."

One also can't discount the couple's hands-on management style—again, a near-necessity in the idiosyncratic barbecue biz. For instance, the restaurants' meat isn't cooked in gas-fired ovens; it's smoked in charcoal-fired outdoor smokers. And while a run-of-the-mill burger takes only a few minutes to prepare, King Ribs' selections, ranging from ribs to chicken, need anywhere from four to 12 hours.

Then there's the problem of supply prices. Williams remembers buying 30-pound cases of rib tips for $12 back in the day. That same box now costs $45 to $55. And charcoal used to be $4 to $5 per 20-pound bag. Now it's about $15. And King Ribs needs 1,200 bags a week.

That all makes Williams' near-mystical ability to accurately estimate each day's customer inflow (and food production) even more valuable.

"We've pretty much learned how to gauge the flow of traffic," she said. "We know how long it takes to cook the ribs and the rib tips and the chicken. If we run out, it will be right at 11:45 p.m." (On weekends, they're open until midnight.)

The 16th Street store sees about 325 customers daily; the Keystone Avenue store, perhaps 220.

It seems no detail is too small for the Williamses to deal with personally. Take, for instance, the restaurant's signature sauce. They put it on their food and also sell it for $25 a gallon, which means they need to make about 400 gallons every week—a lot more on holiday weekends. The Williamses are the only ones (along with a single employee) who know the recipe and can therefore put it together.

However, they're currently negotiating with a local company to make the product off-site.

"If we do that, we can stop working as hard as we're working," Williams said.

Getting an outside vendor to handle sauce production would remove one item from the Williamses' to-do list, but there are still plenty of other responsibilities that only they, by choice or circumstance, handle. The biggest is catering. King Ribs generally does about two events per weekend.

"The biggest profit would be catering, if that was the majority of our business," Williams said.

But it's not the majority. Far from it. Again, the problem is manpower. When King Ribs takes its grills on location, the Williamses see to it personally. As in, they cook the food and set the tables. If it's a huge gathering (like a recent 2,500-person affair for Duke Energy), they take extra servers. However, Williams states with pride that she and her husband can handle a "routine" 300-seat gathering all by themselves. A catered King Ribs event typically costs $15 per person, with no restaurant-associated overhead to factor in.

"As far as profits, that's where the money is," she said. "But because it's just me and my husband, we can only take on so many jobs."

Of course, the pat answer is to hire a catering crew, but the Williamses have tried this a couple of times, only to watch it fail. Now they're gun-shy, worried that a few botched catering jobs could ding their reputation.

"Word of mouth is your best friend or your worst enemy," Williams said. "We're looking for someone to do this, because I think catering is such a good source of profit."

She also said that, while production at King Ribs is so carefully dialed in that franchising wouldn't be too hard, there simply aren't enough hours in the day to pursue it. So unless the couple sells out (a contingency Williams leaves open, but only if she can find someone who's as devoted to barbecue as she and her husband), what you see right now—two stores and limited catering—is basically what you'll see in the future.

At least there's no threat from larger competitors.

Steve Delaney, first vice president at real estate services firm CBRE (and a specialist in restaurant deals), has helped expand the local barbecue market by finding locations for Columbus' City Barbeque. It currently has five Indianapolis-area locations. But though regional players are starting to infiltrate the city, he still thinks places like King Ribs are safe.

"Generally speaking, barbecue tends to be local and unique to that particular market," Delaney said. "Everybody has their favorites, and everyone's favorite is that local guy who does it well."

Williams is equally sanguine. She figures the barbecue market is big enough for everyone. Or at least, big enough for King Ribs.

"I don't worry about it," she said. "I feel like there's enough money out there for all of us."•