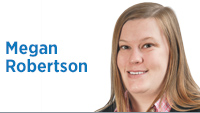 Being a Republican woman in an urban setting often means you have some politically charged conversations with your more liberal friends, family and neighbors.
The most basic questions you get will be how on earth you can still call yourself a Republican with the GOP positions on LGBT rights, the prevailing Trump issues of the day and the pro-life/pro-choice debate.
Now, there are many Republicans who are strongly pro-life, some even taking it as far as having no exceptions for rape or incest. And they are usually the loudest voices in the room.
But polling shows a noticeable split in the Republican Party on this issue. According to a Quinnipiac University poll released in January, 43 percent of Republicans agree with the Roe v. Wade decision, while 54 percent oppose it. As for the issue of defunding Planned Parenthood, a majority of Republicans, 63 percent, support ending the funding. That still leaves nearly 40 percent of Republicans against defunding Planned Parenthood.
If you have conversations with many Republicans, what you will eventually hear in very hushed tones is that, while they would not personally have an abortion or advocate a woman to do so, they do not think Roe v. Wade should be overturned or that Planned Parenthood should be defunded. In short, the status quo is OK, but they do not want pro-abortion policies that would take it any further in the other direction.
At a minimum, you will hear the complaint that being pro-life means more than just opposing abortion or being pro-birth. It means caring about the child after it is born and providing funding for programs that help lower-income families.
Despite all this, any time these issues are discussed at the state or federal level, the Republicans are almost completely in lockstep, saying they support overturning Roe v. Wade and defunding Planned Parenthood.
What exactly is the disconnect here?
In a nutshell, it is that these terms do not mean what we think they do.
People are declaring they are pro-life or pro-choice, but they are not finishing the rest of the sentence. They are not making clear where they really stand on the issue—and what it means from a policy perspective.
Being pro-life is not just about abortion. It's about reducing the number of unintended pregnancies so that a woman never has to make that decision. It's about making sure that new moms have the resources they need to raise healthy babies. And it's about valuing all families, not just those that look "traditional."
Our elected officials are hearing the same old refrains that we keep repeating—pro-life, pro-choice—and no context of what we expect from public policy. I am not sure whether anyone wants to change what our elected officials are hearing or not.
But I do know one thing: If we want them to hear something different, we are going to have to start explaining what we mean in greater detail.•
__________
Robertson is the executive director of Enterprise Republicans and runs her own consulting firm, Frontrunner Strategies. Send comments toibjedit@ibj.com.
Please enable JavaScript to view this content.