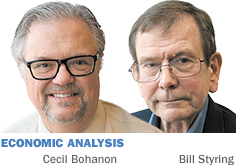 Elon Musk, CEO of electric-car maker Tesla, recently joined the chorus lamenting a future given over to artificially intelligent robots. Musk stopped short of predicting hordes of self-learning cyborgs rampaging down Meridian Street destroying every human in sight. He merely forecast that machines would take most of our jobs. Maybe, he said, government should give all of us soon-to-be-unemployed a Universal Guaranteed Income so we can spend our newfound leisure writing poetry and painting still-lives.
Is Musk onto something? Well, we've seen this movie before. Ever since the dawn of the Industrial Revolution, we've been substituting machine power for muscle power. The main consequence has been that life has gotten better.
Tesla's electric cars might be self-driving in a few years. If so, we'll need to find jobs for those 3 million or so unemployed truck and taxi drivers. Although that's less than 3 percent of the labor force, it's about the same percentage textile workers were in Britain's workforce in the early 19th century. Remember the Luddite-smashing cloth-weaving machines? Where would the Brits find jobs for all those unemployed weavers?
Economist John Kenneth Galbraith wrote in his 1958 book, "The Affluent Society," that "the problem of production has been solved. All that remains is the problem of (re) distribution."
This was the era when televisions and computers ran on vacuum tubes and airliners still mostly had propellers. What the Galbraiths and the anti-machine crowd always miss are the jobs that get created in the emerging sectors of the economy. Yet we are now told the onslaught of artificial intelligence is going to be so overwhelming that: "This time will be different."  
But we've handled huge labor force transformations in the past. In 1903, 46 percent of us worked on farms. Suppose back then you'd been told that, in less than a lifetime, farm "robots" would cause almost half of us to find different employment. Impossible! Mass unemployment and destitution! But it happened without such dire consequences. Today, old-style farming is confined to hobby farms, and we're happier we no longer have to pitch hay and scythe wheat.
Maybe the Musks and Galbraiths are right, but we're betting the other way. Human wants are insatiable. Did you even know you "wanted" a laptop with internet and a Google search engine until you had it? Or a smartphone? Until artificial intelligence can replicate human creativity—and our foibles—we're losing little sleep over it.•
__________
Bohanon is a professor of economics at Ball State University. Styring is an economist and independent researcher. Both also blog at INforefront.com. Send comments to ibjedit@ibj.com.
Please enable JavaScript to view this content.