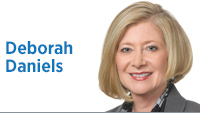 Last month, I wrote about our politically polarized society and my concern over the alarming level of violence among those who have political disagreements with others. I cited, in particular, the recent shooting of congressional Republicans by an irate citizen.
But for the presence of two armed Capitol Hill police officers, this very serious incident would without doubt have turned into a massacre.
The reality that, in that case, the presence of armed law-abiders saved lives brings up a different issue: Is the District of Columbia wise to ban handguns? None of the congressmen present that day was permitted to carry a handgun in the district, though many have gun permits from their home states. They couldn't defend themselves from the shooter; and if they had been forced to await the arrival of police, many more would have been injured or killed.
I agree in concept with John Lott's "more guns, less crime" theory, based on data indicating that violent crime decreases when states are required to issue gun permits to law-abiding citizens. The theory is that criminals are more likely to hesitate when they know it's possible that those they contemplate victimizing will be armed.
Having said that, I have never carried a gun or had a desire to, even back in the day when I was prosecuting some pretty dangerous people.
But many people like me are choosing to arm themselves, purely for self-protection. Indiana's first lady, Janet Holcomb, decided after a home invasion that she needed to receive training to fire a gun safely and effectively and to have a gun in her home for protection. She has now become a shooting enthusiast and an accomplished trainer of others.
I recently met another woman from Fort Wayne who, also through an encounter with a criminal, decided women need to arm themselves. She has founded a company specializing in purses and other items with disguised pockets in which women can carry a gun.
Several of my professional women friends now believe they should be armed in order to protect themselves and their families. They cite the increasing level of threatening comments they see on social media, what they perceive to be increasing violence in our community, and their growing fear that someone will break into their homes or accost them in public. They don't want to be victims. They're planning to ask Holcomb to train them to shoot.
I admit that I'm a bit astonished to see this and don't currently plan to join them, but I absolutely believe in their right to arm themselves for self-protection.
Now for the other side of the coin: What's wrong with passing a few laws that won't limit the ability of law-abiding people to carry weapons but will help to limit their availability to others? I'm thinking in particular of the gun-show loophole. I see no reason not to close it and require background checks of all purchasers at gun shows.
And frankly, I don't see any need for the general public to own semi-automatic weapons or armor-piercing bullets. Those who want to shoot such weapons for sport should be able to do so at a firing range, safely, but why should they need them anywhere else?
I'm sure I'll now hear from National Rifle Association members who will tell me it's their Second Amendment right. I'm aware of the constitutional issues, but can't we be reasonable and find a middle ground?
Oh, wait—it's that polarization thing again. No, I guess not.•
Click here to see all of the latest Forefront columns.
__________
Daniels, managing partner of Krieg DeVault LLP, is a former U.S. attorney, assistant U.S. attorney general, and president of the Sagamore Institute. Send comments to ibjedit@ibj.com.
Please enable JavaScript to view this content.