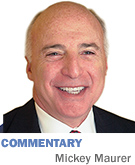 We don't stop playing because we grow old.

We grow old because we stop playing.

– George Bernard Shaw



Janie and I have been busy celebrating the big birthdays of our friends—70 years and more. Birthday parties are pretty much the same. There is the obligatory birthday cake and Happy Birthday refrain (I know it by heart). We skip the candles—not enough room on the cake. Some things have changed. Pin the tail on the donkey has given way to spinning yarns about the old days—remembering exploits that never really happened. Another more sobering subject has crept into our psyche: mortality.

I am disheartened over the melancholy exhibited by my contemporaries during what should be cheery occasions. Have you heard of the "lost generation," those coming of age after World War I? It seems my 70-plus-year-old friends are part of the "lasts" generation.

At his recent 70th birthday dinner, a friend lamented, "This is my last decade of productive life." We have all been affected by the disability and death of loved ones in their eighth decade (ages 70-79), but this is no time to surrender. There is still time for magnificent achievements. To paraphrase Tom Hanks in the movie "A League of Their Own," "There's no crying in birthday parties."

Another partygoer—already 71—said, "I bought a new car yesterday, probably my last." That may be true for some of us. Heart attacks, strokes and cancer begin to take their toll in the 70s, but getting older is not the end of driving or living and living well. Still another guest commented, "I'm skiing this winter for the last time." As we age there are activities we may be forced to curtail, but a decision of this sort made a year in advance seems to admit to a vulnerability that does not yet exist.

In your 70s, your back and joints will complain from time to time. My physician assured me, "All my patients your age who are free of aches and pains are dead." He also gave me nutritional advice for a long life: "If it tastes good, spit it out."

The 70s should be the decade of "firsts" not "lasts." Consider my list of firsts:

■ The first ride in an automobile driven by my 16-year-old granddaughter.

■ The first time I won a foot race because everyone in my age group was older—and slower.

■ The first time my wife was correct when she accused me of not hearing what she said.

■ The first time I didn't go to a required social engagement because I didn't want to go.

■ The first time I had a full day ahead of me at the office but slept until 10 anyway.

■ The first time I expressed no resentment when somebody asked me if I would like to join AARP.

■ The first time I went to a party for a 70-year-old and I was the oldest person in attendance.

■ The first time I qualified as a survivor.

■ The first time I hiked four days and nights on the Inca Trail to Machu Picchu with my daughter, who looked after me and I didn't mind the role reversal.

■The first time I learned that the Biblical limit of three score years and 10 is as false as Santa Claus.

■ The first time I had more doctors than body parts.

■ The first time that among the things I can't remember are things that I didn't want to remember anyhow.

■ The first time I had a chance to pursue dreams that I had set aside years ago.

Notable firsts in the first seven decades of life are the substance of great memories. Remember that lyric by the Four Seasons, "What a lady, what a night?" The firsts in the eighth decade can be every bit as sweet. Don't dread old age. Look forward to the "firsts" that lie ahead.•

__________

Maurer is a shareholder in IBJ Corp., which owns Indianapolis Business Journal. His column appears every other week. To comment on this column, send e-mail to mmaurer@ibj.com.