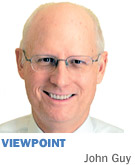 Standardized test scores (ISTEP) are not useful to measure teacher performance. This principle is self-evident: Using student test scores to measure teachers, and, by extension, their schools, is impossible, irrelevant, misleading, unfriendly and manifestly unfair. Why?
1. Each of Indiana's 64,000 public schoolteachers is an individual with personal attributes and baggage. Their circumstances are beyond behavioral modification by ardent outsiders. Age, health, experience, temperament, ambitions, home life, financial security, even vision and hearing vary widely and cannot be changed or improved by a test-based rating system. Their family responsibilities (such as taking care of an elderly parent), commute time and unique physical comforts (or discomforts) provided by their schools affect their ability to deliver information.
2. Teachers do not want to be evaluated by standardized criteria. The criteria is not uniformly applicable. It is fundamentally unfair. Take a walk through classrooms. In the first, Mrs. A teaches the orderly and provable principles of algebra, but next, Mr. B is presenting the less orderly events of human history. Teacher C is telling a class how to improve public speaking, while the next, Teacher D, is helping students clean up messy painting supplies. Band, physical education, writing, economics, geometry, trade field studies, foreign languages, all taught from different intuitive insights, cannot be compared to one another, or measured uniformly and accurately, by an outside clearinghouse. A letter grade for one teacher in one discipline is not comparable to a person teaching something else, and in the same discipline, a teacher in Gary cannot be compared to a teacher in Winchester. Because teachers understand this diversity better than anyone, they do not accept equality or justice in a rating system. Resentment is the byproduct.
3. Students do not benefit. By the time an employment or school-management decision is made based on tests, the tested students are on to another grade or school. Considering the normal distribution of talent, a student is likely to have one or two outstanding teachers in 12 years, and one or two who are not effective. The majority will be taught by teachers of average effectiveness. Test results can be used to tweak but cannot change this big picture.
4. If a teacher is dismissed for poor results, the replacement will be equally subject to the natural allocation of talent; replacements do not guarantee improved learning. Recognition and bonuses for outstanding teachers do not help because they cannot handle all students; they can teach only the lucky few in their classrooms.
5. Unlike most professions, evaluation standards for teachers have been created by outsiders such as legislatures that are dominated by persons who never have taught. The result is intimidation from mandates based on so-called business principles. In medicine, law, financial planning and the sciences, evaluation standards are created by members of the profession. They are accepted. To be effective, persons evaluated must believe in the system.
Testing can compare one student to another, as well as individual improvement from one testing date to another. It can help some to improve their learning and testing skills. Testing cannot improve teachers or entire schools. Business executives, chambers of commerce, hedge fund managers and endowment-funded think tanks—the great outsiders—should be ashamed for supporting a system that cannot work.•
__________
John Guy is an investment manager. His books are "Middle Man, A Broker's Tale," and "How to Invest Someone Else's Money."
Please enable JavaScript to view this content.