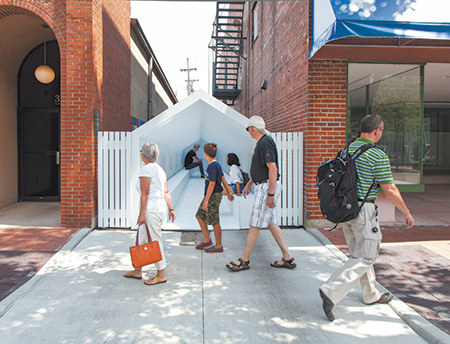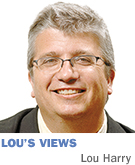 Do you have that cool relative you never quite get around to spending time with? Whenever youconnect, it's a great experience. But sometimes it takes a special event to make that happen.
That's Columbus, Indiana, to me.
Every visit I've made to the city—famed for its density of outstanding architectural work from the likes of I.M. Pei, Eero Saarinen, Robert Venturi and others—has been a pleasure. Enlightening, even. But buildings—its primary attraction—don't change, which can put a damper on motivation to revisit.
That's where the ambitious art-installation project "Exhibit Columbus" (through Nov. 26) comes in.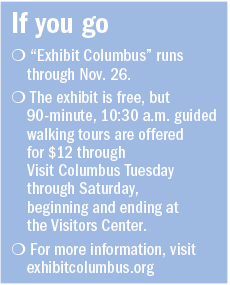 More than just a first-time conglomeration of curated outdoor sculpture, the works in the exhibition were designed and selected to reference, speak to and comment on the existing buildings around them. Five of the exhibition primary works—on display along Fifth Street and in Mill Race Park—were generated from head-to-head competition between designers, each pair of which had a specific location to work with. An additional five projects, placed along downtown's Washington Street, came from international designers. Six pieces created by university students are grouped together in one spot. And even high school talent got into the act with a contribution to the show.
It's all free, with assistance provided by tour maps and/or a GPS-enabled app that allows you not only to hear from the designers, but also add your own guided reactions to the pieces. Combined with the increased visibility for the city courtesy of the new movie "Columbus" (see review, page 42), it's already generated covers on design magazines and features in out-of-town papers, including The New York Times.
I visited Columbus while some of the work was still being installed, so I'll have to revisit (gladly). Here are just some of the works I did see.
❍ "Playhouse"
The most whimsical of the work comes from Snarkitecture/Volume Gallery. In it, an alleyway between Kidscommons Children's Museum and Zaharakos Ice Cream Parlor becomes a forced-perspective illusion similar to Willy Wonka's shrinking corridor. Seeming to be deeper than it is, the work invites visitors to stroll in, only to find the headroom getting tighter and tighter. Expect photo-op popularity here.
❍ "Synergia"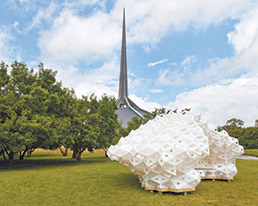 It's impossible to upstage Eero Saarinen's North Christian Church. But that's not the goal of this piece, created by a team of students from Indiana University School of Art, Architecture and Design. Instead, the students used laser-cut corrugated plastic cut into hendecahedrons (those are 11-sided figures—don't worry, I had to look it up, too), to build a geometric ice flow of a structure intended to inspire reflection. The rest of the college work—representing Ball State University, the University of Cincinnati, Ohio State University, the University of Kentucky, and the University of Michigan, all of which have master's programs in architecture and design—wasn't near completion when I visited.
❍ "Conversation Plinth"
Plinths are the supports for buildings or statues, but this one elevates the viewer instead of the viewed. Wrapping around the Henry Moore sculpture outside the Cleo Rogers Memorial Library, it's an elegant, dynamic series of rings and curves made from cross-laminated timber developed specifically for the piece from Indiana hardwood. I suspect there will be some strong pressure for the city to hang onto this work from IKD after the exhibit closes.
❍ "Between the Threads"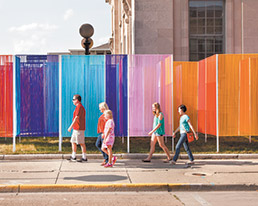 The ad hoc Exhibit Columbus High School Design Team, over the course of the 2016-2017 school year, conceived of "Between the Threads," a piece using 10-foot steel framing and wrapped colored threads in such a way that they create a maze of brightness. The linkage from high school through college to professional work adds yet another dimension to an already multi-dimensional show.
❍ "Theoretical Foyer"
Cody Hoyt/Patrick Parrish Gallery has uprooted more than 2,500 bland bricks from a street corner and replaced them with an equal number of bricks in 14 colors, creating a vibrant starting point for a tour of the town. More than just decorative, the work encourages consideration of the brick work throughout downtown.
❍ "Another Circle"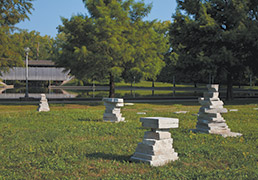 Mill Race Park is already a celebration of curves and sloped surfaces, with the east fork of the White River winding near Mill Race Pond. This work from ArandaLasch adds 1,100 pieces of salvaged Indiana limestone to the landscape. From a distance, there's a cemetery-like aspect to the slabs. But closer inspection reveals pockets of activity areas, implied games and congregation points while hinting at something ancient connecting river and pond.
❍ "Anything can happen in the woods"
Plan B Architecture & Urbanism lifted a line from Stephen Sondheim's "Into the Woods" for this addition to the Cummins Corporate Office Building's pergola. The original structure is wood with foliage winding in and around it. The added reflective metallic columns insert a powerful modernity into the existing bucolic work but temper it with, on the ground, grass-covered mounds. These offer unexpected places to sit, oddly echoing the conversation pit in Columbus' most famous architectural spot, the Miller House. Depending on where you are coming from, it can feel post-apocalyptic or like technology and nature working in harmony.
❍ "The Exchange"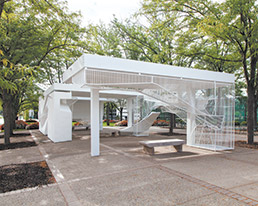 Oyler Wu Collaborative took the existing canopies of the former drive-up bank bays of the Eero Saarinen-designed Union Bank Building (one of Columbus' most-discussed landmarks) and added wildly impractical elements. The result is a solid white, elusive melange of welded steel that feels like the doodles in an architect's notebook. Bonus: It takes on richer context when reflected in the floor-to-ceiling windows of the building that inspired it.
Organizers are planning for "Exhibit Columbus" to return every other year, with an architecture and design symposium in between. Here's to a new Indiana visual arts tradition.•
__________
This column appears weekly. Send information on upcoming arts and entertainment events to lharry@ibj.com.
Please enable JavaScript to view this content.