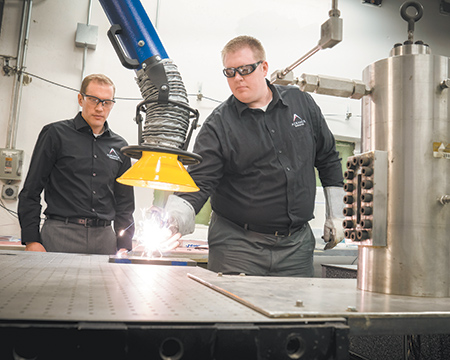 Purdue University is becoming a powerhouse for producing startups. And that's exactly what President Mitch Daniels wanted when he arrived in 2013.
Before the former Indiana governor took the helm, the public university used its intellectual property to create about eight startups annually. The school has been averaging nearly three times that each year since, largely because of Daniels' emphasis on startup creation.
The brisk pace has helped Purdue increase its ranking on prominent national surveys related to technology transfer, the process of commercializing an invention or discovery born at the school. And the potential benefits of being startup-friendly include economic development, faculty and student attraction, and robust financial returns that can fuel the growth of more startups.
The quality and impact of companies created so far remain to be seen, but university officials and newly minted entrepreneurs there said they are pleased with the startup ecosystem that's been forged at the school. And officials are plowing ahead with efforts to further bolster startup resources for enterprising Boilermakers.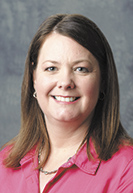 Rasche
"I've never started or even thought of starting my own company," said Nancy Rasche, an assistant professor at Purdue and CEO of Experience Design Group, a Purdue-affiliated startup that makes software that helps autistic children learn to read.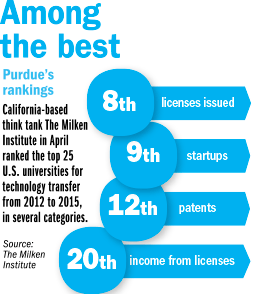 "So [Purdue] was able to help researchers like myself look at that as a possibility, which probably would have never happened if someone hadn't stepped up and said, 'Here's what you can do.'"
Rising star
Post-secondary schools commercialize intellectual property in two ways—by licensing it to existing companies or using it to start companies.
Under Daniels' direction Purdue has stressed the latter, helping the school raise its profile as an entrepreneurial hub. The Association of University Technology Managers said its most recent "Licensing Activity Survey," which is based on 2015 data, ranked Purdue sixth in the country for its creation of 25 startups that year. That's up from 2005, when it created six startups and was tied for 15th.
And research firm The Milken Institute in April listed Purdue No. 12 on its "Best Universities for Technology Transfer" list, which scores schools based on factors such as startups created and licenses issued. It was No. 39 the last time the report was produced in 2006.
The 2017 report had Purdue No. 1 among Midwest universities and No. 1 for public universities without a medical school.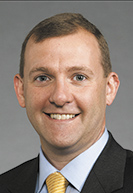 Susalka
In April, when California-based Milken released its report, Daniels said in a statement: "We have knocked down the barriers that often kept important Purdue-based research from reaching the marketplace in a timely way and built what we believe to be the most friendly, conducive environment to ensure our research and the innovations that result reach their fullest potential."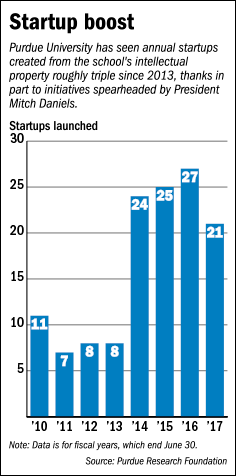 Public and private universities for decades have commercialized technology, but industry observers said in recent years schools are dedicating more resources to it—likely part of an effort to demonstrate value to stakeholders and generate revenue amid budget challenges.
Startups in particular can yield several benefits to a university, including job creation for alumni and others in the school's orbit. AUTM found that nearly 70 percent of startups created by universities have a principal place of business in the same state as the school.
To spawn startups, Purdue has launched accelerator programs to train innovators, as well as three venture capital funds to fund them.
Among Indiana colleges, Purdue is not alone in stepping up its game.
Indiana University, for instance, announced in June that it was launching its second venture capital fund and restructuring its tech-transfer operation to better help IU-affiliated startups secure capital, space and talent.
Milken said IU ranked 49th in its recent survey, up from 61st in 2006.
"Tech transfer is becoming more and more multifaceted," said Steve Susalka, CEO of AUTM. "Not only do universities license intellectual property developed at their institution, but they're becoming, in many cases, more involved with the formation of these startup companies."
Vehicles of change
Tech-transfer observers link Purdue's rising fortunes to Daniels arrival as president four years ago. Specifically, Dan Hasler—the former Indiana commerce secretary who joined Purdue as CEO of the Purdue Research Foundation—challenged school officials to devise a new system for cultivating and supporting startups.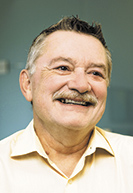 Peoples
Officials answered the call by creating two organizations: The Purdue Foundry and Purdue Ventures.
The Foundry, founded in 2013, is a commercialization accelerator. Its four-part program, which can be completed in seven months to a year, is designed to help innovators turn ideas into businesses.
Purdue Ventures, founded in 2015, oversees three venture capital funds with assets ranging from $2 million to $12 million. (A fourth, $10 million fund is in the works). It also helps companies land talent and mentors—done in part by mining social networks for Purdue alumni with skills that align with that startup.
Both agencies fall under the umbrella of the Purdue Research Foundation.
Before the Foundry's launch, the university had no formalized resources to help build startups around discoveries—whether it was a promising cancer treatment developed by a chemistry professor or soil-mapping technology created by a graduate student.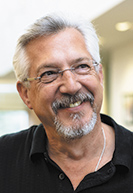 Hanak
The only way Purdue officially helped companies was through its four technology parks, essentially incubators. But these were aimed at businesses already in operation, not new ideas.

"The companies in the incubator have a business plan, money and a management team," said Tim Peoples, managing director of the Purdue Foundry. "We're starting with a raw idea in the Foundry, whereas in the tech center they're dealing with a formed company with a known direction."
The funds within Purdue Ventures were created as early as 2014, but in 2015 the university put them under one roof. The three funds are the $12 million Foundry Investment fund, backed by Bloomington-based Cook Medical; the $2 million Elevate Purdue Foundry Fund, backed by the state's 21st Century Fund; and the $2 million Ag-celerator fund, backed by the university itself.
The new $10 million fund will be called the Purdue Startup Fund. Officials are still working out its funding sources, but said it will target mature startups looking to raise mid-seven-figure sums.
"This will be larger investments in companies that have evolved a lot further," said John Hanak, managing director of Purdue Ventures.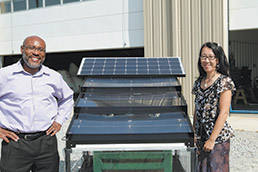 Husband and wife Klein and Reiko Ileleji created a solar-powered crop dryer to cut post-harvest losses in developing countries. (Photo courtesy of Purdue Research Foundation)
Other important changes came at Purdue's Office of Technology Commercialization, which around 2014 introduced an "express license"—a simple, non-negotiable contract. Purdue said the express license offers faculty and student innovators a lower-cost, transparent fast track to commercialization. The office also reorganized its staff to better address startup needs and started the Trask Innovation Fund that makes grants for fledgling compay ideas.
"The culture and the constant messaging across campus have been key," said Brooke Beier, executive director of Purdue's tech transfer office, speaking about reasons behind the increased startup activity.
"Our president has done a good job of making sure everyone knows commercialization is an important thing for Purdue to be doing to make an economic impact."
The impact
One of the companies that has benefitted from Purdue's entrepreneurial offerings is West Lafayette-based Adranos Energetics, which produces a solid rocket fuel that's cleaner and more efficient than fuels used today.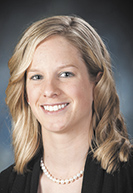 Beier
Adranos is run by Chris Stoker, an Indiana University alumnus, and Brandon Terry, a Purdue postdoctoral research associate. Terry, who formulated the fuel a few years ago, met Stoker through a mutual acquaintance and in spring 2015 started the company.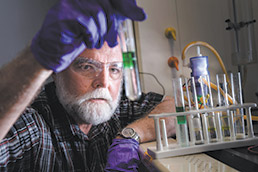 John Cushman is commercializing battery-charging technology. (Photo courtesy of Purdue Research Foundation)
The company received two investments totaling $100,000 from the Elevate Purdue Foundry Fund, and pitch-competition training from the Foundry.
That training, Stoker said, helped it win another $74,000 from business plan competitions around the country last year. And its connection to Purdue helped it secure state and federal grants totaling $200,000.
"They got us from idea to operations and funding and got us to some real legitimate goals that can help us commercialize our technology," Stoker said. "Without them I know we wouldn't have gotten off the ground."
Another beneficiary was Mimir, a grading-software firm now based in Indianapolis.
The three-year-old company was born out of student ideas—not university research—and therefore isn't considered Purdue intellectual property. Also, its founders opted not to tap into the array of services offered by the Foundry, such as business-plan drafting.
However, Mimir did use space and resources at The Anvil, a student-run co-working space partly sponsored by the Foundry.
The Anvil was where the idea for Mimir was born, and it positioned the company to be accepted into prestigious Silicon Valley accelerator Y Combinator for a few months in 2016.
Mimir went on to raise $750,000 in venture capital in 2016, with the Elevate Purdue Foundry Fund contributing $20,000.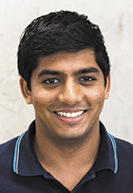 Veluvolu
"It's always good to have support from home," said CEO Prahasith Veluvolu. Mimir, which has 14 employees, plans to add 102 workers by 2021. "Cash wise, it wasn't the biggest influence for us, but I know there are other startups where … $20,000 can take them pretty far."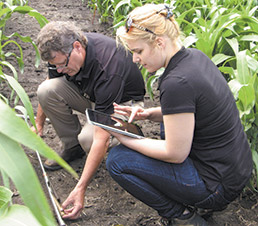 Phillip Owens and Jenette Ashtekar launched a soil-mapping business. (Photo courtesy of Purdue Research Foundation)
Since 2013, Purdue's invention disclosures have climbed 15 percent, while patents and licensing deals have risen far more—65 percent and 55 percent, respectively.
But gross licensing revenue is down about 25 percent over that time, to about $6 million from $8 million.
That suggests that licensing deals, on average, aren't as lucrative as they used to be.
Observers and school officials said several factors could be behind the lull, including the fluctuating nature of licensing revenue.
In addition, startups can take years before they generate royalties for the school.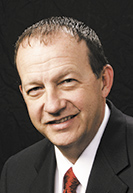 Long
"There's a balance between startups and licensing revenue," said Mark Long, director of the Sid Martin Biotechnology Institute at the University of Florida and former director of the Indiana University Research and Technology Corp.
"If you put your technology in startups, it may take three to 10 years for them to mature and pay off. If you instead license it today to Boeing, General Electric or Westinghouse, you get money immediately in the coffers."
Another benefit of Purdue's entrepreneurial push has been the opportunity it provides students enrolled in courses such as finance to work with startups tackling real-world problems.
And the new culture can pay off in another way—by serving as a magnet to attract new undergrads, graduate students and professors.
"It demonstrates that Purdue University is a place to come for entrepreneurial activity," Peoples said.
"It's an attractor for top researchers who want that research to have an impact," he said. "The same holds true for students: We're attracting the best and the brightest students to Purdue so they can get a great education but also view entrepreneurship and startups as a career option."•
Please enable JavaScript to view this content.