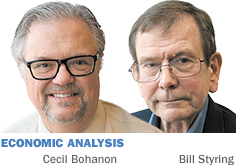 The NCAA's Indianapolis headquarters shows up in one of IBJ's famous Top 25 lists as one of the largest central Indiana not-for-profits. It's the kind of non-polluting, stable, prestigious operation every city lusts to have as a corporate citizen. It describes its function as the "governing body for college sports." If a school wants to be part of college sports, they must play by NCAA rules.
One service the NCAA provides for its members is to rig the market for student athletes. A winning big-time football or basketball team is a valuable asset. Success puts fans in the stands, hypes the sales of team gear, and generates revenue from bowl games or March Madness. Studies indicate alumni giving and future enrollment have some link to sports success. Schools have a huge incentive to attract the best athletes.
But to maintain the "purity" of amateur athletics, NCAA schools agree the highest "price" a school can legally bid for a student athlete is a "full ride" room, board, books and tuition, or RBBT, scholarship.
This price might work OK for the two-star undersized offensive-line recruit. His contribution to team success might be evaluated as worth no more than that. But how do schools compete for a four-star wide receiver who runs a 4.4-second 40 yards with linebackers draped over each arm? Schools would willingly pay much more than RBBT to have him on their team. But the NCAA prohibits cash offers or other inducements beyond RBBT. With all due respect to maintaining "purity," the NCAA sets up and enforces a buyers' cartel. It's a price control cloaked in a noble motive.
When a price is held below its market clearing level, economists expect to see black or gray markets develop. And, indeed, we see all sorts of non-price competition. For example, schools build "training" palaces to show recruits how pampered their campus life will be. Indiana schools aren't immune. Stories abound of not-quite-over-the-line inducements such as "academic" scholarships for high school sweethearts. Add to this the perennial pressure some places put on professors or graduate assistants to inflate the student-athlete's grade. Figuring out how to legally avoid the RBBT price control is an ongoing quest.
Bohanon and Styring offer no moral lectures on paying or not paying college athletes. Just remember: Cartels are always organized to benefit cartel members, never for the benefit of those on the other side of the transaction.•
__________
Bohanon is a professor of economics at Ball State University. Styring is an economist and independent researcher. Both also blog at INforefront.com. Send comments to ibjedit@ibj.com.
Please enable JavaScript to view this content.