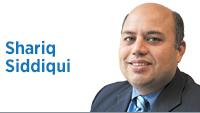 Despite the important nature of the automobile in Indiana, we lack important consumer protections—and fair-minded attitudes.

A few weeks ago, while searching for a car to purchase, I came across a car at a dealership on Lafayette Road. A few days ago, I noticed the car was still for sale. I reached out to the dealership and the manager assured me the car was available. We set up an appointment. A few hours before the appointment, I communicated with the manager who assured me the car was available.

Upon arriving at the dealership, I learned the manager was busy and the car was no longer available because, a few days before, the shop had discovered a problem with it and had pulled the car off the sales lot. The dealership did have a few slightly more expensive cars available to sell me.

I asked to see the manager who had set up the appointment but that manager refused to come out to meet me. The other manager on duty came out, but it was clear he wanted me to leave as soon as he realized I was no longer interested in purchasing a car from this place.

When I realized I couldn't expect a sincere apology, I told the manager I would not be buying a car from that dealership and that I would tell people I know how unprofessional that business is. The manager I was speaking to looked at me in anger and said, "Well that's terrorism."

I was floored by these remarks. Five things came to my mind:

First, on the eve of the anniversary of 9/11, this man didn't understand the difference between actions that cost people their lives and a Facebook post that simply articulates unprofessional business practice. I still remember the haunting images of people jumping from the windows of the Twin Towers trying to escape the fires within. In large part, this failure falls to our elected officials who have used terrorism to further political ambitions.

Second, the actions of this dealership are not unique to me. This is the classic bait and switch, where a dealer advertises a non-existent car to lure people in and then tries to sell a more expensive car. This has become such a major problem that states like Virginia have enacted consumer protection laws that can result in claims against car dealerships. The Indiana Legislature has failed to provide its residents with meaningful consumer protections.

Third, it struck me that when this man saw me (a brown man with an immigrant and Muslim name), the first thing that came to his mind was the word terrorism. More businesses should connect with immigrant-rights groups and the Muslim Alliance of Indiana and train their staff. Providing such training would make their employees better at their jobs and the businesses more successful.

Fourth, let's push for a stronger public transport system so cars aren't so necessary. Such an investment will make it more likely for corporations like Amazon to consider Indianapolis as a good location for their second home.

Finally, this incident occurred about the same time Gold Star parent Khizr Khan visited Indianapolis. When a parent of a soldier who died for our country trying to save fellow soldiers can be treated with contempt by the presidential candidate (and now president), why shouldn't a car salesman be able to disrespect someone who has sacrificed much, much less?•

Click here to see all of the latest Forefront columns.
__________

Siddiqui is an attorney, has a doctorate from the Lilly Family School of Philanthropy at IU and leads the Association for Research on Nonprofit Organizations and Voluntary Action. Send comments to ibjedit@ibj.com.