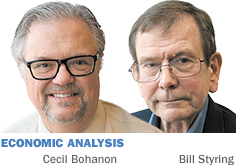 Here is a criticism we cheerleaders for market capitalism hear all the time: "Free markets don't exist."
Former Labor Secretary Robert Reich writes: "Few ideas have poisoned the minds of more people than the notion there is a 'free market' somewhere in the universe into which government intrudes." He goes on to say, "A market—any market—requires that government make and enforce the rules of the game." In Reich's view, government regulation is central to markets, therefore, any regulation fits into a "free market" framework. 
Well, no. What constitutes an ideal "free market"? It doesn't mean, as Reich seems to suggest, a lawless market. In a free market, both buyers and sellers must refrain from using coercion or fraud. In "The Godfather," Luca Brazzi threatens to have the bandleader's "signature or brains" on the contract. That's not a free market. If you intentionally try to pass off a tainted piece of pork as pure and healthy, that's not a free market, either. In a free market, government plays a vital role in enforcing laws against violence, fraud and theft, and in resolving contract disputes.
What government does not do in a free market is dictate prices (Venezuelan food price controls) or terms of trade, or use its own power of coercion to keep peaceful buyers and sellers from entering the marketplace (why do you need a license to braid hair?).
In the real world, not all markets are free, and that's probably OK. But a good economist recognizes that when government's role exceeds that of keeping markets honest and peaceful, there are usually negative consequences. We might democratically decide to make heroin illegal. That's fine, as long as we understand that the heroin trade will still go on. Heroin will be more expensive and of lower quality. If someone sells a user a bad hit, whom can he sue? And, of course, we might witness gunfire up close and personal.
The exact same things would happen if radical vegans were to implement a meat ban. Those of us who want burgers would find a way to get them. Beef would be more expensive and of poorer quality. We'd probably read about gangs hijacking loads of illicit beef.
So, in the final analysis, we can define a free market as one that includes a limited government role in keeping things peaceful and honest. Free markets are not sacrosanct, but beware of interference that goes beyond maintaining peace and honesty.•
__________
Bohanon is a professor of economics at Ball State University. Styring is an economist and independent researcher. Both also blog at INforefront.com. Send comments to ibjedit@ibj.com.
Please enable JavaScript to view this content.