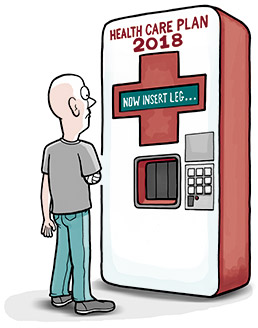 (IBJ Illustration/Brad Turner)
It's an annual ritual in countless work sites this time of year.

First comes the group email, calling workers to gather in the conference room. Then comes the meeting, with handouts and serious faces, with the news that prices for health insurance are about to go up again.

That is usually followed by suggestions that people shop around more diligently for low prices on drugs and health procedures, and perhaps an announcement that the company is about to launch "Let's All Take Long Walks on Wednesdays" wellness initiative.


But it all comes down to a few questions: How much more will we be paying? How can we keep costs as low as possible?

Experts say prices next year will almost certainly go up for all health plans, with small employers taking the brunt of the increase.

The National Business Group on Health, a not-for-profit based in Washington, D.C., is projecting the total cost of providing medical and pharmacy benefits to increase 5 percent for the fifth consecutive year in 2018. Including premiums and out-of-pocket costs for employees and dependents, the cost of health care per employee is estimated to be $13,482 this year and rise to $14,156 next year.

Another employer survey, conducted by benefits consultant Mercer, is predicting that costs will increase 4.3 percent in 2018.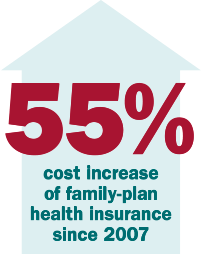 In Indianapolis, some benefits experts are predicting percentage increases on health plans from the high single digits to the low teens.

"It really depends on the payer … but I'd say 10 to 13 (percent) kind of out of the gate," Sheri Alexander, president of employee benefits at insurance brokerage Gregory and Appel, said Sept. 21 at IBJ's Health Care & Benefits Power Breakfast.

The Indiana Chamber of Commerce said it expects many small-employer plans to increase 8 percent to 10 percent. But employers are still working out finishing touches with their insurers and brokers, said Mike Ripley, the chamber's vice president of health care policy.

"I don't hear a lot of complaining yet," he said. "In past years, we've heard a lot of angry rumblings."

Several large employers, including drugmaker Eli Lilly and Co. and diesel-engine maker Cummins Inc., declined to comment on price changes. Some said they had not yet informed employees.

"It's a little early for us to be talking about it," Cummins spokeswoman Katie Zarich said.

But even as prices climb as much as 15 percent, that's still a lot less than the big premium increases being reported on the Affordable Care Act exchanges, which are expected to be as high as 25 percent.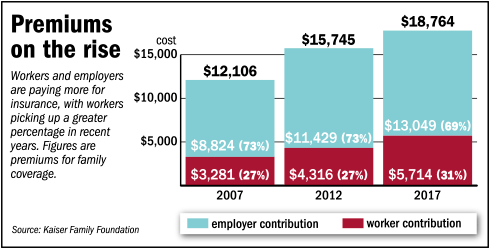 One reason is that, on average, people covered by employers are healthier than those on the exchanges. Numerous studies have shown that the Obamacare exchanges signed up fewer young, healthy people than expected, meaning that they are disproportionately filled with older, sicker people with more expensive health needs. That has caused many insurers to increase rates sharply to cover high medical costs or to flee the exchanges altogether.

Still, employer group plans, which cover about 151 million Americans, are facing plenty of challenges in controlling costs. Small companies, especially, have found it challenging to provide affordable insurance, and often pick up a smaller share of the premiums than large employers.

A survey conducted by Kaiser Family Foundation found the average worker at a small employer contributes $1,550 more annually for family health coverage than those at large firms ($6,814 compared to $5,264).

That's often because small employers are more likely to contribute the same dollar amount toward a worker's health benefits whether or not they enroll family members. That means employees at small companies who need a family plan will typically pay more than half the total premiums. By comparison, large companies often pick up 70 percent of the cost of family coverage.

As prices rise, a growing number of employers are offering high-deductible health plans coupled with health savings accounts. Today, 29 percent of all covered employees in the U.S. are enrolled in a high-deductible plan, a 4 percent increase over 2015. That means employees must dig deeper into their pockets to meet the deductible before the first dollar of insurance kicks in.

Faced with such high costs, some people are skipping the care they need, some experts say.

"We hear that, there are a lot of articles that have been written, and we hear stories from our own employer groups," said Alexander at Gregory and Appel. "I've been a participant in our high-deductible HSA for years, and it's probably altered my behavior as well."

The exception to that is preventive care, or basic services meant to prevent people from getting sick and to detect illness, which high-deductible plans are required by federal law to cover 100 percent. Preventive care usually covers annual physicals, vaccinations and routine screenings.

Many Indiana employers say that younger and higher-wage employees actually prefer high-deductible plans because premiums are lower.

Employers need to provide an attractive mix of health insurance options in order to recruit and retain workers in a competitive market, said John Gause, CEO of Apex Benefits.

Employers that can promote a healthy workplace and keep their health claims low are most likely to find the most affordable health plans.

"If the companies have embraced wellness, then often their employees are healthier and their claims are lower," he said.

Not surprisingly, a large number of employers now offer incentives for employees to stay healthy, figuring it will cost less to offer fruit in the breakroom or discounted gym memberships than to watch their health plans skyrocket in price.

Today, about 45 percent of large firms provide incentives for workers, such as health risk assessments, according to the Kaiser Family Foundation study.

On the flip side, 16 percent of small firms and 14 percent of large firms require higher premium contributions or cost sharing from workers who use tobacco.

Some common strategies for promoting wellness in the workplace include on-site classes and exercise facilities, mobile apps and tracking devices, biometric screenings, stress management, and cafeterias stocked with healthy, affordable menu items.

"Employers that have cafeterias are really thinking about the food, not only the composition of food, but where it comes from, how you price," said Ben Evans, CEO of OurHealth, an Indianapolis company that provides on-site clinics for employers. "We've got one client in particular… where he's trying to get the soda off of every floor in their building."

Today, more than half of employers (54 percent) offer onsite or near-site health centers, and that figure is expected to rise to nearly two-thirds by 2020, according to the National Business Group on Health.•