When Steve Braun stepped down last month from leading the Indiana Department of Workforce Development, his key initiative was in place and operating: a $3.6 million data system designed to predict demand in Indiana for about 800 occupations.

It was something the Republican had been working to execute almost since then-Gov. Mike Pence tapped him in late 2014 to lead the agency.
Braun—a former state legislator who had sold an IT consulting firm a decade earlier for $40 million—believed the key to cracking the workforce code was the use of forecasting and analytics tools to anticipate the state's labor needs.

And now, as Braun readies a run for Congress, his system is starting to produce results that he and other advocates say will give the state unprecedented insights into current and future job demand, information that is being used to inform decisions about the way hundreds of millions of dollars in education and training funding are allocated.

Braun, 57, said he wanted to create an "ecosystem to give us a very unique strategic advantage when it comes to how we educate our people with the right skills at the right time to fill the jobs today and in the future."

"There was nobody out there doing it," he told IBJ.

But not everyone is fully comfortable with the process that led to the development of what's called the Demand Driven Workforce System or what some fear is an overreliance on the data to make decisions affecting thousands of Indiana high school and college students.

For one, a key part of the work was done by Chicago-based Inquidia Consulting, a 25-employee data-analytics firm that was started by several of Braun's former employees from Braun Consulting, the IT firm he sold to Minneapolis-based Fair Isaac Corp. in 2004.

Inquidia—which reaped nearly $1 million over two years from the DWD— also employed Braun's son Jonathon as a senior data architect and consultant at the time Inquidia started working for the state in 2015.

Steve Braun himself was a minority shareholder in Inquidia until shortly before the agency sought firms to bid on the project in 2015. Braun said he once owned 27 percent of the firm.

And Braun told IBJ he championed Inquidia's involvement from the start.

"As we looked around in terms of people that could do it for us, we weren't comfortable that there were vendors in the current system really that … were capable," Braun said. "I knew my guys could because this is what we did."

Observers say another potential problem is the data itself. Experts say there's no system—no matter how well designed—that can fully predict what jobs will be available in a decade or more. And they worry that decisions based largely on the information might miss the mark.

Michael Hicks, the director of Ball State University's Center for Business and Economic Research, said the DWD's goals are laudable. But he said the state must be careful not to rely on the information too much or as if it's 100 percent accurate.

"If the numbers are wrong and we're deploying resources in places that are inappropriately educating people for those jobs, we're screwing them over," Hicks said. "There's no polite way to say that."

The deal

The state's contract with Inquidia struck some DWD employees as a potential conflict of interest—or at least the appearance of it—from the start. But the agency's general counsel, Jeff Gill, told IBJ he was "confident we had screened Braun from any involvement" in the deal.

Braun said that—on the advice of DWD attorneys—he divested his Inquidia stake. State rules say officers and employees "may not knowingly have a financial interest in a contract made by an agency."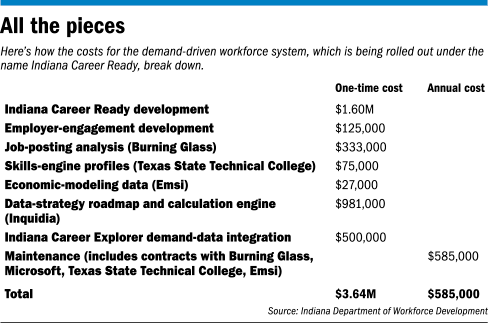 State code also says an individual employed in an agency "may not contract with or supervise the work of a business entity of which a relative is a partner, executive officer, or sole proprietor." The DWD said Braun's son Jonathon was not in one of those leadership positions at Inquidia when he was an employee there from 2014 to 2016.

Braun submitted an amendment to his state financial disclosure on July 15, 2015—about two weeks before the request for bidders was released—stating that "as of June 30th, I have divested my entire minority shareholder position of Inquidia Consulting Inc. I no longer have any financial interest whatsoever in Inquidia."

Indianapolis-based Knowledge Services, a state procurement contractor, released a "request for project services" seeking a vendor to help with the workforce system on Aug. 4, 2015. Responses were due two weeks later, on Aug. 18.

Inquidia was one of six bidders, according to DWD, and was ultimately selected. Also bidding were CSpring, SEP and STLogics Corp., all of which are based locally, as well as Lafayette-based Roeing Corp., and Ohio-based Sogeti USA, which has an Indianapolis branch.

Most of the unsuccessful bidders did not reply to IBJ's request for comment.

But Raman Ohri, president of SEP, said nothing about the bidding process for the DWD contract seemed unusual—"other than the result."

"The work was something we are well suited for," Ohri said. And he said the company typically scores well in competitive bidding situations.

"In this case, we were the cheapest," he said. But he said SEP scored low "for suitability of our solution."

"We did feel qualified, as I'm sure the other bidders did," he said. "They're good companies."

Braun said that he "wasn't on the scoring team" that reviewed the bids and made the decision. "I completely stepped back once I divested," he added.

Gill told IBJ that Steve Elliott, DWD's chief information officer, and Jeff Tucker, a DWD IT specialist, "led the entire" bidding process. But it's not clear who made the final hiring decision.

DWD said in a written statement that it "cannot, for a variety of reasons–including confidentiality–provide a list of people who were involved in the scoring process, other than to say it did not include Steve Braun."

"The final decision was collaborative, and was based on the approved scoring process that was set forth," DWD spokesman Bob Birge told IBJ in an email.

Gill rejected IBJ's request to view evaluation forms used in the RFP scoring process. He said Indiana law gives agencies discretion to withhold from public disclosure "records that are intra-agency or interagency advisory or deliberative material."

Braun said the vendor request "certainly was not tailored" to give Inquidia an advantage. But he also said, "It was clear in my mind that they were the best" option for the job.

By mid-September 2015, Inquidia had inked out a deal with state officials, according to a signed work order provided to IBJ, in the amount of $481,160, including $28,000 for travel, lodging and meals. That contract called for Inquidia to create an "employer demand data strategy roadmap" and an "infrastructure and platform roadmap."

Throughout at least part of the contract, Inquidia employees, including Jonathon Braun and others, used office space at the DWD, Steve Braun said.

Gill said Pence's office recommended that DWD clear the contract through the Indiana Ethics Commission. Two months after it was signed, Gill wrote to then-Inspector General Cynthia Carrasco concerning two issues: Braun's son Jonathon's employment with Inquidia and Braun's divestiture of the company.

The Office of the Inspector General determined "it does not appear that a potential conflict of interests exists" under state code. Staff attorney Stephanie Mullaney said in a reply to DWD that while it appeared appropriate statutes had been followed, "you may consider, out of an abundance of caution, to continue screening the commissioner from any involvement with Inquidia, particularly with respect to any potential issues, review, or other matters that may arise regarding any part of this project."

State Rep. Ed DeLaney, D-Indianapolis, questioned the timing of Braun's disclosure of the situation to the Inspector General's office.

"The main concern is that it would have been better if Steve, who I have the highest regard for, had gotten the ethics opinion before going forward," DeLaney said. "I don't see a suggestion he made 5 cents off of this. But the system is a little strange where you get an ethical opinion after the fact."

In early February 2016, the state, through Knowledge Services, agreed to extend its work with Inquidia via another $400,000 contract. That involved additional work on the demand-system's projection models and computation engines, according to the DWD.

In the fall of 2016, the state used a change order to bump up the contract by another $100,000, bringing the total cost of Inquidia's work for DWD to $981,160.

The state's payments for the work ultimately went to Knowledge Services, which in turn paid Inquidia. That means the payments do not appear on the Indiana Transparency Portal, according to Indiana Department of Administration spokeswoman Molly Deuberry. The contract does not appear there either.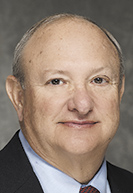 Kenley
Retiring state Sen. Luke Kenley, who was chairman of the Appropriations Committee until Sept. 30, said he is sympathetic to Braun's cause, which he called "a mission to try to bring the DWD into the 21st century with the use of technology." But he said he believes those entrusted with tax dollars "need to be as vigilant as you can."

"You need for that kind of a deal to be made if that's the best purchase for the state but you need to have the transparency that's going to provide enough openness," Kenley said. "It sounds like the question is, 'Did they do it well enough?' It's not just to make sure that the taxpayer is getting the best deal, but that the taxpayer is getting an honest deal."

Ethics experts say this is a deal that deserves scrutiny.

"While I can appreciate they sought to create a level playing field, the fact that [Braun] admits 'I knew my guys could do it' makes it at least appear to have been preordained," said Julia Vaughn, executive director of government watchdog group Common Cause Indiana.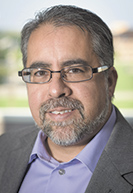 Lanosga
Gerry Lanosga, an assistant professor of journalism at Indiana University, said "it always strikes me that there are a lot of companies that do the work in question and it seems convenient and coincidental that this company happens to be the one" chosen.

"Officials really should think about and ask themselves what would it look like to someone on the outside when there are relationships or connections with vendors that could lead to a perception of conflict of interest and possibly a gaming of the system," he said.

Inquidia's key role
The demand-driven workforce project involves much more than Inquidia. In fact, the nearly $1 million the state spent with the company is only about 27 percent of the cost of the entire project.

Some of the system's functions are the result of contracts the state has with other vendors, including Boston-based analytics software company Burning Glass Technologies and Texas State Technical College, which created a "skills engine." Subscriptions and maintenance to keep the system current and housed on the cloud are estimated to cost $585,000 annually.

But Braun said Inquidia's contribution—which involved providing the architecture and data science—has been key to the project.

"I was very pleased to see them get the business, because to me, if we didn't have this cornerstone, then we don't have this strategic foundation, which is also really the strategic advantage for the state," he said.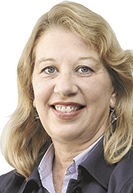 Vaughn
Inquidia's efforts to develop the demand-driven workforce system was mostly under the hood, Braun said, akin to "putting a new engine" in a "very old, slow car." It allowed the state to study the federal models and examine whether it was feasible to "do it ourselves more effectively."

Asked about the project by IBJ, Inquidia officials said they don't typically discuss client work with "any outside parties."

Looking back on the deal, Braun said he laments his divestiture of Inquidia, saying he "took a financial hit" when he sold "at a value that has now been demonstrated that was silly" to sell for.

On Aug. 16—just more than two years after Braun sold his interest—Inquidia announced it was acquired by Pentaho, a Florida-based international data integration and business analytics company. Pentaho declined to provide IBJ information about the terms of the deal.

"I divested at a price that was below their market value," Braun said.

Reliance on data

The state project is already having a broad impact on Indiana's K-12 and higher education sectors—as well as informing current Gov. Eric Holcomb's "Next Level Jobs" campaign. Through the campaign, the state is awarding more than $24 million during the next two years to train workers to fill jobs in "high-demand, high-wage" industries.

The system is being incorporated into the state's career and technical education system, which served 175,000 students last year with roughly $115 million in state funds, to try to incentivize high schools to offer more courses tied to high-demand careers.

Chris Deaton, the Indiana Department of Education's assistant director of career and technical education, said tying course funding to demand ratings could result in "a lot of major changes" to course funding levels. "It should give us a better picture and help push kids into the proper course areas," Deaton said.

The demand data has also been incorporated into the Indiana Career Explorer program, an online planning system used by K-12 students. It cost the state $500,000 to incorporate the new DWD data into Indiana Career Explorer, which is meant to help students make better choices.

The goal, said Brad Rohrer, human resources manager for Subaru of Indiana Automotive and a member of the state's Workforce Innovation Council, is to "make sure that real-time data is available for students and then that educators have the right curriculum to align with those openings."

Ivy Tech Community College President Sue Ellspermann said the school is using the demand data across its system to help assess whether its campuses are offering the right types of academic programs in the right areas to meet employer demand.

Ellspermann said she believes DWD's data is "about 80 percent accurate" and can't be relied on solely for key decisions. Therefore, the college is reaching out to industry representatives in various areas of the state to verify or refute the forecasts, she said.

"It's never going to be perfect," Ellspermann said. "It gives us some data we can all agree is not 100 percent accurate but accurate enough that we can use it as a launching pad" to make decisions.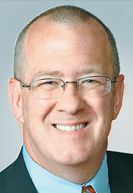 Hicks
But Michael Hicks, the Ball State researcher, says all forecasts are predictions with room for error. He recommends that K-12 schools in particular focus on teaching more fundamental professional skills that could be deployed or useful in a variety of industries, rather than being too specific.

He also questions the larger concept of demand-driven analyses, saying they are necessarily focused on the short term.

"Businesses are really good at telling you precisely what they need today or in the next 180 days or maybe what they need in the next year or two," Hicks said. "Some of the jobs we'll need in 10 years haven't even been envisioned yet."

Braun, however, said he is "completely confident" in the data.

"We've got really the perfect data foundation and feedback loops that are constantly validating," he said. "It's state of the art."