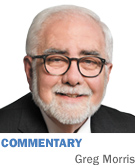 If you're one of the lucky ones who can eat what you want and never have to worry about your weight, please feel free to skip this column. If, however, you do have some pounds to lose and you've been unmotivated or unsuccessful in your weight-loss efforts in the past, I respectfully suggest you read on.

I've had some recent success in finally getting on the path to a healthier lifestyle and, as a result, a much healthier weight. This comes after many years of gaining little by little even as I cut my food intake and was eating healthier. I wasn't loading up on fattening and unhealthy foods, yet I was still gaining weight. It was so frustrating. You might be experiencing the same.

But, as of this morning, I've lost 50 pounds in the past eight months and I haven't deprived myself of food or done a lick of exercise outside my normal, everyday routine. Actually, I'm eating more often what I really want. I don't count calories or fat grams, but I'm certainly aware of those metrics as I develop more responsible eating habits. I feel great and my energy level is notably improved.

This success is the result of "mostly adhering" to The Fast Metabolism Diet, created by Beverly Hills nutritionist Haylie Pomroy. A few friends here at IBJ and their spouses were on this diet and were enthused about the approach and results they were getting. This hit me at a time when I was finally motivated to do something about this long-standing problem.

Google "Fast Metabolism Diet" and go to the website. There, you'll find information about the science of why this lifestyle change works for many people. The diet is built around the fact that our metabolism slows dramatically as we age. When you diet by withholding food, you're doing just the opposite of what needs to be done to speed up your metabolism.

The goal of Pomroy's plan is to super-charge your metabolism. To start, you should eat breakfast within a half hour of waking up, eat a mid-morning snack, lunch, a mid-afternoon snack, dinner and another snack if you're still awake three hours past dinner. As you might predict, what you eat and drink is important. The diet works by rotating what is eaten and when you eat it. This produces precise physiological change that "sets your metabolism on fire."

Briefly, there are three phases each week. On Monday and Tuesday, lots of carbs and fruits. Wednesday and Thursday, lots of proteins and veggies. Friday, Saturday and Sunday include a combination of carbs, fruits, proteins and veggies and add healthy fats and oils. There are prescribed portions for each meal and snack, but I never feel hungry. By sticking to this regimen for four consecutive weeks, you'll keep your metabolism guessing and that makes it work faster.

Here's what you are supposed to give up those first four weeks—no dairy, corn, wheat, refined sugar, caffeine, alcohol or fruit juices, among others. I lost 23 pounds in this 28-day period. I've since reintroduced a lot of these back into my diet, but in moderation. Outside the science of what to eat when, all the rest is just portion control and making healthy choices in what you eat and drink.

My goal over the next six months is to lose another 20 to 25 pounds. I'll throw in some exercise along the way, although I'd rather have a dead rat in my mouth than get on a treadmill. Have I mentioned yet how expensive it is to alter and buy an entire new wardrobe? That's the price of success, and I'm happy to do it!

Whether you give the Fast Metabolism Diet a try or it's the Paleo, or Mediterranean, or Weight Watchers or if you just want to make healthier choices, I urge you to get started. Take it a day, a week, a month at a time and stick with it. I'm betting you'll be happy with your results.

I thank my friends at IBJ who started me down this path and encouraged me along the way. I'd like to pay that kindness forward by encouraging everyone who reads this and needs help in this area to do the same. If I can do it, you can do it.

I wish you all great success and good health in the future.•

__________

Morris is publisher of IBJ. His column appears every other week. To comment on this column, send email to gmorris@ibj.com.