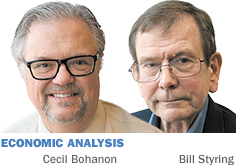 Economic theory suggests taxes serve two functions. One is to raise revenue for the state; another is to engineer citizen behavior to the liking of the state. However, it is almost always a mixture of both motives that lead to excise taxes on items deemed harmful.
Over the last year, two major urban areas, Philadelphia and Cook County (Chicago), have experimented with taxing carbonated soft drinks. The argument is that they want the money and that reducing the consumption of sugar-laden beverages is healthy. Never mind that the tax is also assessed on sugar-free soda but exempts sugar-laden fruit juices.
In Philly, the mayor argues the purpose is to raise funds to be earmarked for early-childhood education with the purported health benefits being secondary. The president of the Cook County Council argued the tax was required to "close the budget gap" and that it would "influence health challenges such as obesity, diabetes and heart disease."
Consumers responded to the tax. In Philadelphia, soft-drink sales fell 55 percent. In Cook County, soft-drink sales declined 30 percent or more at a majority of retail locations. This wreaks havoc with the budget projections: The soda tax is not generating the revenue Philadelphia requires to support its pre-K initiative.
OK, one might say, but at least consumption of sugary soft drinks is declining. Except that it probably isn't. Sales of soft drinks outside Philadelphia rose 38 percent. Savvy shoppers in Philadelphia and Cook County simply cross the border and purchase their soda in jurisdictions without a soda tax. More important, perhaps, is that the same shoppers keen on avoiding the soda tax typically pick up all their groceries in the far-flung suburbs. One Cook County grocery chain reports an overall sales decline of 11 percent, making worker layoffs inevitable. In a stunning reversal from last November, the Cook County Council repealed the tax in a 15-2 vote.
So the moral from the story is that local-level nanny-state crusades waged via excise taxes on offending products are not likely to be successful. They neither reshape consumer behavior to the desired ends nor provide a stable revenue source for local governments. It is simply too easy for consumers to avoid the tax. Moreover, other parties are harmed by the tax.
The trouble with social-engineering schemes is that those being engineered have free will and an arsenal of ways to avoid the will of the nanny.•
__________
Bohanon is a professor of economics at Ball State University. Styring is an economist and independent researcher. Both also blog at INforefront.com. Send comments to ibjedit@ibj.com.
Please enable JavaScript to view this content.