Westfield Mayor Andy Cook does not have a Westfield address.

He actually has a Carmel address even though his home is within Westfield's municipal boundaries.

"It's very embarrassing," Cook said.

And he's not alone.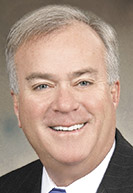 Cook
All throughout the northern suburbs—and the entire country—municipal borders often don't match ZIP code borders. That causes problems, especially for businesses, because ZIP codes determine the city used in an address.

So even though a home or business is within a city's limits, its mailing address might make it appear to be someplace else.

The problem occurs along the southern end of U.S. 31 in Carmel, where most of the offices—including well-known entities like Delta Faucet Co., St. Vincent Health and Liberty Fund Inc.—have Indianapolis addresses.

Fishers businesses like Strada Education Network and Ardagh Group, near Interstate 69, also have Indianapolis addresses.

Along 146th Street, properties on the north side of the road are in Westfield, but more often than not, they have Carmel addresses. That includes retailers in Village Park Plaza, Cool Creek Village and Cool Creek Commons.

Local officials have been frustrated for years in trying to remedy the problem, because the U.S. Postal Service determines ZIP code boundaries and rarely makes changes.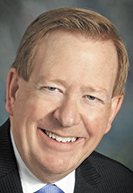 Brainard
"It's a huge problem," said Carmel Mayor Jim Brainard. "In a perfect world, the post office would be required to assign a mailing address based on the municipal boundaries."

The problem recently surfaced in Boone County, where multiple restaurants in Whitestown had been mistakenly charging a Zionsville food and beverage tax.

The eateries have Zionsville addresses, so it seemed logical to charge the 1 percent tax. But because they are in Whitestown, which does not have a food and beverage tax, the fee shouldn't have been collected.

The confusion resulted in hundreds of thousands of dollars wrongly charged to consumers over several years, and now the Indiana Department of Revenue, which collects and distributes the tax revenue, is trying to sort out the mess.

Officials at the Postal Service recognize the problem, but they argue ZIP codes are used only for mailing.

"ZIP codes are long-term assets, which are critical to the U.S. Postal Service's obligation to provide quality mail service to the American public at reasonable prices," spokesperson Sean Hargadon said in an email. "We have no control over private industries or local jurisdictions adapting and using the ZIP code system for other, non-postal uses."

But local officials and business owners argue the problem would be easy to solve—and they want the Postal Service to take action.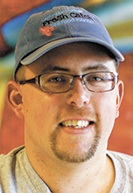 Caplinger
"If we're in Whitestown, you'd think our address would be Whitestown," Caplinger's Fresh Catch Seafood Market owner Andrew Caplinger said. "I think that would take a whole lot of confusion out of it."

Miscommunication

When Caplinger opened Caplinger's Fresh Catch in Whitestown this spring, he knew he had a Zionsville address, so he asked Zionsville officials whether he should charge the town's food and beverage tax. He was told yes, so he did.

But a few weeks later, Zionsville told him to stop, realizing the business wasn't actually in Zionsville.

"Well, we had already been collecting it," Caplinger said. "I went through and did the things I thought I was supposed to do."

Caplinger's is in a retail development on the south side of Whitestown Parkway near Interstate 65. It's within Whitestown boundaries but is surrounded by Zionsville property. Caplinger said he didn't realize the building was in Whitestown until another business owner told him.

Now that the location has been confirmed, Caplinger said, he's no longer charging the tax.

Restaurants in the same complex—including Buffalo Wild Wings, El Rodeo, Flap Jack's and Thai Select—also collected the tax. So did nearby Which Wich, Dunkin' Donuts, Pie Five and Circle K/Subway as well as LA Cafe to the north.

The companies have collected a total of nearly $300,000 since 2008, according to the Department of Revenue.

And this is not the first time ZIP codes and corresponding addresses have caused problems with food and beverage tax collection and distribution.

Brainard estimated he's had to recoup hundreds of thousands of dollars in food and beverage taxes over the years that mistakenly went to border entities like Zionsville and Indianapolis. Carmel has also had to remit tax dollars to Westfield for revenue that came from businesses on the north side of 146th Street.

Both Carmel and Westfield charge a 1 percent food and beverage tax, though, so refunds to customers were not necessary.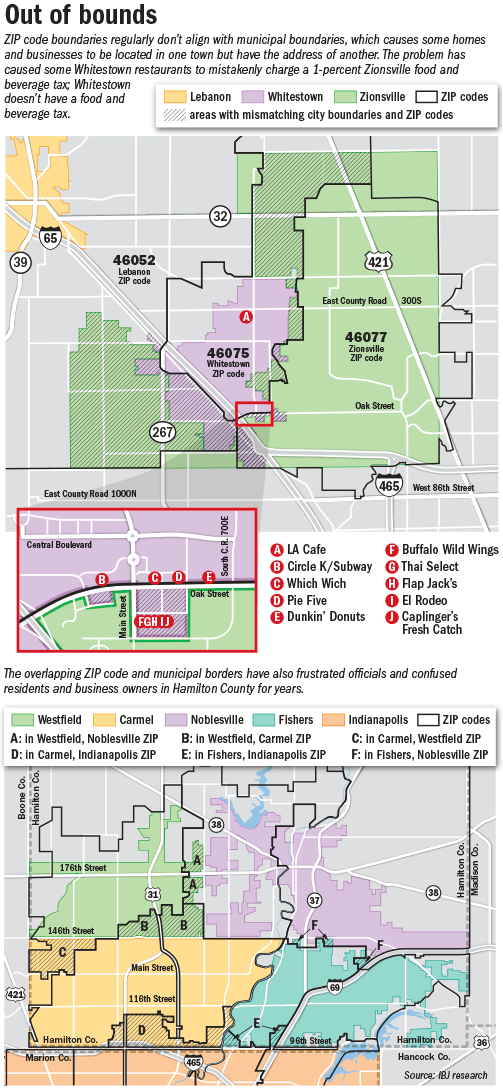 "We learned to watch the income. From our permitting process, we know when a restaurant comes in, so we can pretty well estimate what that should be," Cook said.

Department of Revenue spokeswoman Emily Landis said the office "continues to work with representatives from the affected municipalities to understand the problem, educate the business owners involved, and provide a resolution moving forward to avoid any future confusion for current and new business establishments."

The department sent letters to all the businesses in Whitestown wrongly charging the tax, ordering them to stop.

She said officials are still processing the situation, but they plan to issue refunds to patrons with receipts or proof of purchase.

Landis said the agency encourages new and existing businesses to work with local governments and the state to stay informed of tax rules and regulations.

"Education is key," she said.

Zionsville Deputy Mayor Ed Mitro said the town continues to work with the state to help create a better system to address the issue.

"At this time, there is no further action we can take," Mitro said.

Since learning about the most recent confusion, the Whitestown Town Council has passed a resolution urging the post office to allow the businesses to use Whitestown in their addresses, but keep the same ZIP code.

But the Postal Service might not be so inclined.

Hargadon said the realignment of addresses or modification of ZIP codes "can adversely affect mail service and add considerable administrative and operational costs."

"We generally only alter delivery addresses when these changes improve our operations or services, not for purposes unrelated to the delivery of mail," Hargadon said.

Widespread problem

Other parts of the Indianapolis region also have overlaps. In Avon, the Chatham Glen by Redwood apartment complex has a Plainfield address because of its ZIP code. And in Greenwood, Pleasant Crossing Elementary School has a Whiteland address.

Cities and towns across the country for years have quarreled with the post office and urged Congress to take action.

In 1990, a U.S. House committee held a hearing on the matter and considered three bills that would have allowed local governments, rather than the Postal Service, to determine local address or ZIP code boundaries, but the legislation never advanced.

In 2006, the Congressional Research Service published a report on changing postal ZIP code boundaries. ZIP codes, which the entire country had in place by 1963, identify the post office where final sorting occurs.

"Because ZIP codes are based on the location of delivery post offices, they often do not correspond to political jurisdiction boundaries," the report stated. "This means that millions of Americans receive their mail from a post office in an adjacent town, village, or neighborhood, and their mailing address reflects the name and ZIP code of that post office rather than the jurisdiction where they actually live."

The report said the problem is particularly bad in "rapidly growing suburban areas."

Hamilton and Boone counties are among the fastest-growing areas of Indiana.

Earlier this year, a bill to give Glendale, New York, a single ZIP code was introduced in the House, but no action has been taken.

Other messes

Aside from the food-and-beverage tax headache, local officials say the overlapping addresses cause public safety problems and confusion among prospective and new residents.

Cook said there have been unnecessary delays in emergency response when callers don't realize what city they're in. A person calling for help from the Panera Bread on Greyhound Pass south of 151st Street, which has a Carmel address, might not know the store is actually in Westfield.

ZIP codes have also confused home buyers, who might be looking to purchase a house in a specific city so their kids can attend a certain school district.

"There were people who actually believed they lived in Carmel when they truly lived in Westfield," Cook said. "It's an identity crisis for a lot of people."

The 2006 Congressional Research Service report also said the ZIP code confusion has been known to cause higher car insurance rates, confusion over where to vote in municipal elections, jury duty notices sent to citizens who aren't actually eligible to serve, and homeowners complaining of lower property values.

Brainard has been trying for 20 years, and mostly failing, to change all addresses within Carmel's city limits to Carmel.

Several years ago, the post office did allow a handful of Westfield residents near the Carmel border to vote on whether they'd like to keep their Carmel address or switch it to Westfield.

Some residents switched, but some didn't. Cook said even for those who switched, the ZIP code wasn't actually altered.

"So that was just kind of lipstick," he said.

Cook said his last attempt to change the ZIP codes was probably five years ago and that, after so many failed attempts, it doesn't seem likely they will ever change.

Brainard said it's also been a few years since he's made an attempt.

"We've continued to ask the post office over the years," he said. "I suppose it's time to give it another shot."•