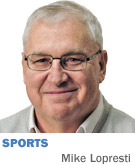 It's a tough assignment today. We're going to try to find ways of looking at the bright side of the Colts season. Because you know the old adage—don't think of the cup as nine-tenths empty, but really one-tenth full.

So let's begin. Positive thoughts, nothing but positive thoughts.

... You never blow a lead during bye week.

... Really, who wanted to spend seven days in February in Minneapolis, anyway?

... The Colts have found a foolproof way of not being pounded by the New England Patriots in the playoffs.

... It's rather doubtful that Jim Irsay raises ticket prices next season.

... Vontae Davis jerseys still available in all sizes at the gift shop.

... Given the punishment inflicted upon Jacoby Brissett, the public is getting a free crash course in the nuances of the NFL concussion protocol.

... It's still looking very, very good for a high spot in the NFL Draft. Plus, it won't take long to find out whom they pick in the first round.

... We'll always have Houston.

... The Colts are keeping fans glued to their seats in the fourth quarter, wondering when the victory cigar is going to explode.

... Come see Brissett throw a bomb. His four touchdowns of 60-plus yards are the most in a season for a Colt since—can this be true?—Johnny Unitas. Yep. He has only five touchdowns under 60 yards. He's like the shooter in basketball who is better at 3-pointers.

... Isn't it nice to see the Jacksonville and Tennessee fans so happy for a change?

... The San Francisco 49ers defeated the New York Giants the other day. That means only one of the teams the Colts have beaten was winless through the second week in November.

... Andrew Luck has a chance to tour Europe.

... The Peyton Manning statue hasn't been sacked yet.

... "There are no moral victories," Anthony Castonzo said after the Pittsburgh loss. At least the game was close enough that someone had a reason to ask.

... The Colts will be spared the dilemma of having to decide whether to visit the White House.

... All the trouble finishing drives with touchdowns means more chances to see Adam Vinatieri kick field goals at the age of 44.

... The cost of flying Indianapolis players to the Pro Bowl has been cut dramatically.

... At least they're not 0-10, like in 2011.

... They still have a chance to get to six wins and become bowl-eligible.

... They're still managing to lead the league in several areas. Sacks allowed. Points allowed. Minus point differential.

... Lucas Oil Stadium has still been alive with happy, cheering masses of excited people. Even if they were Steelers fans.

... Consider a few well-known phrases by some pretty famous football guys.

"You are what your record says you are."—Bill Parcells. So never mind the couldas and wouldas and shouldas of all those second-half leads that melted away.

"When you throw, three things can happen and two of them are bad."—Robert Neyland, who must have been watching the Colts passing game lately in the fourth quarter.

"Winning is a habit. Unfortunately, so is losing."—Vince Lombardi.

Isn't it thrilling to have so many legends talking about Indy's team?

... The Colts are getting better. Really. Just don't look at the standings.

... At least it's not our owner who's at war with Roger Goodell.

... The Colts can be used as first-rate examples of dealing with adversity. These are excerpts from a recent Chuck Pagano soliloquy on the topic.

"Life is hard … This profession is hard. You do it for moments. We haven't had a whole lot of those."

And …

"It's testing everybody. It's revealing just what we know about these guys. They're going to work and they're going to fight and they're going to prepare, no matter what."

And ...

"Some years are like this. It makes you better if you don't quit, if you don't give in."

And, finally ...

"You've got to be honest. You've got to be able to look at it and say, 'OK, this is why.' Point it out and say, 'This is why this is happening, so let's fix this, this and this.'"

And this, and this, and ... well, never mind.

Feeling better about things now? Six games remain, three at home as the temperatures plunge. So one last bit of positive thinking.

... The Lucas Oil Stadium roof still works.

Imagine if you had to sit outside on a Thursday night in December to watch the Denver game?•

__________

Lopresti is a lifelong resident of Richmond and a graduate of Ball State University. He was a columnist for USA Today and Gannett newspapers for 31 years; he covered 34 Final Fours, 30 Super Bowls, 32 World Series and 16 Olympics. His column appears weekly. He can be reached at mjl5853@aol.com.