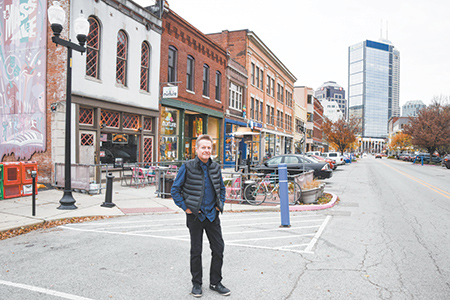 David Andrichik, owner of the Chatterbox Jazz Club, began his professional life as an architect. He never thought he'd own a bar, let alone a jazz club. And certainly not one that's become an icon of the Mass Ave neighborhood and instrumental in helping the area morph from rundown into a top-drawer cultural district.
"My contribution was the music," said Andrichik, 67. "I'm not a musician, but jazz was my favorite kind of music to listen to when I was in college."
He went on to earn an architectural degree in Illinois, then moved to Indianapolis with his wife (from whom he's now divorced) after she got a job here. He worked for the now-defunct James Architects, where he spent more than a little time on the preservation and rehabilitation of older buildings. A big fan of urban density, he longed to own a structure in a historic area.
"I wanted to buy a building downtown," Andrichik said. "But I didn't want to buy a bar. Just a building downtown in a historic district."
The thought of owning a music venue never crossed his mind.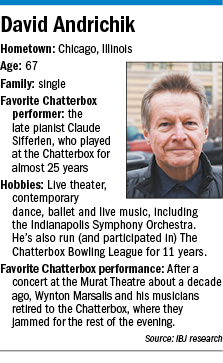 Certainly no one could have predicted such a turn of events when he bought the Chatterbox in 1982. The place had been open since 1939 but was the furthest thing from trendy. Its customers were blue-collar folks from the neighborhood, and it sat on a street pocked with second-floor sleeping rooms and grungy storefront businesses. The building directly across the street was a glorified flophouse.
"The storefronts at street level were stuccoed over, and there were apartments there," Andrichik recalled. "We were open until 1, 2, or 3 in the morning, and we could easily watch crack deals go down."
Which is not to say his newly acquired drinking establishment didn't fit right in with all that grittiness.
The Chatterbox has become famous for its grungy, "authentic" interior, featuring everything from severely eroded linoleum floors to customer graffiti scribbled on every surface to bathrooms that have made more than a few patrons decide to "hold it" until they got home. Back in 1982, Andrichik planned to fix all that. But lack of cash derailed his plans.
Originally, he planned to buy the Chatterbox with two partners, but they backed out at the last minute, forcing him to cover the entire purchase.
"I had a regular, full-time job, and I saved as much money as I possibly could in order to put in the down payment," he said. "So I didn't have additional money to remodel. And each time I had a little something extra, there was another opportunity that looked like a better use for it. So it's just kind of settled this way."
The only major change Andrichik made to the decor was the addition of a tiny stage near the front door. It turned the Chatterbox from an unremarkable neighborhood dive into a happening nightspot.
"It was my idea to add the live music in order to extend the evening hours," he said. "Within the first 18 months, we added one day, two days, three days of music. Then after 18 months, we had six days of live music. And now we're open for seven."
Groundswell
At the same time, he was drawn into larger plans to revive the neighborhood—first by joining the Riley Area Revitalization Project. His revival fever was shared by city officials and some corporate bigwigs.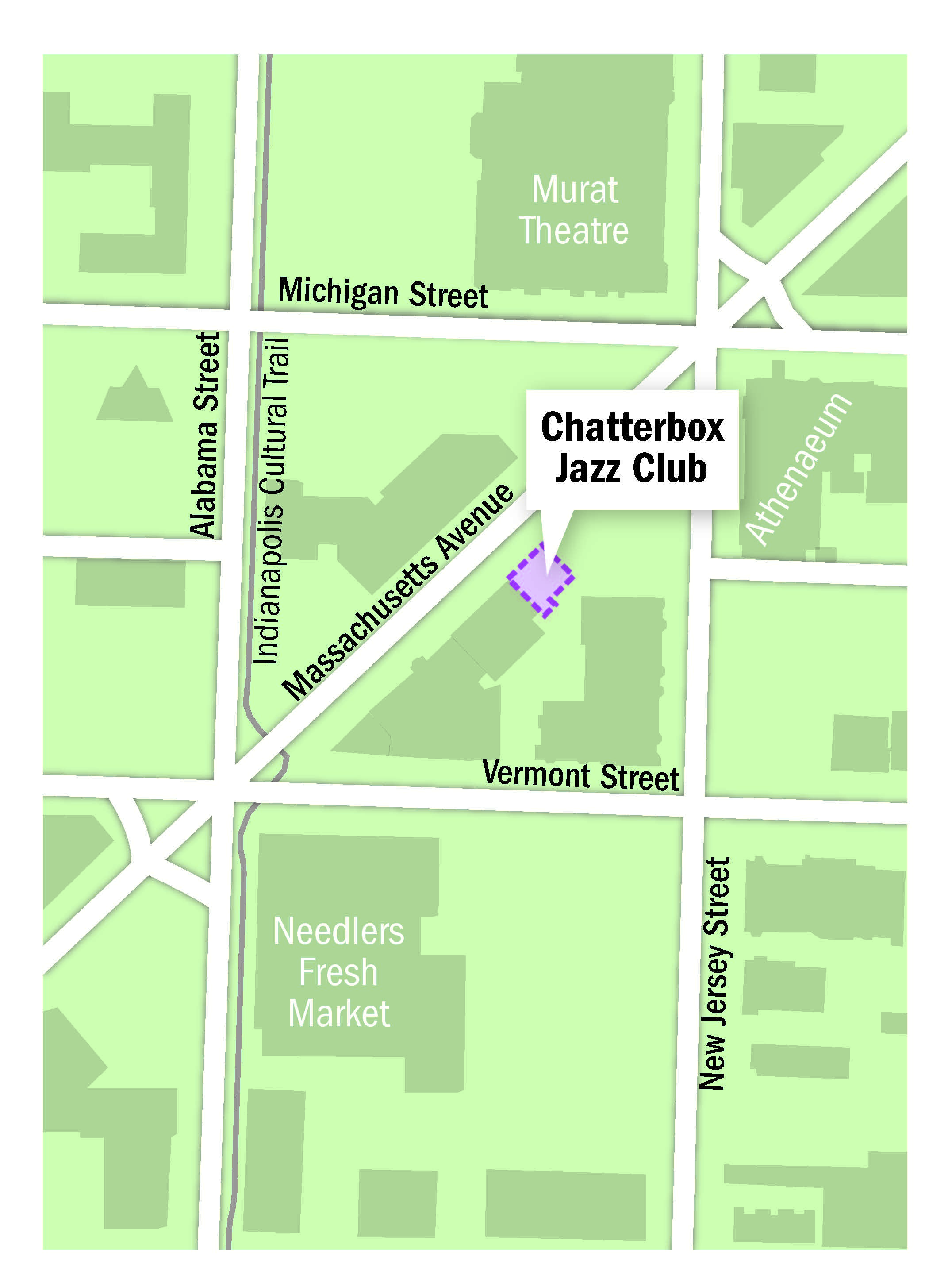 "There was this perfect storm of legislation, local awareness and local organizations that were paying attention to the fact that our downtown was vacant, and that we had to do something about that," Andrichik said.
About the same time he took over the Chatterbox, the street's low rents and quirky vibe started attracting art galleries. Among them was Ruschman Art Gallery, just a few doors from the Chatterbox and owned by Mark Ruschman. He signed the lease for his gallery space at a table in Andrichik's bar.
"What drew me to the area is what draws artists and art galleries to most areas," Ruschman said. "The availability of inexpensive space that needs a lot of work. You just have to be willing to put the time and energy into it."
The Chatterbox was one of the few successes for the artsy newcomers to build on.
"I don't think it's an overstatement to say that the Chatterbox was an anchor for the neighborhood and certainly for the near-northeast side of downtown Indianapolis," Ruschman said.
That's the same role it fulfills today.
"You can go into the Chatterbox and it looks exactly like it did back in 1985," said Ruschman, who is now senior curator of art and history for the Indiana State Museum and Historic Sites. "It's become an Indianapolis icon. It has staying power because David kept it authentic."
Indeed, the bar changed little as the neighborhood evolved. The outside door still reads Chatterbox Tavern, just as it has since, well, probably forever. And the minuscule stage Andrichik added has weathered over the years. The duct tape that holds it together harmonizes with the rest of the tattered decor.
The only other big change is the outside patio, which opened in 1997.
"It took almost 10 years to get approval to serve alcohol out there," Andrichik said. "We were the first sidewalk cafe in the whole state of Indiana that served alcohol legally."
Foundation nurtured
One person who has spent his share of evenings on that patio is Jim Walker, CEO and lead artist at Big Car Collective, whose first apartment back in 1995 was in Lockerbie Court, behind the bar. He said the Chatterbox, other early merchants and the Mass Ave art scene helped shape his ideas about using cultural amenities to build up neighborhoods.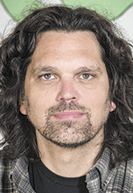 Walker
"One of the things that David was doing there early on was getting people to come down and have a positive, fun experience in a neighborhood that they didn't think of in that way," Walker said. "Every time somebody came down there for something, they started to see the potential of that street and that neighborhood."
It's all been done with a small staff. It's just Andrichik, who's the manager, and eight other employees, many of whom started out as customers and have been with the bar for decades. It's easy to get to know the regulars, because the bar's maximum capacity is only 75, making it impossible for them to get lost in the crowd.
From the vantage point of his time-capsule bar, Andrichik has watched Mass Ave evolve around him. And he's mostly satisfied with what he sees. Developers and building owners have preserved the facades of the neighborhood's historic buildings, with new construction mostly taking place on former surface parking lots.
For Andrichik, the best thing has been the increase in apartments, putting thousands of potential patrons just a few minutes' walk away.
"I like the new structures that are happening," he said. "And I like the density that's being created with the elimination of parking lots. People are putting a lot of money into these things, but it's because of the foundation that we all nurtured."
Brian Payne, CEO of the Central Indiana Community Foundation, agrees. But even with all the new development, he said the Chatterbox remains vital to Massachusetts Avenue. Or rather, to preserving its vibe.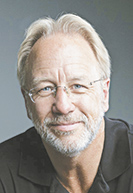 Payne
"You can't get the Chatterbox any other place in Indianapolis," Payne said. "There might be some places like it, but the Chatterbox is uniquely its own, and that makes it special. And it makes Mass Avenue more special."
Save the quirky
Which is sort of a problem, because, when neighborhoods become popular and successful, their very success can destroy the things that got them there.
For instance, pretty much all the quirky art galleries that populated Mass Ave during the 1980s and 1990s were driven out by ever-increasing rents.
The same thing happens across the country whenever a neighborhood becomes popular. If city and neighborhood leaders aren't careful, all the quirky stuff is replaced by interchangeable, run-of-the-mill bars, restaurants and shops.
"You're not cool anymore because you've been homogenized into looking like a district that any other district would look like," Payne said. "If the Chatterbox went away, the area would be more mainstream and not nearly as cool."
Fortunately, Andrichik has no plans to go anywhere, though he has started giving succession plans at least a bit of thought.
"What I would like to do, in theory, is have some person and/or entity that would wish to keep the music alive the way it is now," he said. "Not so much the decor. If somebody came in with more money and could do some stuff immediately, that would be great."
If his plans sound somewhat nebulous, it's because his short-term scheme is to keep doing what he's doing.
Right now, he's having too much fun patrolling the place every night, managing operations like the Chatterbox's own bowling league, and lining up acts for the bar's stage. The music has made the Chatterbox an internationally famous jazz venue—even if some of the noobs who wander into the place still don't know anything about the music.
"The new crowd of people who are coming in, they're not so savvy about jazz," he said. "If you asked them on the street, they might even say they don't like it. But they come in and they love it. We get to explain who we are and what we do, and the music speaks for itself."•
Please enable JavaScript to view this content.