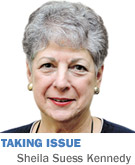 Ajit Pai came to the Federal Communications Commission from Verizon. Unlike Betsy DeVos at the Education Department, he does actually know something about the agency he heads; unfortunately, like Scott Pruitt at the EPA, it is an agency he is determined to destroy.
He's well on his way.
Under Pai, the FCC has already eliminated long-standing rules that prevented a single company from dominating media outlets in local markets. Now Pai is proposing to make good on his pledge to repeal net neutrality—the 2015 regulations designed to ensure that internet service providers (known as ISPs) treat all online content and apps equally. Pai's plan, issued Nov. 21, sets the stage for a battle royal with consumer groups and internet companies who argue the move will stifle competition and raise costs for consumers.
Net neutrality essentially treats ISPs as utilities, keeping large ISPs such as Comcast, AT&T and Verizon from favoring their own digital services over those of their rivals or privileging customers who pay more over users who pay less.
When Pai unveiled his plan, Tom Wheeler, who chaired the FCC from 2013 to 2017, issued a blistering response, calling it a "shameful sham and sellout."
"A fair and open internet is the backbone of the digital economy," Wheeler said. "The FCC has sold out to the wishes of the companies it is supposed to regulate over the consumers it is supposed to protect. For more than a decade, previous Republican and Democratic FCCs have tried to bring fairness and balance to the delivery of the internet to consumers. Every one of those efforts has been opposed by the corporations that consumers rely on to deliver the internet."
As Wheeler points out, the proposal reeks of hypocrisy. Pai says his plan will protect consumers—because it will no longer be the agency's responsibility to protect consumers! Instead, he proposes to cede the FCC's "regulatory authority" to the FTC—which has no regulatory authority.
Consumers Union is only one of the numerous consumer organizations opposed to repealing net neutrality. These organizations warn that, without net neutrality, ISPs will raise prices and—even more troubling—give preferential treatment to favored sites and apps.
According to Jonathan Schwantes, Consumer Union's senior policy counsel, "Strong net neutrality rules are vital to consumers' everyday lives and essential to preserving the internet as we know it today—an open marketplace where websites large and small compete on equal terms and where information and ideas move freely."
The business community regularly complains about "intrusive" government regulation—and it's certainly possible to identify examples of silly or excessive regulations. However, we need to remember there is a reason government establishes "rules of the road."
Markets don't work unless competition occurs on a level playing field. Would athletic competitions be "sporting" without a referee to ensure that everyone plays by the rules? When authorities can't enforce fair play among competitors, capitalism becomes corporatism. (Look it up.)
In a recent column for The New York Times, media historian Tim Wu recounted the "long history" of anti-competitive behaviors by AT&T and Verizon, among others, and pointed out that Skype and Netflix would have met "an early death" without net-neutrality protections.
Pai's proposal boils down to, "Just trust your cable company." That won't cut it. Internet service is like phone service. AT&T isn't able to make your connection worse if it doesn't like the person you're telephoning; it shouldn't be able to slow your online connection because you aren't a favored customer.•
__________
Kennedy is a professor of law and public policy at the School of Public and Environmental Affairs at IUPUI. She can be reached at skennedy@ibj.com.
Please enable JavaScript to view this content.