Why and where should Sunday alcohol sales be allowed in Indiana?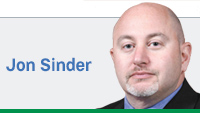 It doesn't take a shrewd poll to know Hoosiers are tired of the antiquated laws that forbid them from being able to purchase alcohol for carryout on Sundays. Indiana's small-business package-liquor stores share in this frustration because—unlike virtually every other retail outlet in the state, like grocery stores or gas stations—we are forbidden by law to open our doors to our customers one day per week.

This is bad for business and bad for Hoosiers.

That is why we joined the Indiana Retail Council in announcing a landmark agreement to work together with legislators and policymakers to create meaningful public policy that will allow for the sale of alcohol for carryout for the first time since Prohibition without putting Hoosiers' safety in jeopardy.

We believe existing safety measures work to ensure alcohol is sold responsibly. However, when combined with increased penalties on those who sell to minors and those who provide alcohol to minors, Indiana can ensure that convenience does not put safety at risk. As experienced retailers, we also recommend increased carding measures that will further prevent this dangerous product from getting into the wrong hands.

Many of these issues are now being thoughtfully considered by the state's Alcohol Code Revision Commission, which is holding meetings over the next two years to examine our alcohol laws and how they can be reformed for the benefit and safety of Hoosiers.
We're proud to be allies with the Indiana Retail Council, which consists of some of the state's largest retailers and employers. Observers of the so-called "alcohol wars" that have pocked our state's history might remember that our associations were often positioned on opposite ends of this debate, which inevitably got us nowhere. This year, we decided on a different approach.

By working together, we found common ground and a shared interest in improving Indiana's public health and safety while giving Hoosiers the convenience they deserve.

However, the notion of working together to achieve historic results has been derided by some who went so far as to call a list of policy recommendations a "corrupt bargain." It is exactly this attitude that has led to a lack of progress on our state's alcohol laws. To make Sunday sales happen, we need more collaboration and less division.

Legislators and policymakers on the Alcohol Code Revision Commission are doing important work and, like any stakeholder, we are excited to continue lending our experience as responsible retailers to the discussion.

It is no secret that alcohol is a controlled substance that can destroy lives, families and communities. We need regulations that allow for convenient access while ensuring that these dangerous products do not get into the wrong hands—these regulations are important and should not be trivialized.

The Indiana Association of Beverage Retailers believes it is possible to deliver critical reforms like Sunday sales without compromising on safety.•
Click here for more Forefront columns.
__________

Sinder is chairman of the Indiana Association of Beverage Retailers. Send comments to ibjedit@ibj.com.