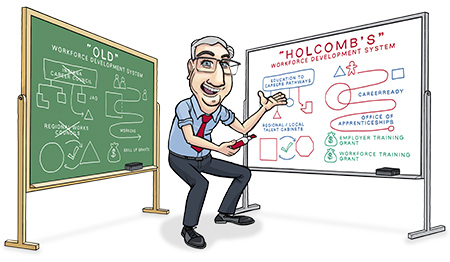 Can Indiana lawmakers fix the state's convoluted workforce development system?
Gov. Eric Holcomb and leaders of the Indiana General Assembly say they want to try. They're planning to focus on the issue when the session convenes in January, but there appears to be no consensus yet on what shape a new system should take and how much of the current system should be pruned—or straight-up bulldozed.
The state operates a confusing and multi-layered system in which a seemingly endless number of councils, boards and agencies—all with slightly different roles—control roughly $1 billion in various funding streams and programs aimed at making sure the state has enough skilled workers for the jobs of the future.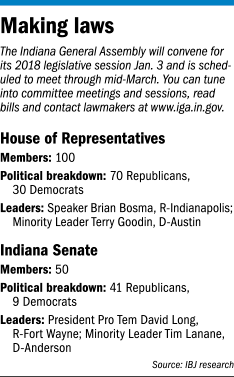 There's the Department of Education, which controls $115 million annually to support vocational courses for K-12 students. The Commission for Higher Education doles out funding for Ivy Tech Community College and Vincennes University, which provide workers credentials.
The Department of Workforce Development runs several programs aimed at getting people skilled up for jobs and runs the unemployment system.
Then there's a whole network of smaller entities, which control federal funding streams, have small grant-making abilities, and are generally aimed at improving the education-to-career pipeline. But those groups have complained that their missions collide and they don't have much power.
Stakeholders from across the spectrum agree the system must change. But how do you do that without throwing out work that's been accomplished already?
"Every time there's a new administration or new agency head, you can't throw the baby out with the bathwater and bring in a whole new set of initiatives," said Rep. Terri Austin, D-Anderson, who served on the existing Indiana Career Council.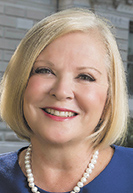 Austin
"There are several states way ahead of us on this," Austin said. "There's no reason for us to go out and reinvent the wheel."
Holcomb is trying to achieve a balance. He has a plan to create an Education to Career Pathways Cabinet—to essentially oversee the system—and develop self-selecting regional or local talent cabinets. They would replace the Indiana Career Council and 11 Regional Works Councils, which were created under former Gov. Mike Pence, who went on to become vice president.
Holcomb told IBJ that "relentless hard work" went into designing a plan that wouldn't just replace existing bureaucracy with new bureaucracy. And he said he wants to "make sure we're getting folks at the local level not just around the table, but that they have both the flexibility and the funding" to make necessary changes.
"We want this to come from the bottom up," Holcomb said.
Better than before?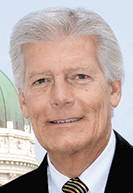 Burton
But some in the business community and at the Statehouse are already questioning whether Holcomb's plan would be dramatic enough to make meaningful change—and whether the new system would be any less confusing.
Brian Burton, president of the Indiana Manufacturers Association, said the group had "hoped initially to have a more employer-driven system." But the proposed state Education to Career Pathways cabinet—which includes the superintendent of public instruction, the commissioner for higher education, commissioner of the Department of Workforce Development, the governor's new secretary of talent and career connections, and the director of the Office of Management and Budget—does not have a representative from the business community.
"We are still unclear how employers are going to provide input on their needs and how quick and reactive this system can be to employer needs," Burton said. "The employer should be driving the system because they are the ultimate customer. We will work collaboratively with the governor and Legislature in fine-tuning this system that they have put forward. We'll be open and honest in our praise and criticism."
Burton said he expects lawmakers to take up the issue in bills of their own.
"We've had numerous discussions with legislators coming up with their own ideas," he said. Some "may fit with the governor's plan and some may run parallel."
One of those lawmakers, Rep. Todd Huston, R-Fishers, said his initial reaction to Holcomb's plan was that it "looks like an added level of bureaucracy."
But, he said, "I'm going to trust, at least in the short term, that Gov. Holcomb and his team aren't" intending that.
The existing system, he said, has "created a level of distrust among employers."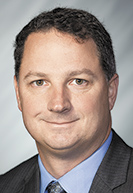 Huston
"This is high stakes," said Huston, who plans to introduce a bill with changes he's not yet ready to detail.
Feds and funding
House Speaker Brian Bosma acknowledged Holcomb's plan is "very similar to the proposal that was part of our package that I carried" several years ago. He said he agreed with Holcomb that "there needs to be an oversight board at the state level."
And Bosma said some duplication in federal and state programs might be inevitable as some of Indiana's workforce structure is dictated by the federal government. For example, Indiana is required to have regional workforce boards—which are different from the similarly sounding regional works councils that would go away under Holcomb's plan—and the State Workforce Innovation Council for federal workforce dollars to flow through.
The governor's plan also calls for a new state office of apprenticeship to help local communities create apprenticeship programs, but there is currently a federally run office of apprenticeship in the state that oversees similar programs.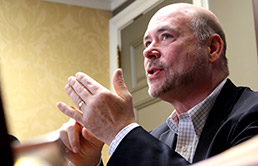 House Speaker Brian Bosma says Gov. Eric Holcomb's workforce proposal is similar to a workforce plan he tried to get passed several years ago. (Photo courtesy of TheStatehouseFile.com)
Burton said the manufacturers' group "has expressed concerns to the Governor's Office that we do not want to create an additional apprenticeship system that would compete and confuse the Department of Labor's."
Legislators also might not be able to implement as many big changes this year as they hoped. That's because any significant changes in the way career and technical education, workforce programs or agencies are funded will have to take place during a budget-writing session of the General Assembly, which won't occur until 2019.
Huston said he wanted to lay the groundwork this year to make budgetary changes later.
"The funding streams, we recognized all along, those are going to have to be changed, how we allocate everything from career and technical education to performance funding [in higher education], to which programs we invest in and which ones we no longer invest in," Huston said. "That will all be part of 2019. Ultimately, it's imperative for the governor to get his agencies in shape to support that."
Holcomb acknowledged the workforce system could "potentially" require additional funding.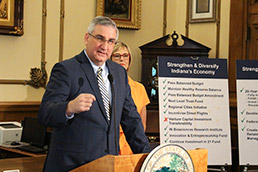 Gov. Eric Holcomb calls his proposal a "bottom up" plan and says it won't just replace existing bureaucracy with new bureaucracy. (Photo courtesy of TheStatehouseFile.com/Lucas Lloyd)
"This is about getting the resources not just to communities or businesses, but getting resources to people," Holcomb said.
Frustrated potential
Meanwhile, several educators and businesspeople who sat on the boards that would be replaced under Holcomb's plan (and would disappear, anyway, under current law that's scheduled to expire) told IBJ they accomplished what they could with the resources available—but the overall potential was unfulfilled.
Scott Bess, who runs the Purdue Polytechnic High School and previously ran the Goodwill Excel Centers, said his experience on the Region 5 Works Council created by Pence was "great from the standpoint of a lot of really smart people around the table. But he said he was disappointed that "we didn't really get to influence how the money was spent."
"The career and technical education centers were still operating exactly the same way they were before the works councils," Bess said.
Some say they don't want the government to redo or waste what has already been accomplished.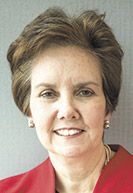 Lee
Kathy Lee, chancellor of Ivy Tech Community College's Indianapolis campus, said she is "hoping this wouldn't cast aside the good work already done" but build on it.
"This doesn't feel totally new to me," Lee said. "This feels like the idea just starting to mature and grow into something that might really work."
William Turner, director of education and development at Allison Transmission, who also served on the works council, said, "We decided we didn't want to disband now, saying, 'Forget it.'"
"We want to continue on and find a way we can help," Turner said.
Scaling up already-successful programs should be a priority in the new system, said David Dimmett, senior vice president of Project Lead the Way, which provides science, technology, engineering and math training in schools.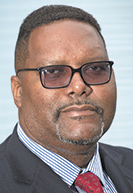 Hobbs
"We put too much emphasis on the next innovative program," Dimmett said. "There are times when we have experiences that are working, programs that are working, but we need to not be afraid to point them out and scale them."
Robert Taylor, superintendent of Lebanon Community School Corp., said he sees some "good starting elements, but I'm anxious to see how a number of components are implemented." He said he wants funding decisions to be a collaboration between educators and industry but is worried about "getting tied into a funding formula based on situational priorities or the flavor of the day."
"That's where I would be most concerned: having one entity say, 'I'm going to control the CTE funds and we've got a $7 billion stadium project in Fort Wayne so we need skilled trades,'" Taylor said.
Gary Hobbs, president of BWI LLC, who was on the Region 5 Works Council, said the state's problem is fundamentally one of miscommunication and that the state needs to avoid "introducing another system if it does not address the fundamental challenge of, How do we market, communicate and spread the word to the folks who need it the most?"•
Please enable JavaScript to view this content.