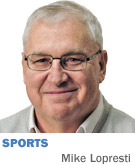 It's the Christmas season. We come to praise Chuck Pagano, not to bury him—or at least to send best holidays wishes that this Belly Flop of 2017 not get too ugly at the end.

The Pagano era is very likely on the clock. You know it, I know it, the Colts cheerleaders know it. Pagano must know it, too. After this weekend's Buffalo trip, there are only 21 shopping days until Black Monday, when the head coaches start to be light-sabered in the NFL.

Central Indiana has seen this movie lately. Tom Crean, Darrell Hazell, Frank Vogel, Kevin Wilson, Jim Caldwell. In the eight seasons of this decade, the Colts have had as many general managers—three—as they've had playoff victories. Even Larry Bird, who could have been pope if Indiana had one, was hearing voices of protest outside his palace window.

Now conventional wisdom holds that it is Pagano's turn, and while the results—not to mention a lot of the paying customers—might shout for a change, it seems only polite at this point to commiserate with a guy, if he is indeed coaching on death row. And also wonder anew how it came to this.

Remember when Chuck Pagano …

Owned the AFC South?

Never lost two games in a row, not in 33 consecutive kickoffs?

Built the best record in one-possession games in the NFL?

Kept busy every January with playoff game plans?

Waved from a box, as Indianapolis stood and roared for a brave and decent family man who was knocking heads with leukemia? Chuckstrong? Ring a bell?

Now Jacksonville slaps around the Colts like little brothers, and fourth quarters of close games turn into train wrecks, and the defeats come in a line—like trucks on I-70.

"We can't turn back the clocks, and you don't ever look in the rearview mirror," he said the other day. "You just keep moving forward."

He's still the brave and decent family man who has faced an opponent far tougher than the New England Patriots. No losing season should ever obscure that.

What kind of a coach is he? Can we know for sure? Which seems an odd thing to say after a guy has been working here for six years. That's an accomplishment in the NFL— where the letters mean Not For Long in terms of coaching tenures. Of the 31 head coaches in place the day Pagano got the Indianapolis job in 2012, only nine are left. That means 22 beat Pagano out the exit.

He looked adept enough as Mr. 11-5, which was the Colts' regular-season record in each of his first three seasons, with a big assist from Bruce Arians that first year of illness. The AFC Championship Game is not ancient history; it was only three years ago.

After that, as we all know, the Colts went south in the South. A couple of 8-8 records, followed by this … this … well, whatever you want to call 2017.

Coaches pay with their jobs for downward trends. Always have, always will. So if the ax awaits Pagano, it is not necessarily unreasonable. But it is unlucky. You can say "next man up" all you want when injuries happen, but it has to be really hard to find the next man up for a $140 million quarterback. If it were so easy, why is Andrew Luck getting all that money? Top-tier quarterbacks are paid to be irreplaceable.

So the downfall of Chuck Pagano should always come with something of an asterisk, since he had to fight with one passing arm tied behind his back. He needed Luck in the pocket looking for receivers, not roaming Europe looking for doctors.

Pagano is down to two meaningless home games. There's Thursday night and the Denver Broncos. How time flies. Once, it was Peyton Manning coming back to Lucas Oil Stadium, Luck waiting for him, and both sides thinking playoffs. Now, it's Jacoby Brissett and Trevor Siemian and 18 losses between the two teams at last count.

On Dec. 31, it'll be Houston, where only the draft slot will be at stake. A new year comes the next day. Will a new Colts coach come soon after?

Some men have gone into the bunker in this situation, or turned into a hissing rattlesnake to anyone who passed by. Pagano stays Pagano, at peace and still on the job, opening every press conference with the usual, "Good to see everybody." Some of his recent sessions have wandered into Siskel and Ebert at the movies, with homages to "Groundhog Day" (the same bad Sunday over and over again) and "A League of Their Own" (no crying in baseball, or locker rooms of last-place NFL teams).

And when you think about what he has endured, he might have the soundest perspective in the stadium. "We understand what it's all about and how we're judged," he said. "But we're going to be OK."

Maybe he couldn't show the Colts how to win enough lately. But if this is really the end, he's showing them, and us, something else. How to go out.•

__________

Lopresti is a lifelong resident of Richmond and a graduate of Ball State University. He was a columnist for USA Today and Gannett newspapers for 31 years; he covered 34 Final Fours, 30 Super Bowls, 32 World Series and 16 Olympics. His column appears weekly. He can be reached at mjl5853@aol.com.