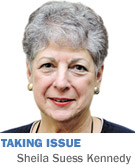 I'm very happy to bid farewell to a depressing year in which I've watched America being dismantled to benefit the president and his cronies.
Much of what has depressed me is the stuff of everyday headlines—a tax bill heavily tilted to the rich and connected, racist rhetoric and discriminatory immigration measures to keep "the base" happy, deranged and embarrassing tweets from the Oval Office.
But a lot of what has depressed me is less well-known.
Michael Gerson is a former speechwriter for George W. Bush. A lifelong Republican appalled by Trump and a complicit GOP, Gerson has coined the perfect descriptor for what this administration is engaged in: institutional arson.
A number of pundits have noted this president's determination to erase anything President Barack Obama accomplished. (Indeed, that might be the only discernable policy "theme" of this administration.) But assaults on constitutional and democratic norms and the rule of law have gone well beyond petulant efforts to demean his predecessor.
Let's start with the EPA, where Scott Pruitt hasn't just been carrying water for the fossil-fuel companies he previously represented. That—and his contemptuous rejection of climate-change science—has been widely reported. But Pruitt has also been dismantling rules protecting clean air, clean water and public health. Case in point: three chemicals that had been fast-tracked to be banned under the bipartisan Toxic Substances Control Act. Two are used in paint strippers and have been blamed for deaths from inhalation; the third is used in dry cleaning and refrigerants and is associated with birth defects, liver and kidney damage.
The bans have been "indefinitely postponed." (Interestingly, before he withdrew, Trump's nominee to head the EPA chemical safety board was a lobbyist who supported manufacture of these chemicals.)
Moving along to Medicare: The Trump administration has rolled back the assessment of fines against nursing homes cited for patient neglect or mistreatment. Since 2013, nearly 6,500 nursing homes have been cited for one or more serious violations. Approximately two-thirds of those were fined by Medicare. Nursing home owners complained that the fines "weren't helpful," so the administration relaxed enforcement. Good for the bottom line, not for the patients.
Then there's Ajit Pai, formerly an executive at Verizon. Pai now heads Trump's FCC, and he engineered the vote repealing net neutrality—despite the fact that 83 percent of Americans tell pollsters they favor keeping the rules that ensure equal access to the internet and prevent internet service providers (like Verizon) from favoring some sites over others.
At the Interior Department, Ryan Zinke recently attempted to erase most of two national monuments in Utah from America's map. According to several sources, Zinke's policies extend to "the attempted dismantling of the Interior Department itself," which, Zinke told Outside Magazine, he plans to reorganize along the lines of a "military command," a plan that would include losing approximately 4,000 Interior staff and slashing the department's budget by $1.6 billion. 
At the Department of Education, Betsy DeVos has reinstated onerous collection fees for defaulting student loan borrowers and is rolling back a number of consumer protection rules, including loan forgiveness for student borrowers defrauded by institutions and rules that protected transgender students.
New York Magazine recently reported that "no one is home" at Ben Carson's HUD.
It goes on. And on.
No one in her right mind would assert that American government doesn't need reforming. If competent people were trying to improve agency performance, I'd cheer. But that's not what's happening.
What's happening is arson—and lots of looting.•
__________
Kennedy is a professor of law and public policy at the School of Public and Environmental Affairs at IUPUI. She can be reached at skennedy@ibj.com.
Please enable JavaScript to view this content.