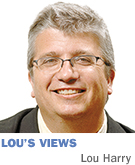 When it came to short stories, Kurt Vonnegut's world was different from today's.
These days, graduate students in creative writing programs write short stories for literary magazines that are read almost exclusively by other graduate students in creative writing programs. Science fiction writers have their short pieces published in targeted genre publications. Of course, there's The New Yorker and The Atlantic—the holy grails for such work—but that's pretty much it for short fiction.
Once upon a time, though, in the 1950s, fiction was part of the regular monthly mix at mainstream publications such as Ladies' Home Journal, The Saturday Evening Post and Cosmopolitan. Those outlets offered budding writers the chance to actually make a respectable living.
Vonnegut was one of them, penning more than 90 stories and selling about half of them. Regarding one that didn't sell, an agent at the time told him, "Save it for the collection of your works which will be published someday when you become famous."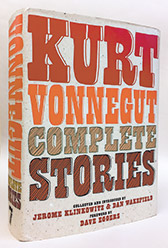 Vonnegut's friend, fellow author Dan Wakefield, in partnership with Vonnegut scholar Jerome Klinkowitz, has done just that. "Complete Stories" (Seven Stories Press), brings all of Vonnegut's short fiction work together in one hefty volume—not just those that have previously been gathered in collections published during his lifetime, including "Welcome to the Monkey House," but also those from posthumous anthologies, online sources, and even a few that have never seen the light of day.
The stories are organized roughly thematically, with sections devoted to such categories as War, Science, Work Ethic, Romance and the catch-all Behavior. Such headings are a bit reductionist, of course, and many of the pieces could have been parked in multiple categories. But if the alternative is chronologic organization, I'll take Wakefield's and Klinkowitz's approach, which allows for interesting introductions by the pair.
The nature of such a complete volume is that you get the familiar—"Harrison Bergeron" is a common selection in high school English classes—and ones the author might have wished were forgotten. Vonnegut, for example, described his story "The Boy Who Hated Girls" and others as "literary fossils."
Rather than attempt all 900-plus pages, I dug into the new material—including introductory essays and five previously unpublished short stories.
Of the first-time-between-covers work—all found in Vonnegut's papers in the Lilly Library at IU—there's no undiscovered gem. Just signs of a slick, folksy writer making a living.
"Requiem for Zeitgeist" is a shaggy barstool story that's as whimsical as it is empty, while "Atrocity Story" turns out to be a slight account—set during a war-crimes inquiry—of the shooting of a looting soldier in Dresden (shades of "Slaughterhouse-Five").
More interesting is "City," a playful writing exercise offering the alternating points of view of a man and woman waiting for their buses. But it takes a quick turn toward hokum as it approaches its destination.
Better is "The Drone King," whose title refers not to a yet-to-come flying technology but to male bees, which an entrepreneur is using to create a new communication system. His creation doesn't have much time to generate buzz, however, and, while slight, Vonnegut's story is just over-the-top enough to generate a smile.
Finally, "And On Your Left," the meatiest of the newbies, involves a research laboratory that's been turned into something of a tourist attraction—and the scientists' attempt to undermine their supervisor's edicts so they can actually get some research done.
Far more interesting than the new stories is the added text by Wakefield and Klinkowitz, as well as a charming introduction by author and publisher David Eggers.
Wakefield is particularly insightful in his analysis of Vonnegut's female characters. While Vonnegut himself is quoted as saying, "I've never been able to do women well in a book," Wakefield counters that "Vonnegut is more interested in creating the story, the plot, in his short stories than in developing the characters—either women or men … ." He adds, "More than most male writers of popular magazine fiction of the time, he skewers the men that the women have to put up with, and shines a light on the men's failure to understand the frustrations of their wives and girlfriends."
And Klinkowitz makes a solid point that can be lost now that Vonnegut's work is studied in schools: "Vonnegut's stories were meant for everyone, not just readers of niche magazines. …The stories themselves were written for the vast American middle class."
With that perspective, "Complete Stories" not only proves an important all-in-one volume, but also a reminder of the long-ago reach of a largely lost art form—an art form that helped a writer from Indianapolis work out his ideas and style to become one of the most influential novelists of the last century.•
__________
This column appears weekly. Send information on upcoming arts and entertainment events to [email protected]
Please enable JavaScript to view this content.