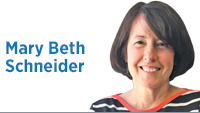 I don't know if Will Rogers ever performed in Indianapolis, but he might as well have been talking about this city when he said: "I'm not a member of any organized political party, I'm a Democrat."

The party controls absolutely nothing in the Statehouse. Zip in Washington, D.C.

But it holds the Mayor's Office here, plus a 14-11 majority on the City-County Council.

And yet still managed to give away power to Republicans.

Five Democrats joined nine Republicans in voting to make first-term Democrat Stephen Clay the council president, ousting Democrat Maggie Lewis. In exchange, Republicans get control of three committees.

Lewis called it a "coup." Clay called it an example of "what happens when Democrats and Republicans can work together for common good."

I'm a big proponent of bipartisanship. But that generally means listening to the other side, incorporating some of their proposals and seeking compromise. What Clay handed the Republicans was three committee chairmanships—ethics, public works and rules—and with them the ability to control much of the process and stop proposals from advancing to the full council for a vote.

Much of the attention surrounding the vote went to the allegations of sexual contact with minors that have been lodged against both Clay and Republican Councilor Jeff Miller. Miller is facing criminal charges; Clay was never charged. Republicans, in some ethical gymnastics, ousted Miller from their caucus but backed Clay for council president.

Republicans did the obvious political thing. As George Washington Plunkitt of Tammany Hall fame once said: "I seen my opportunities and I took 'em."

And so did Clay. He tried unsuccessfully last year to defeat Lewis. His flirtations with Republicans began two or three months ago but heated up in the three weeks or so before the vote that stunned his party.

The political winner out of all this? Michael McQuillen, the Republican leader on the council. He went from having only the power of persuasion (and ask any minority leader anywhere how well that works) to having real power, even if it meant backing an accused abuser.

Lewis, sure, is the obvious loser. So might be Monroe Gray, one of the Democrats who backed Clay but then was shocked—SHOCKED!—that the GOP price was control of the rules.

But there is another, more important loser: Indianapolis Mayor Joe Hogsett and his agenda.

One year out from his re-election bid, he is not only beset by a too-high murder rate and other kinds of problems that can beleaguer any mayor, but now looks weak. A strong political leader would have headed this off. He or she would have gotten the 14 Democrats behind closed doors and shut down any rebellion, particularly one that involved sharing power with the minority.

Instead, Hogsett looks like a guy who can't keep 14 so-called allies in line, much less an entire city.

As McQuillen said, "There is an aura of vulnerability in the air."

McQuillen—who said he won't run for mayor himself—thinks that, while Democratic dysfunction and disunity gave the GOP this opportunity, it will prove the best route in the end for Indianapolis.

In fact, he said, if Republicans won back a council majority and he were president, he would give some chairmanships to Democrats.

"100 percent," he vowed.

Maybe it will prove to be a new, better way to govern. And maybe it will just show that Democrats can't get their act together even when they hold all the cards.•

Click here for more Forefront columns.

__________

Schneider covered Indiana government and politics for The Indianapolis Star for more than 20 years. Send comments to ibjedit@ibj.com.