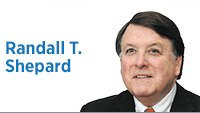 During the summer of 2013, Indiana added a new slogan to its collection. We placed it atop the state office building: "A State That Works."

It has seemed perhaps a little mechanical, but the ensuing five years and the recent addresses by the governor and the chief justice have demonstrated that the spirit of that slogan can embrace both solid organization and an aspiration to reach for innovation and higher achievement.

Sometimes you can learn a lot about a community by virtue of the leaders it chooses. Over the last decade, Indiana has chosen a governor who gave us the courage to welcome reform and now does the same for higher education, a governor summoned to Washington who adds tangible value in a time of turmoil, and a new governor who tells us we must propel ourselves to the "next level."

Gov. Eric Holcomb's address to the General Assembly had multiple examples of that determination. How do we empower our residents to succeed in the new economy? One way, of course, was to place Indiana above all but four states on raising higher education spending per student during the Great Recession. An innovative step to look beyond current students has been to help people who started college but didn't finish to return and obtain a degree. Holcomb said he wanted to enroll 25,000 such students this year. "We're willing to be held accountable for that," he might as well have said.

And, of course, accountable—and worthy of praise—for launching one of the great infrastructure booms in state history. Six billion dollars in building new roads, repaving existing ones, fixing bridges, extending interstate miles—all made possible by a tax hike that proved popular with the public. It has come at the same moment as our first non-stop flights to Seattle and to Paris, with all the implications for expanding our tech industry and boosting international trade. Bob Orr is smiling.

Both Holcomb and Chief Justice Loretta Rush laid out genuine improvements in government structure. Don't tune that out. It's a sign of determination to maximize outcomes.

The governor pointed to a new Education to Career Pathways Cabinet through which five senior administration officers will set the framework for the leap in education.

Rush, in her State of the Judiciary speech, likewise described the most sweeping reorganization of the judicial branch in 30 years. Do not doubt that her initiative will pay dividends.

Will the judiciary's ever-more-muscular technology initiatives make any difference? They'll help the Department of Education, for example, keep schoolchildren beyond the reach of people who've been convicted of disqualifying crimes. They will block tens of thousands of people with drug convictions from buying meth precursors by sending their criminal histories directly to pharmacies.

Likewise, the Supreme Court's reorganization will help expand the network of problem-solving courts to rehabilitate drug-dependent defendants and assist families on the brink. The court will likewise recruit and train the desperately needed volunteers who serve as advocates for children, already the second-largest program in the country. The General Assembly has invested new money to help make this happen.

Our Legislature and our governors have been engaged in more than a numbers game by producing a series of honestly balanced budgets. If you were Amazon, evaluating financial incentives offered by Illinois and Indiana, which one would you trust to make good on the offer?

Indiana approaches all these good deeds with a collective spirit that looks awfully decent at a moment of national contentiousness. Our officeholders and our neighbors treat one another with a steady approach of civility.

As Gov. Holcomb said: "E Pluribus Unum."•

Click here for more Forefront columns.

__________

Shepard, formerly Indiana chief justice, now serves as senior judge and teaches law. Send comments to ibjedit@ibj.com.