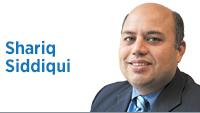 In December, Indiana Department of Child Services Director Mary Beth Bonaventura, a former judge, submitted her resignation, citing concerns about staffing cuts, budget cuts and political appointments that she said strip her position of power and jeopardize her relationship with providers.

Bonaventura was appointed by former Gov. Mike Pence to this role. She was considered a stellar choice as she has been long regarded a leader in this area. She inherited a department and strategy that goes back to Mitch Daniels' time as governor. In his first term, Daniels increased funding for DCS, created a strategy that brought in more federal funding for the department, and increased the number of case workers and attorneys to better manage caseloads.

Current Gov. Eric Holcomb was part of Daniels' team when this strategy was implemented. I was on the opposing side of DCS during that time in my role as a contract public defender who worked with indigent parents whose children were taken away in Marion County by DCS and as co-director of legal services at the Julian Center.

This story doesn't add up. I respect Bonaventura because of her reputation. I deeply respect Holcomb because of our work and friendship together for over a decade.

However, in my role as an advocate and attorney for families and domestic violence victims, I have always believed the rhetoric for child safety has drowned out prioritization of the family. Indiana has been among the largest recipients of federal funding because of the rates at which we terminate parental rights and facilitate adoptions to approved families.

Indiana has more children in the system than any of the surrounding states, including states that have more than twice our population. Indiana had 29,315 children in foster care during fiscal 2016, according to federal data. During that same time, there were 23,646 children in care in Ohio, 19,998 in Illinois, 18,194 in Michigan, and 13,016 in Kentucky. This raises legitimate public-policy questions.

I found that DCS had exceptional attorneys and family case managers. However, I also felt that departmental policies limited their ability to help parents (or families) deal with challenges so they could reunite children with their families. I left this work in disgust, feeling I was part of a conveyor belt taking children from poor families in Marion County.

Some of the policies these DCS caseworkers and lawyers had to fight for within Marion County (policies differ from county to county, in my experience) did not make sense to me. For example, how can you take a child from a parent at birth but then terminate parental rights because the child wasn't bonding with the birth parents during their infrequent visitations? Why require that children couldn't share bedrooms? Not having enough bedrooms resulted in lack of unification.

Regardless of what politicians might say, the system is not working. Politicizing this issue doesn't help us develop a better solution.

We must protect our children. There are times when parents are unfit to be parents. But our policy should not be guided by federal fiscal incentives and grants. It should be guided by our belief that children are best served when they are part of their family. We should provide greater flexibility and funding to ensure that the family is equipped to keep their children safe.

This is an important bipartisan issue that requires review. Holcomb's decision to hire an external organization to do a review is a good first step. However, this is not enough. Legislative leaders, with Holcomb's support and involvement, should establish a bipartisan commission to review this issue.•

Click here for more Forefront columns.

__________

Siddiqui is an attorney, has a doctorate from the Lilly Family School of Philanthropy at IU and leads the Association for Research on Nonprofit Organizations and Voluntary Action. Send comments to ibjedit@ibj.com.