In Greek and Roman drama, the term "deus ex machina" refers to the intervention of an outside force to resolve plot complications.

That's traditionally something that happens on stage. But in the case of Theatre on the Square—a troubled arts anchor in the Mass Ave Cultural District that went on hiatus last summer—an off-stage deus ex machina has been desperately needed.

Enter the Central Indiana Community Foundation.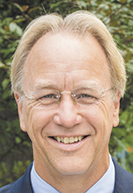 Payne
"CICF did not come in to try to save TOTS," said the foundation's executive director, Brian Payne. "We came in to save a venue."

Under a plan Payne and board members detailed for IBJ, the organization formerly known as Theatre on the Square will become a yet-to-be-named not-for-profit associated with CICF. The new organization will find an arts group to manage the venue, making it available to other organizations to use for their productions.

The long-term goal: Re-incubate the space and then have CICF drop out when the model has proven sustainable. Essentially, CICF would be a landlord, taking care of the building, creating governance, and selecting and guiding the right tenant toward ongoing viability.

It will be a big change for TOTS, an organization that launched 30 years ago in Fountain Square but moved to Massachusetts Avenue in 1993. Since then, it's staged more than 250 productions in its two theaters—one with seating for at least 120 and the other with cabaret-style seating for up to 60.

But the activity hid financial problems that began to cause concern in the arts community when TOTS cut its 2016/2017 season short, with productions canceled even after casting was complete. The board ended its search for an executive director after interviews had begun—including one with an out-of-town candidate.

The theater's doors stayed open through August's Indy Fringe festival, which rents both TOTS stages, but it has been shuttered since.

The problem is troubling for Mass Ave—where a decades-long revitalization was initially based on an arts and theater niche—especially given the imminent departure of the Phoenix Theatre, the highest-profile arts group in the district.

"The Phoenix relocation comes with mixed feelings, obviously. Its cultural impact will be bigger on the entire city. It's good when someone grows," said Eric Strickland, executive director of Riley Area Development Corp. "TOTS, though, is closer to the heart, right on Mass Ave. We feel it has a place here. It's a great facility, but it's been a roller coaster."

"It's even more important now," said Dave Lawrence, president and CEO of the Arts Council of Indianapolis, "for us to maintain these cultural districts as cultural spaces."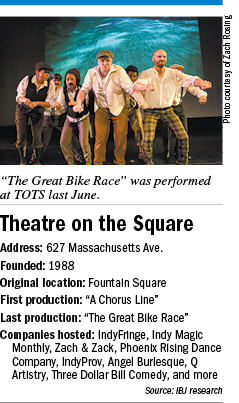 Backstage problems

For decades, under the guidance of Ron Spencer, Theatre on the Square produced shows, usually with volunteer talent, ranging from the controversial "Corpus Christi" to broader-audience fare such as "A Chorus Line." Production didn't slow after Spencer's retirement in 2014, but problems began to come to light.

"I didn't start looking under the hood until Ron left," said Payne, of CICF, one of the key philanthropic entities that had helped keep TOTS afloat over turbulent years. Payne had been under the impression that the TOTS building was paid for—thanks in part to grants from his organization. But at some point during the Spencer years, TOTS took out a second mortgage on the property.

"We found out about the second mortgage and really freaked out," Payne said.

CICF didn't have the legal authority to stop TOTS from taking out another mortgage, but it could put strings on grants. "We gave another with the condition that the grant had to be used to pay off the second mortgage and they couldn't take on any more debt. If they couldn't make this work, we wanted to keep it viable for the next producer."

The building had structural problems, including a crumbling exterior wall, broken attic windows, and, according to Payne, holes through which you could see the sky.

The revolving door of board members and presidents—20 members in and out with six different presidents in three years—also "wasn't helpful," according to Payne. Nor were the unpaid payroll taxes to the IRS and the money owed to Dramatists Play Service, licensing house for scripts.

Roger Schmelzer, now the TOTS board president, said the organization just didn't have a strong fundraising or audience base and "virtually no public relations presence." Then, he said, "it became apparent that our institutional funders were reluctant to keep putting money into the theater … and suddenly there was no money to pay anyone."

The Christel DeHaan Family Foundation was one that pulled back.

"We support a wide range of organizations that produce excellent and diverse artistic productions and maintain operational excellence," said Melynne Klaus, director of the DeHaan Foundation. "CDFF provided general operating support to TOTS from 1997-2016. We did not provide support in 2017."

On the boards

Schmelzer had just rolled off the board of The Cabaret when he signed on at TOTS in 2016.

"I was looking for a more hands-on commitment. I knew there was turnover and unrest. I thought it could probably use some leadership," said Schmelzer, president and CEO of the National Conference of Insurance Guarantee Funds. "In my own job, myself and my staff have continuity and clear direction from our board, so I know how important that is."

It took months, Schmelzer said, for a new group of board members to sort out the group's finances.

"We spent an inordinate amount of time to make sure the board could do its fiduciary duty by understanding what the financial situation actually was."

Members of the board hoped TOTS could run as it had before, only with tighter financial oversight. Many in the arts community were optimistic when TOTS announced it would hire someone to run the place.

"The board was excited about the theater and had the right intentions in mind," said board member Darshan Shah. He and Schmelzer are the only two members of the previous board who are still members today. "It was just a matter of finding the right folks for the board to make sure that theater had the expertise necessary to be successful.

"We finally had stability with the board—highly capable folks in various areas—and we had a strategic plan in place," Shah said. "But there wasn't enough time to effectively execute it."

"That's when we got the news [from the funders] that things weren't going to be the way they had been in the past," Schmelzer said.

And that's when the deus ex machina appeared.

Scene change

Payne approached the board with his plan to dissolve the Theater on the Square organization and replace it with the new group, which he will chair.

The biggest change for audiences and the arts community is that TOTS will no longer exist as a producing organization. So what will it become?

"The answer is, we don't know yet," Payne said.

Convincing the new board was easy.

"If this had been a board that had been with Ron [Spencer] for 30 years, that would have been a whole different story—a board that said, 'This is Ron's legacy. We're here to maintain the past and you're going to change that,'" Payne said. "We didn't have any of that. We didn't have emotional baggage. Everyone wanted what was best for the arts community."

"Not to be Pollyanna about it," said the Arts Council's Lawrence, "but this provides us with a great opportunity to reimagine what that space can be."

Spencer, now living in Puerto Vallarta, Mexico, said he's "always had the utmost respect for Brian and CICF. Their support was instrumental in keeping the lights on at TOTS. It pains me that, after 27 years, I wasn't able to leave behind an organization that could sustain itself in its original incarnation.

"Hopefully, it will find new life and purpose and continue contributing to the vital arts scene in Indy," Spencer said.

At a Jan. 23 board meeting—the third with the new TOTS configuration—members set a goal of releasing a request for proposals on or near Feb. 12 that will invite existing producers and organizations to submit plans to run the space. The tenant the board chooses could produce as well as manage the space—but not too much production.

"If they want to be the sole producer, we're likely not to give it to them," Payne said. "If they want to control 16 weeks of production and rent it out for 36, that might be a compelling bid."

The idea is to have steady product on stage but also have TOTS available for homeless theater groups and festivals and one-off productions.

Does such a producer exist?

"Maybe we won't get responses we need and we'll have to go back to the drawing board," Payne said. "That's possible, too.

Shah is optimistic about the changes. "The opportunity to truly build something, to leave a jewel in the heart of Mass Ave, is something to be proud of," he said, "whether we call it Theatre on the Square or something different."

"What's exciting," Schmelzer said, "is that we get to preside over a resurrection."•