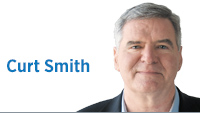 Congressional-approval ratings continue to hug all-time lows, meaning, as former U.S. Sen. Dan Coats often quipped, "Our support is down to blood relatives and paid staff."
This sad but true observation forecasts the future, given the polarization in our country that cripples Congress by fostering dysfunctional discourse.
In this toxic environment, members of Congress who run on a philosophy, promises or a platform are largely unable to enact it—not because of bad will, but gridlock. So here is a modest proposal, a simple and relatively inexpensive experiment.
We give each U.S. House member (all 435 of them, plus the non-voting delegates) and all 100 U.S. senators a set sum of money to invest in their districts or states on behalf of the American taxpayer. We would need a few simple but iron-clad rules governing its use: The money must go to a unit of government, a not-for-profit or a business with a product or service that would benefit the constituency. The official could not have a relative working or leading the entity. Political organizations, unions, single-issue advocacy groups need not apply, either.
Then we evaluate that member of Congress based on what he or she did with those public funds, among other factors.
Let's say we start small—$250,000 for each member—or $500,000 for each two-year House term. That would cost taxpayers $135 million per year. Total federal spending will exceed $4 trillion this year alone; we spend well over $1 billion operating Congress alone!
The uses of the congressional grants are then published and the results become subject to news reporting and campaign efforts. Maybe my representative grants the money to Habitat for Humanity, and later runs campaign ads about the number of homes built and families helped. The campaign slogan? "Would you rather give your hard-earned money to HUD or Habitat for Humanity?"
Maybe your representative gives the money to one or more of Indiana's township trustees, a local elected official charged with assisting the poorest among us. That effort, too, would be transparent and open for evaluation. That campaign slogan? "Helping truly hurting people."
This is fraught with risks—but mostly to the members of Congress, who would suddenly be accountable without ambiguity for a simple act (or no action, if he or she returns the funds to the U.S. Treasury).
Over time, if this works, the program would be expanded and begin to replace (now I'm really dreaming) the broken budgeting and appropriations process. This is the Washington charade that produces periodic government shutdowns, "funding crises," oceans of red ink and debt, and more hot air than all the volcanoes in all the world across all time.
Clearly, some aspects of the federal budget do not lend themselves to member-driven, district-centric decisions, such as national defense, infrastructure, health research and such. But over time, members of Congress would gain responsibility for, say, most domestic discretionary spending. U.S. Rep. Andre Carson, D-Indianapolis, might invest in public transportation, while U.S. Rep. Jackie Walorski, R-South Bend, might do more to deliver veterans services in her area. Then, we the people evaluate how the investments fared. If lawmakers invested wisely, we'd likely send them back. If they invested poorly, we'd look for a wiser financial steward.
In an era where political philosophy, party platforms and politicians' promises matter so little, perhaps such an approach would add a measure of missing accountability and engage an otherwise tuned-out public. I'll see your billion-dollar industrial park and raise you $50 million.•
Click here for more Forefront columns.
__________
Smith is president of the Indiana Family Institute and author of "Deicide: Why Eliminating The Deity is Destroying America." Send comments toibjedit@ibj.com.
Please enable JavaScript to view this content.