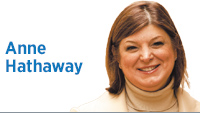 It's disappointing but not surprising that domestic violence is back in the news. At last, I have the opportunity to bring up and promote The Julian Center—where I'm board president—without "that" look. "That" look of disapproval for bringing up a taboo subject that makes everyone uncomfortable. Domestic violence is not a subject people want to discuss at the dinner table, so it's often hard to drop into the conversation what an amazing place The Julian Center really is.

For more than 40 years, The Julian Center has been the only shelter for domestic- and sexual-violence survivors and their dependent children in Marion County. Located at 2011 N. Meridian St., The Julian Center is a campus many of us drive by every day without ever understanding the services that are provided by a well-trained, compassionate and devoted staff. The Julian Center is a place of hope for the future. Those who find themselves at The Julian Center are not victims, they are survivors and are provided support and resources that put them on the path to freedom and security.

More than 100 individuals find safe and secure shelter at The Julian Center each and every night, 365 days a year. Beds and food are something we often take for granted, but if you have left a traumatic situation, you might not know where your next meal will come from. The Julian Center cafeteria is lined with high chairs filled with babies and toddlers. These children and their survivor parent are provided three nutritional meals per day. The Julian Center eliminates that anxiety and helps survivors to focus on putting one foot in front of the other as they seek to build their new lives.

The Julian Center, however, is not just a shelter. There's a 24-hour crisis line that provides a lifeline for survivors to explore options—to seek shelter or to learn about counseling and support programs before, during and after making the decision to leave a traumatic situation.

Resources at The Julian Center include counseling, support groups, art therapy with licensed therapists, and advocate-led peer support groups. Also provided is empowerment programming that teaches life skills like budgeting and financial literacy, health and wellness, nutrition and parenting programs—all with the goal of preparing survivors for the next chapter of their lives.

The Julian Center works directly with the Indianapolis Metropolitan Police Department to provide support, appropriate intervention services and advocacy for survivors of domestic violence and sexual assault. Legal services are also available free of charge at The Julian Center, including connections to attorneys who can provide representation in court when necessary.

"Where will I live? Where can I go?" are often questions survivors ask when contemplating leaving a bad situation. The Julian Center provides transitional housing and permanent supportive housing options that help survivors ease into safe, secure, independent and self-sufficient housing when they are ready to leave the shelter.

With domestic and sexual violence in the headlines, I choose to focus on the survivors and ensure they have a path to long-term safety, stability and self-sufficiency. I choose to focus on ensuring The Julian Center remains in our community and is stable, secure and self-sufficient.

The programs and services provided at The Julian Center are not inexpensive. In addition to government and foundation grants, The Julian Center needs community support through your time, talent and treasure. There are never enough volunteers and financial donations. I hope you choose to focus on the survivors and not the headlines. Visit www.juliancenter.org to lend a helping hand.•

Click here for more Forefront columns.

____________

Hathaway is president and CEO of Hathaway Strategies, chairwoman of the Julian Center board and former chief of staff of the Republican National Committee. Send comments to ibjedit@ibj.com.