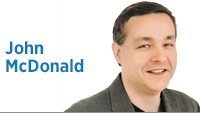 Investing in our own people, in every possible way, is absolutely necessary to fulfill the Indiana Vision 2025 mission to be "a global leader in innovation and economic opportunity where enterprises and citizens prosper."

Cold, hard cash is the very oxygen needed to sustain a growing entrepreneurial ecosystem. In Indiana, the cards are already stacked against us, as California, Massachusetts and New York drew 75 percent of venture capital in 2016. That left 47 other states, including Indiana, to compete for the remaining 25 percent of funds.

As we seek to create a stronger and more vibrant ecosystem for entrepreneurs and raise the national profile of Indiana's innovation community, it's imperative to not only drive measurable increases of economic activity from other states, we must also cultivate and grow Hoosier investment in Hoosier startups.

While we have begun to pay better attention to this need, there is still work to do. Indiana has invested through the Indiana Economic Development Corp., Elevate Ventures and other initiatives over the past decade to build a vibrant and high-potential startup community. Then last year, the Legislature created the Next Level Fund—a mechanism with the potential to supercharge the growth of the state's entrepreneurial economy by providing much-needed capital and related resources to the ecosystem.

Considering the forward progress made over the past few years, it was concerning to hear that an out-of-state firm with little local Indiana ecosystem experience was chosen to be the program's administrator. It is disappointing that officials failed to realize the importance that Indiana resources be directed by Indiana residents to build Indiana companies that actually land in Indiana.

Indiana is not just seeking to broaden its investment strategy for treasury assets through a portfolio of private-equity funds, particularly those who might (as in past attempts at this type of program) seek to deploy all funds in large, coastal firms with no ties to Indiana. The overriding goal is to create a vibrant ecosystem of venture capital and entrepreneurship here at home.

How can we ensure that the intent of the legislation is followed? By keeping tabs to ensure the Next Level Investment Board is requiring the fund administrator to:

◗ Focus on "fund of funds" investments through Indiana-based venture firms that have a majority of their employees (or at least one managing partner) based in Indiana or have a demonstrable track record of providing equity financing to Indiana companies. By investing primarily through established Indiana funds, the state reduces its risk while amplifying impact through the participation of other limited partners in the funds, who will often be fellow Hoosiers.

◗ Concentrate investments in venture capital funds that target early-stage companies (as opposed to private-equity funds), which are, by far, the greatest need in Indiana's startup community.

◗ Establish a local presence that includes a senior investment professional resident in Indiana to ensure engagement with local communities across the state. Senior is key, as junior investment professionals often have limited standing with the home office of the management company, resulting in no real ability to influence decisions.

◗ Actively cultivate relationships with established Indiana businesses and help them connect with new and emerging technologies and companies that receive investment through the Next Level Fund program.

The startup community will be closely monitoring the deployment of the fund, as we aren't interested in history repeating itself. To build upon the momentum we have already generated, the success of this program is critical in order to realize job creation in Indiana by Indiana-grown companies.•

Click here for more Forefront columns.

____________

McDonald is the CEO of Fishers-based ClearObject and chair of the Indiana Technology and Innovation Policy Committee. Send comments to ibjedit@ibj.com.