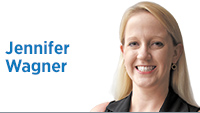 Two weeks after 17 of their fellow students and teachers were gunned down in the halls, Stoneman Douglas High School students returned to class.

They were greeted that morning by eight therapy dogs, beautiful golden retrievers obediently lined up and ready to help those students cope with fear, grief and anger.

I stared at the photo of the dogs in my Twitter timeline, and I wondered, briefly, if they might be the only creatures on the planet who might be thanked for doing their job instead of criticized for it.

I thought about our local pothole situation, caused largely by long-term neglect of local infrastructure and sudden spikes and drops in temperature. There's a parody Twitter account devoted to mocking the Mayor as "Pothole Joe."

I'm guilty of running similar efforts in my past political life, and I never thought about how that might be undermining the public debate about a real issue. Crumbling streets isn't a new problem, and city workers are out there doing their level best to address it. Our first instinct, though, is to gripe and moan, not to thank them when we pass by their trucks.

I thought about the Department of Child Services caseworkers who determine whether the most vulnerable Hoosier kids are in safe or unsafe environments, whether it's the right time for the state to intercede and pull apart a family. I can't imagine how it feels to make those decisions on a daily basis. But the minute one heartbreaking case becomes a front-page headline, we're all quick to make assumptions and place blame.

Finally, I thought about the security officer and deputies outside that high school in Parkland—the "good guys with guns" who've been excoriated for not rushing into the building with weapons drawn in an attempt to save lives. I've written in this space before about taking a gun-safety class and going to the firing range. It helped me conquer my fear of guns, but I have no earthly idea what I'd do in a situation where I actually had to use that weapon to defend myself or others.

To be fair, that's not my job, and it's what these officers were trained to do, but do we know what was going through their minds when the shooter started firing his weapon? It was seven minutes from the time the shooter entered the building to the time he left. Seven minutes.

I write this not because I think city workers are doing a great job or a terrible job filling potholes or to assert that DCS caseworkers are always right or to offer an opinion on what those officers in Florida should or shouldn't have done.

I'd just like it if people took a deep breath before they jumped into the debate. These are difficult situations. The solutions often are neither clear nor simple, and most of us have no idea what we'd do walking a mile—or seven minutes—in those shoes.

We should say thank you to those who undertake difficult jobs, and it shouldn't take eight therapy dogs awaiting traumatized students for us to realize people need help and support more than constant criticism.

We can identify problems without going after those we need to solve them, and we should accept that we are all far from perfect. Our mistakes make us stronger.•


Click here for more Forefront columns.

__________

Wagner is a lifelong Indianapolis resident and vice president of communications at EdChoice. Send comments to ibjedit@ibj.com.