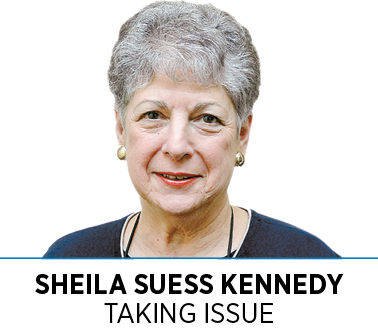 Blaming the victim as a diversionary tactic isn't limited to incidents of sexual assault. Right now, that "blame game" describes some of the arguments being made by opponents of Indianapolis Public Schools' operating referendum—which has now been put off until November.

School districts rely on federal, state and local tax dollars to operate. Since 2011, state per-pupil funding has been rather dramatically reduced—costing IPS about $10 million last yer. Federal funding for IPS has also dropped—by $14.2 million annually since 2010. Tax caps have cost the district an average of $16.8 million every year since 2011. Meanwhile, expenses—especially teacher compensation and benefits, which represent the majority of the budget—are rising.

So far, the district has met these shortfalls without altering the academic programs that have led to much-needed educational improvements. IPS has sold property: the Coca-Cola bottling plant, the P.R. Mallory building, the Center for Instructional Radio and Television. It has closed schools and sold off unused buildings. Where possible, it has leased facilities to third parties, to generate rental income. It has reduced its central office operations to the tune of $5.3 million annually. It has deferred maintenance on its remaining properties and has refinanced debt when favorable interest rates made that feasible.

There's nothing left to sell. At some point, deferring maintenance is no longer possible. Meanwhile, teachers need to be paid and provided health care benefits, and special education students must have costly needs met.

The district is currently proposing to raise just more than $65 million a year for eight years. Of that amount, 74 percent would go for compensation, 12 percent would go for supplies and services, 11 percent would go for transportation, and 3 percent for building maintenance. If the referendum fails, teacher pay will be frozen, some transportation services eliminated, and educational programs cut back.

In-depth descriptions of the funding cuts that created the problem, the steps IPS has taken to address the shortfall, and the proposed referendum are available at www.myips.org/learnmore.

Yes, the referendum will raise taxes on homeowners. A house with an assessed value of $123,500—the district median—will pay $17.70 more a month. (Homeowners should actually consider that a form of insurance, because property values reflect the quality of schools where the property is located. If the referendum fails, and IPS is unable to sustain its current rate of improvement, it will affect the market value of that house.)

All school districts in Indiana—including IPS—are the victims of decisions made in the Statehouse and, to a lesser extent, in Congress.

Constitutionalizing tax caps was a brilliant political strategy—and a disastrous policy choice that increasingly starves cities and school districts throughout the state. Add to that the consequences of former Gov. Mike Pence's successful effort to divert tax dollars from public schools to parochial ones. (Indiana has the country's largest voucher program, and Ball State University researchers report that 98 percent of Hoosier children using vouchers attend religious schools.) Taxpayers sent $146.1 million to voucher schools last year; since 2011, they have sent $520 million.

Blaming IPS and the many other districts that have been forced to propose referenda is like accusing the victim of a robbery of being imprudent with the stolen money.•

__________

Kennedy is a professor of law and public policy at the School of Public and Environmental Affairs at IUPUI. She can be reached at skennedy@ibj.com.