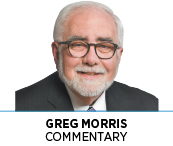 As a lifelong Hamilton County resident who has worked in downtown Indianapolis most of my career, I've been a strong advocate for paying my fair share to help fund public safety, infrastructure and amenities in Indianapolis. I bought into former Indianapolis Mayor Bill Hudnut's declaration, "You can't be a suburb of nothing," decades ago.

I wrote a column in July 2014 addressing just this point. What prompted me then was the onslaught of crime we were experiencing. I called for funding to hire more police officers—and more public safety funding is still a need today.

Another topic I addressed almost four years ago is how to fund infrastructure. Consider the disintegration of our roads in Indianapolis. Coming from the north, once you hit 96th Street, you know you've crossed the border as you try to miss craters that can take out your wheel rim and tire. Yes, I know DPW is working overtime to make the roads passable, but serious money is needed to do the job correctly.

Indianapolis Public Schools needs more money. It's critical to the region that Indianapolis provide quality education in all its districts. IPS just delayed its tax-hike referendum to November, but the request isn't going away.

I know a tax increase for Marion County was approved in 2016 to support mass transit. And yes, I do understand we're already paying extra food and beverage taxes to enjoy amenities like Lucas Oil Stadium. We don't want to be Chicago, where everything from plastic bags to soda is taxed to raise money. But Indianapolis needs more money.

We have a lot of needs. So, where will the money come from to pay for it all? What about getting some of it from people who work here but live outside the county? I fall into that category.

I previously lobbied for a commuter tax as a temporary step to shore up finances until a bigger solution was found. Here's an updated and abridged version of some of those thoughts I believe are still relevant today.

"I'm able to reap all the benefits of working in the great city of Indianapolis and yet, currently, my personal tax contributions don't touch the costs of services and amenities I use. That's the way our current tax structure is set up. Your local/county taxes stay in the county you live in, and they don't go to the county you work in. I don't believe those of us who work in Marion County but live outside the county are contributing our fair share to help Indianapolis continue to keep up with its infrastructure and public safety needs.

"I'm not advocating a huge tax increase. But the local/state tax dollars I'm already paying are not distributed equitably.

"It's complicated, and the devil is in the details, but I am advocating for a major overhaul of how we look at regional distribution of tax dollars we're already paying. I'm willing to pay more to help keep our city strong, growing and well-protected. I'm willing to pay more for better public safety resources, better infrastructure and modern mass transit.

"We're a regional economy and we need regional revenue strategies to address pressing needs. As Indianapolis goes, so goes Carmel, Fishers, Zionsville, Avon, Brownsburg, Greenwood, and so on."

Those of us who work in but live outside Marion County should help find and support regional taxing solutions that help keep our great capital city strong.•

__________

Morris is publisher of IBJ. His column appears every other week. To comment on this column, send email to gmorris@ibj.com.