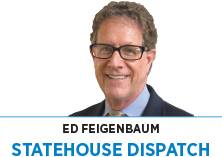 This session is winding down much as it opened: lacking a defining issue or imperatives with which to guide or drive it.
As a result, lawmakers find it difficult to focus.
Now that Hoosiers can purchase alcohol at retail on Sundays thanks to (technically) emergency legislation signed into law even before conference committees had begun to convene, some even question why legislators should stay in Indianapolis through March 14.
Indeed, a quick glance down the list of remaining measures finds few of serious relevance (much less consequence) to the daily lives of Hoosiers. Those that might, such as legislation related to firearms (now to be partially addressed in a school safety summer study), are no closer to consensus than they were a week or two ago.
While some legislation might get off the proverbial dime simply by virtue of interest-group pressure and deadlines, bills addressing controversial social issues aren't destined to be resolved—at least not to the extent they are likely to accomplish something of substance.
And there even seems a certain listlessness permeating the course of regular business, with some bills making it through to the floor of the Senate, for example, only to die on the chamber floor well earlier than we tend to see (a phenomenon traditionally reserved for final-week drama).
Oddly, though, some bills that failed to generate any debate among the public crashed in the Senate for assorted reasons.
One bill that would not only ban the installation of unsafe used tires for road use but also penalize those who installed them, was defeated after senators trekked to the podium to call for trusting common sense and giving people a break if they needed to make an emergency, albeit unsatisfactory, repair decision.
On March 5, after considerable debate over earlier amendments, senators turned back a bill that would have helped towing companies receive compensation in certain situations. Backers wanted to address, for example, circumstances in which law enforcement deemed towing was necessary for public safety (a jack-knifed semi blocking an interstate, for example), but some found it a bit heavy-handed for the state to intervene and block vehicle registration for an individual with an unpaid towing bill.
However, the details of legislation aren't as important at this point so much as the larger process.
There simply is no remaining major bill or issue leaders can use to keep their respective caucuses on point, maintaining discipline and manipulating other bills (and study committee promises) to help herd the cats.
This set of unfortuitous circumstances could produce chaos in a session in which matters of some public importance or interest were still at stake. Rest assured, however, there is nothing that rises to the level of restoration of single-class basketball, rescission of daylight saving time, or forcibly reclaiming the Indiana Toll Road that would incite the Hoosier masses who are happy their taxes didn't get raised and they can already buy booze at retail stores on Sundays (the governor's approval rating may never soar higher!).
Heck, the state of Indiana even now has its coveted official insect.
Much is still left on the legislative plate, of course, of intense interest to the lobby, and there are also a number of major agenda items that, if properly addressed, will improve the lives of average Hoosiers—beginning with that workforce-development and career-education package, the heavy lift that was to have been the centerpiece of this session.
There is always a "next year" to address these ongoing concerns, with many new members, largely new leadership in the Senate at least (and likely leading several House committees), and outside of the white heat of pesky ideological primary, and expensive and time-consuming general, elections.
Lawmakers can even tackle the untidy mess surrounding whether Indiana actually has an official state pie—and wash down the 2019 session with a rousing debate on expansion of cold beer sales.•
__________
Feigenbaum publishes Indiana Legislative Insight. He can be reached at edf@ingrouponline.com.
Please enable JavaScript to view this content.