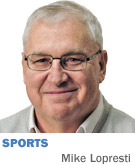 Welcome to the opening game for the Indiana Pacers' 2019-2020 season. We're coming to you live from ...

Well, that's a little up in the air, isn't it? Seems the Bankers Life folks have turned in their notice. The building formerly known as Conseco—and we all know how Conseco turned out—will need a new name soon. Remember when the Hoosier Dome went to bed one night, and woke up the next morning as the RCA Dome?

Actually, we've been pretty consistent with our names around here. Hinkle Fieldhouse has stood for nine decades, and has changed only one word, from Butler to the guy who coached there forever. It was Victory Field when it opened; it's Victory Field now. The Lucas Oil name seems more stable at the moment than the quarterback situation.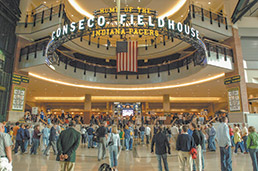 This stadium-naming business can get tricky. Look at Miami.

San Francisco beat Cincinnati in Super Bowl XXIII in Joe Robbie Stadium. The Florida Marlins won the 1997 World Series in Pro Player Stadium. Who can forget the Colts beating the Chicago Bears in Super Bowl XLI in Dolphin Stadium, or losing to New Orleans in Super Bowl XLIV in Sun Life Stadium? And there was the day Peyton Manning rallied the Colts four times to beat the Dolphins in Land Shark Stadium.

Hey, wait. That's all the same place. It opened in 1987 and is now on its 10th name. (Felons on the run from the FBI don't change their aliases that often.) That includes the 20 minutes or so spent as the New Miami Stadium. It was called that 29 years after it opened.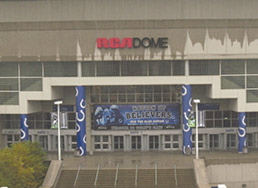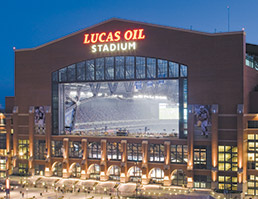 Now it's the Hard Rock Stadium. Know who owns the Hard Rock Cafe? The Seminole tribe, which allows its name to be used by Florida State's football team. Know who plays in Hard Rock Stadium? The Miami Hurricanes, Florida State's despised rival.

So, no, replacing Bankers Life with something else should be nowhere near that messy. And everyone has done it, even the icons.

Wrigley Field was once Weeghman Park. Soldier Field was Grant Park Municipal Stadium, until Gold Star mothers who had lost sons in World War I asked for the change in 1925. It stuck. The Green Bay Packers didn't play in anything called Lambeau Field until 1965, and the name switch was just in time. It wouldn't have sounded quite right two years later had they played the Ice Bowl in New City Stadium.

Then again, some names stay the same. They haven't changed Madison Square Garden, even though this one is a pretty good cab ride from Madison Square. This is the fourth MSG and you have to go back a couple of Gardens to find one actually close to the area it's named for.

The Final Four hasn't been in San Antonio for 10 years but will return next week to find the site still called the Alamodome. And it is still a whole lot bigger than the Alamo, a few blocks away.

If the Miami Heat and Dallas Mavericks can ever get in the same NBA Finals again, everyone should get frequent-flier miles. The series would rotate between the American Airlines Center in Dallas and the AmericanAirlines Arena in Miami. Both of those teams' previous finals reached their destination early—in six games—which is more than you can say for a lot of American Airlines flights.

Arena names can also sometimes be misleading. Basketball is played in the Verizon Center in Washington, D.C. I covered an NCAA regional there once. My Verizon phone wouldn't work in the basement of the Verizon Center.

Several Super Bowls and college bowl games have been played at the University of Phoenix Stadium in Glendale, Arizona. Nice place. Funny thing, though. The University of Phoenix doesn't have a football program. Nor even a marching band.

The late, great Polo Grounds in New York City? The baseball Giants played there. So did the football Jets. They had boxing, soccer, Gaelic football. About everything but polo.

There's one facility name that never seems to get changed. Do you like Memorial Stadium for a football home? You're in the right area. The Big Ten has three of them, from Indiana to Illinois to Nebraska. Missouri and Kansas, too.

It's still Yogi Berra Stadium in Little Falls, N.J., where he lived while he was helping win those Yankee championships. All the outfield dimensions end in the number 8 in his honor.

The Orange Bowl is gone, but there is still a Rose Bowl, still a Cotton Bowl.

But new names and re-names are all the rage, from the corporate world to the culinary world. You can go to a Dayton Dragons game in Fifth Third Field, hop on Interstate 75 and drive north a couple of hours to see the Toledo Mud Hens, also at Fifth Third Field.

In the mood for pizza? There's Papa John's Stadium in Louisville or Little Caesars Arena in Detroit. Something else? Try Whataburger Park in Corpus Christi. Or Dunkin' Donuts Park in Hartford, where inspection of the online concessions menu finds peanuts, Cracker Jack, hot dogs, wings, but, alas, no doughnuts.

Does your space key stick? You could name stadiums in the NFL, where they have MetLife Stadium, FedExField, EverBank Field, CenturyLink Field and FirstEnergy Stadium.

And shouldn't Beaver Stadium be at Oregon, not Penn State, where they go by the Nittany Lions? Never mind. Beaver was a Pennsylvania governor, not the animal that makes dams.

Stadium names mean big money now, and nearly everyone wants a part. Baseball seems a bit tamer than the other sports. Oh, there's Globe Life Park in Arlington and Minute Maid Park in Houston and SunTrust Park in Atlanta. But also simply Yankee Stadium, Dodger Stadium, Nationals Stadium. Six major league teams have their names on their homes. None in the NFL or NBA.

Colleges are climbing onto that name gravy train, too, faster than you can say the Simon Skjodt Assembly Hall.

So we return to Pennsylvania Street and the fieldhouse-to-be-named-later. Who wants to write the check? Of course, this might be the chance to woo a certain corporation shopping for a headquarters site. Pick Indianapolis and get free naming rights for 50 years where Victor Oladipo plays!

How does Amazon Arena grab you?•

__________

Lopresti is a lifelong resident of Richmond and a graduate of Ball State University. He was a columnist for USA Today and Gannett newspapers for 31 years; he covered 34 Final Fours, 30 Super Bowls, 32 World Series and 16 Olympics. His column appears weekly. He can be reached at mjl5853@aol.com.