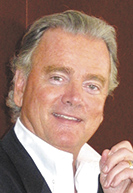 Woodard
Twenty-five years after developer Turner Woodard purchased the old Stutz factory complex at 10th Street and Capitol Avenue, the sprawling facility hosts 200-plus tenants in its more than 300,000 square feet of rentable space.

But such an outcome was hardly guaranteed when Woodard started sniffing around the abandoned property in 1992. In fact, far from it.

"People thought he was completely crazy," said John Robinson, managing director of the Indianapolis office of the commercial real estate services company JLL.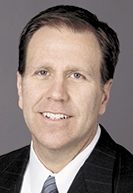 Robinson
Today, the structure—renamed The Stutz Business and Arts Center—hosts everyone from craftsmen and small manufacturers to high-tech startups and a large cadre of artists. And its signature annual event, the Stutz Artists Open House (the 25th edition of which takes place April 27-28), has become both a regular feature on the cultural calendar and a unique business networking opportunity.

Lately, the Stutz has also become the place to be for high-tech startups looking for an interesting place to set up shop.

Lucid Services Group, a small Bloomington tech outfit, recently moved its headquarters there. Today, it occupies some 1,400 square feet. Company COO John Galligan said the firm scouted everything from downtown towers to suburban office complexes before picking its current address. Factors like low-priced parking and amenities helped seal the deal, but the firm also loved the building's quirky vibe.

"It has a beautiful blend of small technology companies like us and independent artists," Galligan said. "It's kind of funky and eclectic, and it speaks to the company culture we're trying to build."

It doesn't hurt that the Stutz is filled with potential vendors and clients. One of the building's artists is providing art for Lucid's office. And Lucid has buddied up with other Stutz-based tech firms.

"It's kind of an overused word, but there's lots of synergies within the building," Galligan said. "We've already built a couple of partnerships in the time we've been here."

It's quite a turnaround for a structure that, before Woodard's arrival, hadn't seen much action since the 1930s.

The Stutz complex—anchored by a sprawling, four-story factory—was built in 1911 and 1912 for what would become The Stutz Motorcar Company of America. The Great Depression knocked the wind out of the company's sails, and the factory closed in 1935. Eli Lilly and Co. used the buildings for many years as a packaging facility, then they sat vacant for a decade until Woodard came along.

He'd already converted an old Michigan Road warehouse into a space for smaller businesses and saw the potential to try the same approach at the Stutz, on a far grander scale.

But this was an era before terms like "maker space" and "business incubator" were part of the common vernacular. Plus, the place was a mess.

"The lights didn't work and the electricity was off in most of the building," Woodard said. "We walked around with flashlights, trying to figure out whether I wanted to buy it or not."

'Wonderful old gem'

He decided he did (for just north of $1 million, according to reports at the time), in part because Woodard is a huge fan of both old automobiles and historic buildings. And also because he didn't want to see the structure meet the wrecking ball.

"I get sort of praised as a visionary, but that's not really true," he said. "It was a wonderful old gem of Indianapolis history that ought not to be a parking lot. I just took it from there, thinking that this was a space I enjoyed, and hoping that there were others that would see that as well."

In the early days, the still-gritty complex attracted lots of small-scale manufacturers and warehousing operations. More than a few artists were also attracted by the atmosphere and rock-bottom rents.

"When we opened, we charged $5, $6 or $7 per square foot," Woodard said. "Sometimes, whatever we could get."

These days, square footage goes for around $13 to $18. And the business ecosystem has changed vastly. Thanks in part to the introduction of central air conditioning, the last decade has seen an influx of the aforementioned software companies and tech startups.

The 400,000-square-foot complex currently offers about 300,000 square feet of rentable space. The largest tenant is a mechanical and electrical engineering firm that takes up more than 6,000 square feet. The smallest is an interior design consultant with 150 square feet.

The vast complex's 200-odd (some of them very odd) tenants form a unique, self-reliant ecosystem composed of techies, artisans and artists.

"I do everything in-house that I can possibly do," said artist Constance Scopelitis, who moved into her 1,200-square-foot studio in 1993. "My art archivist is Heartland [Printworks], located here in the building. My massage therapist is also here, and my search engine optimization team, and one of my framers."

Multimedia artist John Ross has likewise occupied a 1,200-square-foot studio on the third floor of the main building for almost 21 years, and watched as the small-scale manufacturers he rubbed elbows with back in the day have been supplanted by techies. Their attraction to the place doesn't surprise him.

"It has a reputation for being a creative environment, where you're surrounded by other creative people, both in your own and other fields," Ross said. "It's just a casual, fun place to work."


Unique draw

Not that the place doesn't have its problems. The plumbing can be twitchy, the corridors labyrinthine, and the gigantic, century-old windows drafty and inefficient. But Woodard said his renters, many of whom were attracted by the building's foibles, can get downright cranky about changes to the grubby ambience.

"Many of our tenants appreciate the heritage of the place," he said. "We put in a new elevator and they weren't sure about that at first. But now they love it."

Oddly, the long-running Artists Open House has proved a unique draw—and not just to artists. The folks at Lucid, for instance, plan a client party during the event.

"This is a fantastic opportunity for us, from a business-development and customer-appreciation standpoint," Galligan said. "Anybody can get an invite to Top Golf or dinner at Ruth's Chris, but how about I get you a couple of tickets to the Open House? It's a totally different conversation from a business-development standpoint."

Turner, for his part, has big plans for the Stutz's future. For the better part of a decade, he's tinkered with a concept called the Stutz Tower. The latest iteration, outlined in a recent study, would feature a six- to eight-story mixed-use tower wrapping around the Stutz II building, and potentially including apartments, condos, retail space, offices and studios.

"It's a dream," Woodard said. "We think demand is solid, so we're looking at it again."

Assisting him in such endeavors is his son, Turner John Woodard, 30. His office sits near his father's space, which was originally the Stutz company's accounting department.

"He's started investing in some residential properties," Woodard said. "That's why we're looking at possible residential property here on the grounds."

What he doesn't foresee is selling the place.

"There's been plenty of interest over the years, but it's just not for sale," he said.

JLL's Robinson, who represented Woodard during the original Stutz deal, said that, while new construction sometimes strives to duplicate the quirkiness of the Stutz space, the building's near-century-old pedigree gives it an unmatched cache.

"You can't make cool," Robinson said. "It has to make itself. There's beauty in the bruises. That's what people are attracted to."•