During a recent visit to Plainfield, Locus Robotics CEO Rick Faulk drove past maybe two dozen "help wanted" signs along a short stretch of Perry Road and saw sheer opportunity.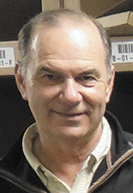 Faulk
The signs were seeking warehouse workers—a job that's recently seen explosive demand both locally and nationally because of the growth in e-commerce, among other factors.

But Locus Robotics and at least two other U.S. companies offer robotics technology that could reduce the demand for those largely low-paidworkers or shift what they do. The projected impact depends on whom you ask.

"It's becoming much more tech-oriented. I'm not saying highly automated and no jobs," said Maureen Krauss, the chief economic development officer at the Indy Chamber. Warehouses "won't need 500 people doing the same thing they are doing today—but they will need people with different duties and responsibilities."



The number of warehousing and storage jobs in central Indiana has more than doubled since 2001, both in numbers and as a percentage of total local jobs.

According to the Indiana Department of Workforce Development, 6,500 warehousing and storage jobs existed in 2001 in central Indiana—Marion and its eight surrounding doughnut counties—representing 0.7 percent of jobs in the region.

By 2017, warehousing and storage jobs had grown to 15,800, or nearly 1.5 percent of the region's jobs.

The industry is projected to continue to grow over the next decade, though at a slower rate than the last decade.

By 2027, DWD projects, central Indiana will add about 2,500 warehousing and storage jobs, a 15.8 percent increase. From 2007 to 2017, the growth was 47 percent.

And in growth, Faulk sees that opportunity. Locus Robotics, which launched in 2015 in the Boston suburb of Wilmington, Massachusetts, produces robots for use in warehouses, including two in the Indianapolis area. He said the era of warehouse robotics is in its very infancy.

"Amazon has created an arms race for these other companies—and the nice thing about it is, Locus is an arms dealer in this arms race," Faulk said.

Emerging technology, including robots, will bring big changes over the next few years to the warehousing and logistics industry, he said.

Industry observers agreed, but there's no consensus on what impact the technology might have on employment numbers. Technology will make warehouse operations more efficient, but whether that translates to overall job reductions remains to be seen.

Locus currently has "hundreds of robots in the field" working for about a dozen customers, including two in the Indianapolis area—a Geodis facility in Plainfield and another facility Faulk declined to identify. Most of Locus' customers haven't consented to have their names disclosed publicly, he said.

Robot help

Under the traditional model, Faulk said, workers push large carts around a warehouse, picking items and filling orders as they go. In a typical day, they might walk 12 to 14 miles and pick 50 to 70 items per hour.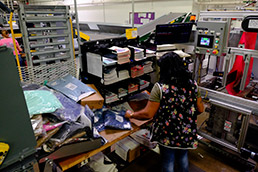 Automation is expected to take over some jobs at warehouses, like this Fullbeauty site. But many experts say plenty of workers will still be needed. (IBJ photo/Eric Learned)
Where Locus robots are deployed, the robots are the ones that roam the warehouse. Human pickers patrol a zone that might be 3,000 to 5,000 square feet, and basket-carrying robots travel between the workers. The robots have a text screen that tells employees which items to pick, and the employees find the items and place them in the basket.

The robots allow employees to pick twice as many items while also reducing the physical demands of the job. Employees don't push around a heavy cart all day, and they walk only 25 percent to 30 percent of the distance they would otherwise, Faulk said.

Right now, he estimated, at least 95 percent of warehouses use the traditional "pushcart" method of filling orders.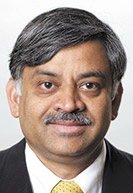 Iyer
It's only been recently, Faulk said, that technological advances—and cost reductions—have made warehouse robotics economically feasible.

Currently, he said, only three robotics manufacturers are competing in the space: Locus; San Jose, California-based Fetch Robotics Inc.; and Waltham, Massachusetts-based 6 River Systems Inc. "The three of us are in a horse race," he said.

So, for now, Faulk said, robots aren't decreasing the need for human employees.

Looking ahead four or five years, Faulk said, robots will have arms that allow them to actually pick items. "The holy grail is to figure that out, but it's going to be years, we think, before that's economically and practically viable."

But some observers say robots and advanced technology might not reduce demand for warehouse workers at all.



"It is an issue to think about," said Ananth Iyer, senior associate dean at Purdue University's Krannert School of Management.

One factor, Iyer said, is that, as robots take over more mundane tasks like walking around a warehouse, people will be freed up for jobs that require more judgment and higher skills. The key, he said, will be the ability of those workers to acquire those skills.

"If I work in a warehouse, do I have the opportunity to learn things that allow me to move up the chain as robots take over more and more tasks?" he asked.

More efficient, more orders

Another X factor: how the logistics industry's business model might morph as technology evolves.

"My guess is, as the equipment enables people to become more efficient, the ways that business relies on warehousing may also be changing," Iyer said.

Shipping times are decreasing, and in some cases retailers can ship items to the customer's door within hours of receiving an online order. Manufacturers are also increasingly outsourcing logistics functions and putting more emphasis on "just-in-time" delivery, seeking delivery of parts and components as often as every two hours.

Industry efficiencies will allow customers to order more frequent, smaller shipments at lower rates—more items and orders for logistics firms to handle.

"All of these things are the reasons why warehousing is becoming a more and more important component of the supply chain," Iyer said.

Mark Howell, CEO of Indianapolis-based Conexus Indiana, agreed that technology will end up boosting demand for warehouse and logistics jobs.

"You would only assume that [job displacement] if you assume the ecosystem is stagnant," Howell said. "Demand is incredibly high now, and we anticipate that that demand will increase over time."

Conexus is a not-for-profit that works to strengthen the state's advanced-manufacturing and logistics industries.

The logistics industry has been implementing new technologies for decades, Howell said, including automated packing and autonomous vehicles that can improve efficiency.

"It's the technology itself that's allowing the industry to grow at the rate that it's growing at, and that growth demands workers," he said.

For the time being, a local recruiter said, advancing technology isn't causing workers to shy away from applying to work at warehouses.

"We're doing OK," said Mark Wittenauer, human resources manager at DHL Supply Chain. "We've been fortunate enough to be able to get the people that we need."

Wittenauer oversees human resources at DHL operations in Plainfield, Lebanon, Mooresville and Evansville. The sites, which employ about 250 workers, operate as third-party logistics providers that pick, pack and ship orders. They mostly rely on human labor rather than technology, Wittenauer said.

"I don't think any of [the technology] is driving people away," he said. "For the most part, the employees that we do hire, it's not even in their mind."•