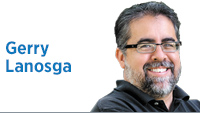 Can things get any worse for the battered newspaper industry? And does it matter? Yes, they apparently can, and yes, it really does.
The latest blow comes from the federal government, which recently imposed tariffs on Canadian newsprint and sent the fixed costs of newspapers all over the country soaring.
The Tampa Bay Times announced a new round of job cuts to deal with the increased costs, and more announcements are no doubt coming. The State Journal in Frankfort, Kentucky, is anticipating costs will rise as much as 40 percent. The results, reported by NBC News: "fewer pages, higher subscription costs and less local content."
Inland Press Association Executive Director Paul Slaughter told NBC: "To get an unbudgeted increase of this magnitude will be for many publishers very, very serious to catastrophic."
OK, so who cares, right? Print is dead; digital is the thing.
It's true there are some promising signs for newspaper companies. Revenue from subscribers and digital advertising are helping to stanch the bleeding from heavy print advertising losses.
But the growth is slow, and the print product remains an important revenue component, particularly for newspapers in smaller communities.
Moreover, this is not just about another declining industry. News is not just a business. It occupies an exalted place, protected by the First Amendment, because of the role it plays in democratic life. You can't have effective self-governance without information, and most of the information we get comes from the news media.
Of course, news media is not synonymous with newspapers. Broadcast and online news outlets are important components of the journalism business. But it is undeniable that newspapers have played, and continue to play, a disproportionate role as the backbone of our public discourse. The news they provide is picked up by other news organizations, spread on social media, and even cited by pundits who simultaneously bash the mainstream media.
In other words, even if you don't read a newspaper, you read a newspaper.
Consider the many things we know only because a newspaper reported them. Some fine examples are on display this month with the announcement of the Pulitzer Prizes, such as the exposés by The New York Times on Hollywood producer Harvey Weinstein and The Washington Post on Alabama Senate candidate Roy Moore. Beyond the winners, there are dozens of excellent finalists and hundreds more entrants.
And while investigative reporting always gets the marquee treatment, it is a fraction of news content compared to the more prosaic, but no less important, news that will never win a national prize: news of school boards and city councils, for instance, that affect our lives in myriad ways. Sure, you can go to the council meetings yourself. But for the most part, our knowledge of these institutions is mediated, and mainly through newspapers.
As citizens, then, we all have a stake in a robust news industry that can monitor those institutions for us. But producing real news about real communities requires journalists, and many newspaper staffs are already stretched to the point of breaking. Will the newsprint tariffs be the decisive blow?
We'll find out soon enough, but in the meantime, you can do your part to protect an important American institution. Go buy a newspaper, or subscribe to one—print or online, it doesn't matter. And if you already have a subscription, don't cancel it if the price goes up.
Remember, it's not just about the health of newspapers. It's truly about the health of informed democratic governance.•
Click here for more Forefront columns.
__________
Lanosga, a former reporter, is a journalism professor at Indiana University and president of the Indiana Debate Commission. Send comments to ibjedit@ibj.com.
Please enable JavaScript to view this content.