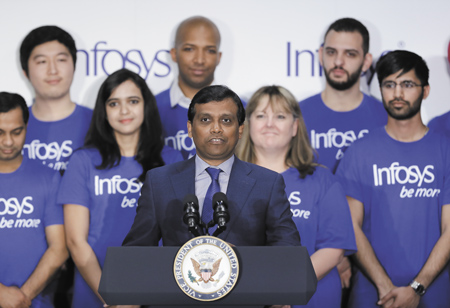 Infosys Ltd.'s U.S. expansion plans not only represent a dramatic change in fortunes for the former Indianapolis International Airport terminal—where the company announced it will build a sprawling campus. They're also a radical departure for the company's business strategy.
For the first time since coming to America decades ago, the India-based IT services, business consulting and outsourcing firm is intent on hiring large numbers of U.S. citizens.
It's a move the company hopes will bring its services closer to its sizable U.S. customer base, although industry analysts said the change could also increase the company's costs, undercut its profit and imperil its future.
And while city and state officials are pumped about the 3,000 promised jobs here, some outsiders are expressing a healthy dose of skepticism that Infosys can deliver on its promises to create 10,000 U.S. jobs in short order and double its overall revenue in five years.
Infosys was founded in 1981, and the publicly traded company had revenue of $10.9 billion and profit of $2.5 billion in its most recent fiscal year.
The vast majority of the company's 200,000-plus employees are based in India, but Infosys has several thousand workers already in the United States. And with good reason. Industry analysts said about 60 percent of Infosys' revenue comes from U.S.-based clients.
Infosys already has a Silicon Valley center and a number of smaller outposts. It also houses employees within clients' offices and facilities.
One source told IBJ Infosys has about 20,000 employees based in the United States, but that most are from India and are working in the country on an H-1B visa. Those workers often earn $10,000 to $30,000 less annually than U.S. citizens doing the same type of work for other companies in America, experts say.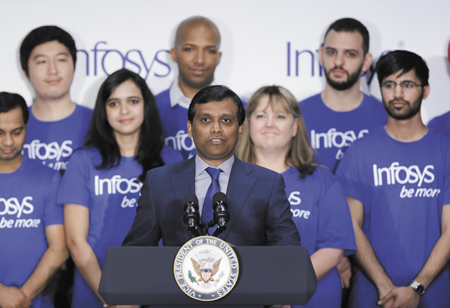 Infosys' Ravi Kumar told an Indianapolis audience on April 26 about the company's expansion plans. (AP photo)
Infosys officials, who came to Indianapolis for an April 26 press conference to announce the company's expansion plans here, declined to talk to IBJ about those human resources figures or to answer other questions for this story.
But sources familiar with Infosys' business model said the company has relied on its cheap labor force to undercut a wide array of IT and consulting firms, including giants like IBM, Accenture Ltd. and Hewlett-Packard.
In Indianapolis, Infosys has promised city and state officials that, by the end of 2023, it will hire 3,000 employees who will eventually work at the massive campus it plans at the airport site just off Interstate 465 at the Sam Jones Expressway.
Construction on the $245 million project, which is slated to include a 141-acre campus with 786,000 square feet of facilities, is set to begin this year. The first phase—a $35 million, 125,000-square-foot facility—is expected to be complete by the end of 2020.
Ravi Kumar, Infosys' president and deputy chief operating officer, told reporters at the press conference that the company is already on a hiring spree, with 150 or so employees working out of two floors in the OneAmerica Tower downtown.
"The doors are open," Kumar said.
And, he stressed, Infosys is adding personnel with a wide array of backgrounds.
"We're not just hiring tech experts and computer programmers," he said. "A lot of our designers, for instance, come from a liberal arts background. We're hiring people with a lot of different backgrounds."
Reason for change
Infosys' 2017 announcement that it would open four technology centers in the United States—including one in Indiana—came as the company and some of its Indian counterparts, including Tata Consultancy Services, came under political heat in this country. The companies have been accused of displacing U.S. workers by bringing foreigners in on temporary visas to serve American clients.
Infosys officials told IBJ in an email that they are committed to hiring U.S. citizens, green-card holders and people otherwise not dependent on visas for the 3,000 Indianapolis jobs. They said the company's other three new U.S. facilities would use similar hiring practices.
"The IEDC is confident that Infosys is committed to growth here in the U.S. and in Indiana, and our support of their latest expansion plan demonstrates that. Just last May, the company announced plans to create 10,000 new jobs in [about] two years and they've already hired 4,000 of those," said Abby Gras, Indiana Economic Development Corp. spokeswomen.
In their April 26 press conference with city and state leaders, Infosys officials said their expanded plans in Indianapolis would include a U.S. training center and 1,000 more employees than announced in 2017.
Infosys officials said the Indianapolis operations will focus on technologies like artificial intelligence, machine learning, user experience, emerging digital technologies, cloud and big data. Infosys clients work in financial services, manufacturing, health care, retail and energy industries.
A source told IBJ the pay scale for the jobs here will be $66,000 to $120,000, although IEDC declined to release the average salaries the company pledged.
"The types of high-tech jobs they're bringing here is something we'd like to see more of," said Brett Voorhies, president of the Indiana AFL-CIO and a member of the Indianapolis Airport Authority board. "Those are upper-living-wage jobs, and there are a lot of people around here who would love to have them."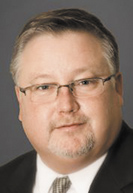 Voorhies
Voorhies said that, as a resident of Wayne Township, where part of the airport is located, "I'm especially excited about this. I think it could be transformative for our school systems and entire economy here."
Not without a cost
The Infosys deal marks the largest jobs commitment IEDC has received since the agency was established in 2005.
For the promised jobs, state and city officials offered a cadre of financial incentives with a value in excess of $100 million. Part of the deal includes a gift of the airport land and improvements to the parking garage and other infrastructure at the old terminal.
Indiana Secretary of Commerce Jim Schellinger emphasized that all the state incentives are "performance-based," meaning the company won't earn tax credits until they've hired workers.
Some of the city incentives, however, require upfront spending.
For example, the city will buy the land where Infosys will locate from the Indianapolis International Airport and transfer the property to Infosys. The city will pay fair market value, estimated at $9.8 million, in accordance with FAA regulations, said city spokeswoman Taylor Schaffer.
The city has also promised $8 million in infrastructure improvements, including work on the former airport parking garage.
Ron Hira, a Howard University political science professor, said he doesn't think local officials "thought this one through." Hira said the incentives will subsidize a company that specializes in helping other companies offshore IT-related jobs.
"It's absolutely crazy for the [Indiana] government to subsidize the offshoring of its own citizens' jobs. But that's precisely what these tax breaks do," he said.
Hira said Infosys has a history of bringing in Indian workers on H-1B visas and paying them far less than their American counterparts. Even jobs filled by U.S. workers are supported by multiple employees working at a cheaper rate in India, he added.
Still, an Infosys official stressed to IBJ: "Compensation for Infosys employees is competitive and aligned with industry standards as well as the skill set that we recruit for."
Cheap labor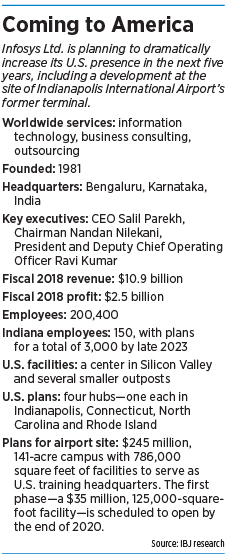 Industry analysts said Indianapolis might be a good place for Infosys to change tack and start hiring more Americans.
Infosys officials touted Indianapolis' central location, proximity to several key clients, and access to colleges and research institutions as important reasons it is opening the first of its four new U.S. technology and innovation centers—and its only U.S. education and training hub—here.
But experts say the choice might also be about Indiana's cost of living.
"The labor pool in middle America is going to be much more affordable for them than other parts of the country," said Vivek Wadhwa, distinguished fellow, Carnegie Mellon University's College of Engineering at Silicon Valley. "They can get programmers and other IT workers [in Indianapolis] for a third of the cost as they can get them" in California.
And bringing workers over from India might no longer be the attractive option it once was. For one, President Donald Trump is threatening to crack down on the use of H-1B visas to undercut the U.S. labor market.
Also, the demand for IT workers in India has increased in recent years, which reduces the savings of sending them to the United States, Wadhwa said.
"At this point, I think they could probably hire a U.S. citizen in a place like Indianapolis as cheaply as they could bring someone over," he said.
Still, Wadhwa isn't convinced Infosys will do what it says in Indianapolis.
"Infosys is a company that talks a good game, but so far, it's all been show," said Wadhwa, who has studied Infosys and other Indian companies in-depth and is a noted author on the subject.
"Infosys is talking about getting into new things like robotics and artificial intelligence, but right now, they're stuck in the past," he said. "They're doing the equivalent of IT grunt work."
Unless Infosys dramatically changes course, Wadhwa said, the company's Indianapolis operation "will be great for five years or so, but in the long run, the work they are focused on now will disappear."
Infosys' Kumar told reporters in Indianapolis last month that the company is bent on training and "skilling up" its employees.
"We will build the skills of the digital future with a relentless focus on education and learning," Kumar said at the April 26 press event. "There's no better place than Indiana to train future workers."
Infosys has a huge training campus in Mysore, India, and several sources said the one in Indianapolis will be a smaller version of that—but still sizable. And it will be state-of-the-art, Kumar promised.
"It's a beautiful facility that they have in Mysore, as is their facility in Silicon Valley," said Wadhwa, also a distinguished fellow at Harvard Law School's Labor and Worklife Program. "And, yes, they are training their people, but on yesterday's technology."
"They must think differently and create new value," he added.
Slowed growth
Infosys earns considerable profit, but Wadhwa pointed to the company's flagging financial fortunes as proof that it is not innovating.
According to company financial statements, Infosys' revenue from 2004 to 2011 grew 28 percent. From 2012 to 2016, that growth slowed to 8 percent.
A report from IDFC Securities Ltd., an India-based investment banking firm, recently raised a red flag about churn at the top of the company, noting Infosys has had five CEOs in the last eight years and higher-than-normal turnover among other senior leadership.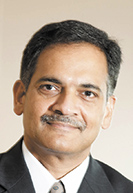 Garimella
The IDFC report concluded that the turnover has "exposed the company to changes in strategy, which can be difficult to execute and cause a slip in performance."
Still, Infosys is already creating value for its U.S. education partners. It has deals so far with Purdue University and the University of North Carolina, and Purdue officials said its Infosys deal will pay the school more than $1 million annually.
Purdue officials said the school will help Infosys with an education and training curriculum at its West Lafayette campus and will also have a presence at the company's Indianapolis training center. While Infosys isn't promising to hire a specific number of Purdue grads, the school's students will certainly have exposure to the company and vice versa.
"My sense is, they're committed to U.S. hires with respect to their expansion and they're on track with those plans," said Suresh Garimella, Purdue's executive vice president of research and partnerships. "From everything we've seen, this is a high-quality company, with very high-quality work.
This is not just an IT company," Garimella added. "They're more integrated and sophisticated than a lot of people might think—working in a wide array of areas and industries including biopharma, mobility, banking, artificial intelligence, robotics, digital agriculture, cybersecurity, oil, gas and power. This company innovates at scale."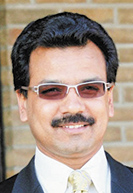 Chinthala
Purdue officials aren't the only ones bullish on Infosys.
Indiana India Business Council founder and CEO Raju Chinthala has met with Infosys officials several times dating back to 2013 and visited the company's facilities in India. He called Infosys "the Microsoft of India." "This is a company that is tremendously well-respected and one that takes care of its employees," Chinthala said.
"This is a company that is built on continued education and training of its employees, and Indianapolis is going to be right in the middle of that," he said. "They clearly want visibility here and a strong local presence. I think Infosys is going to be a very high-profile company in Indianapolis for years to come."•
Please enable JavaScript to view this content.