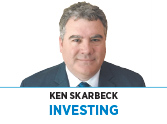 A great way to improve your skills in any craft is to analyze the methods of other successful people in the field.
Over the years, I have devoted a significant amount of time to studying the careers of Warren Buffett and Benjamin Graham. Thankfully, both shared much of their wisdom—the late Ben Graham through his books and Warren Buffett continues to deliver a treasure trove of material. In fact, Buffett has said he would like to be remembered as a teacher.
Most accomplished investors are voracious readers—and not just of investment books. Charlie Munger, who is a Benjamin Franklin fan, speaks of multidisciplinary thinking covering subjects in the sciences, math, history, psychology—i.e. liberal arts. Munger believes a diverse education is better preparation for investing than most of the material taught in business school. For example, he has espoused on Robert Cialdini's books on the psychology of persuasion as useful for investors to understand consumer behavior.
I have gained in reading material from bond investors Bill Gross, Jeff Gundlach and Dan Fuss. I've gained real estate insight from smart operators like Sam Zell and Barry Sternlicht. Independent market researchers providing unbiased thinking include Jim Grant, Richard Bernstein and Ed Hyman.
Companies to avoid can be gleaned from Jim Chanos, the accomplished short seller who has uncovered several corporate frauds.
While it is difficult for any investor to beat a stock market index like the S&P 500 over the long term, if one possesses the proper "temperament" the potential to do so is greatly improved. Buffett points to chapters eight and 20 of Graham's "Intelligent Investor" as providing the necessary foundation for success.
At the Berkshire Hathaway annual meeting this month, Buffett mentioned two examples that demonstrate how successful investors should think. As usual, the financial media completely missed his lessons.
While the media cheered the news that Buffett had boosted his investment in Apple to 5 percent of the company, the pundits did not grasp the subtle message in what he said next. He said the best thing that could happen for Berkshire would be for Apple stock to go down. What?
Buffett counseled that if you are a long-term investor, you want a stock to drop so you can buy more at cheaper prices. I would venture to say that most investors have a hard time coming to grips with this concept. If you hold $50,000 worth of Apple stock, do you get excited or depressed if it falls 30 percent to $35,000? This is what separates the successful investor from the pack—you should get excited. The market has served up the opportunity to buy dollar bills at a discount.
Wells Fargo has been in the news for their poor corporate behavior. The media had pitch forks out wondering if Buffett would talk about selling his large holding in the company. While he objected to the conduct at Wells Fargo and agreed it should be punished, Buffett then said that if he could, he would buy a lot more of the stock (regulations prevent Berkshire from owning more than 10 percent). Because of Well's problems, the stock is undervalued compared with other bank stocks. Similarly, troubles at GEICO and American Express long ago allowed him to purchase their stocks at bargain prices.
This is the way a successful investor thinks.•
__________
Skarbeck is managing partner of Indianapolis-based Aldebaran Capital LLC, a money-management firm. Views expressed are his own. He can be reached at 317-818-7827 or ken@aldebarancapital.com.
Please enable JavaScript to view this content.