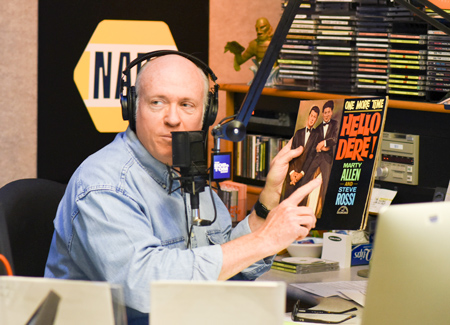 The 35-year-old "Bob & Tom Show" might have a few gray hairs these days, but the morning radio show's star and owner said it's nowhere near retirement.
Instead, Tom Griswold is making substantial changes to his radio show, which has aired mornings on WFBQ-FM 94.7 since 1983, in an effort to broaden its audience, increase the number of affiliate stations that carry it nationwide, and bolster its advertising base.
The most evident change to the listening audience has been the addition of a number of younger on-air personalities aimed at making the show hipper and more appealing to radio listeners in their 40s, 30s and even 20s.
But there's plenty going on behind the scenes with the business end of the show as well.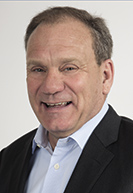 Kesler
This month, Griswold's The 465 Group LLC took some business operations in-house. John Kesler, a former Emmis Communications Corp. advertising executive who joined Griswold's company in 2016, was elevated from general manager to chief operating officer. But Miller Broadcast Management remains the exclusive agent for the Bob & Tom Show and Tom Griswold and negotiated a new syndication deal with Westwood One.
With that deal in place, Kesler will deal directly with Westwood One to boost national ad sales and make rounds to the show's affiliate stations nationwide to help with local ad sales.
The 465 Group recently launched an online initiative to help affiliates with their ad sales by providing best practices and research as well as aid with collecting and distributing testimonials.
The show is also going on the marketing offensive like never before, Kesler and Griswold told IBJ. Lisa Dollinger of Dollinger Strategic Communication and a former Clear Channel chief communications officer, has been hired to handle public relations. It's the first time the show has hired out PR, Kesler said.
The show recently launched an ad campaign via social media—primarily Facebook—to expand its audience, and this month began placing ads in trade publications "in a more concerted effort" than ever to gain affiliate stations, Kesler said.
"The Bob & Tom Show" is heard on 103 stations, mostly in small and midsize markets. That's down from nearly 140 at the show's peak, but Kesler said some of the loss is due to industry consolidation.

No stopping now
When asked if he is contemplating retirement, Griswold, 65, let out one of his trademark laughs.
"I've got little kids at home," Griswold said, referring to his three daughters ages 2, 5 and 10. Griswold also has four older children.
"I'll do this show as long as I can," he told IBJ from his company's dimly lit studio off of Binford Boulevard on the northeast side. "I really enjoy it. I have no thoughts—none—of retirement."
In fact, Griswold said he's working harder than ever, rising at 3 a.m. each weekday and getting into the WFBQ studio north of Lawrence—where the show is produced—each morning just a few minutes after 4 a.m. The show runs from 6 a.m. to just after 10 a.m.
"I get up earlier than I ever did. I realize that, in the last five years, everything regarding what we do here has changed," Griswold said. "It's much more of a conversation with listeners than us just spewing stuff out. Things change so fast and news cycles have become so much shorter, I feel I need so much more preparation for that."
Still, Griswold admits he thinks of the long-term future of the show—even one that could someday be marked by his absence. But that, he said, is a back-burner issue.
Right now, he's trying to figure out how to attract younger listeners.
"We've always been strong with baby boomers," Griswold said. "We have to figure out how to get more millennials and people from Generation X."
That's not easy, Kesler admitted.
"Of course we're trying to remain relevant with listeners from 18 to 64," Kesler said. "But it's like taking a wheelbarrow full of water downhill without spilling a drop. We're trying to attract a younger audience without alienating our 50-plus listeners."
Several factors are making the task even more difficult. With the proliferation of satellite radio and streaming options such as Pandora, Spotify and other internet fare, terrestrial radio has had difficulty hanging on to its audience.
While "The Bob & Tom Show," according to Nielsen Media Research, still reaches 2.5 million listeners each week nationwide, its audience has shrunk from its heyday a decade or more ago.
In the Indianapolis Designated Market Area—or DMA—the show registered 24,400 listeners (12 years old and up) on the average quarter hour in the fall of 2010, according to Nielsen. That's essentially how many people were tuned into the show at any one time. During the same period last year, the show had 17,600 listeners. It's seen similar losses in other markets.
Locally, "The Bob & Tom Show" is in a battle for morning supremacy in several key demographics with "The Smiley Morning Show" on WZPL-FM 99.5 and other contenders also vying for listeners.
Manpower
Still, the station ranks high, often No. 1, in this market and others in key demographics during its morning time slot. The show is, and always has been, stronger with men. Men account for 68 percent of its audience, according to Nielsen.
Of the 103 stations that play "The Bob & Tom Show," more than 85 percent are in the top five in their market for men 18 to 49 and more than 87 percent are in the top five for men 25 to 54.
"There have been [ratings periods] here where it's been the top-one or -two rated show in all male demographic segments and top four in all adult demos," said David Crowl, regional vice president and market manager for Cumulus Media's Cincinnati cluster, which includes WOFX-FM 92.5, where the show airs. "Their comedy is so broad, it attracts a broad spectrum of listeners."
The show's audience, Kesler said, has allowed it to attract a strong stable of local and national advertisers, including NAPA Auto Parts, Home Depot, Simply Safe, Select Comfort and Valvoline.
"The show has been a high performer for a long time. And it has built up a lot of equity," said Bruce Bryant, owner of Indianapolis ad firm Promotus Advertising. "The show remains a must-buy if you're trying to reach a male audience."
Mike Hulvey, chief operating officer of Illinois-based Neuhoff Media, which airs "The Bob & Tom Show" on stations in Danville and Bloomington in Illinois as well as in Lafayette, said the show's "loyal audience gives it tremendous value."
"What we love about the show is that it has such high name value in the Midwest that our audience understands what they're getting," Hulvey said.
Griswold's company on May 2 announced that it had extended its syndication contract with New York-based Westwood One for a multiyear deal. Stations pay Westwood One a fee to air the show and, in return, local stations get 18 minutes each hour to do with what they like. Stations intersperse local traffic, news, weather and sports into those slots but also sell ads. Westwood One gets three minutes per hour to sell national advertising. "The Bob & Tom Show" gets a syndication fee and a cut of ad sales from Westwood One plus a bonus if certain revenue levels are reached.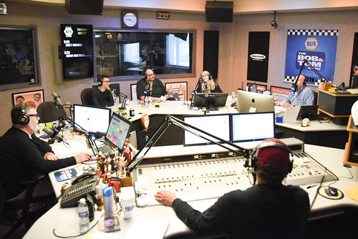 Engineer Ace Cosby, front, faces fellow cast members, from left, Chick McGee, guest comedian Matt Bachus, Josh Arnold, Kristi Lee and Tom Griswold. (IBJ photo/Eric Learned)
'Running on fumes'
But Bryant said the show's leaders are at a difficult crossroads.
"To some, it appears the show is running on fumes," he said. "It's unclear how long they can keep it going. The show's shrinking audience size is something ad buyers have taken note of."
One of the main factors that threw the show's future into doubt was the retirement in late 2015 of the show's co-founder, Bob Kevoian. Longtime talent Kristi Lee also departed for several months but returned.
"They lost a key ingredient to their special recipe," Bryant said. "It's hard to reproduce that kind of chemistry."
Griswold appears game to try. Kevoian still returns for occasional guest appearances.
But more important, the show has added several on-air staffers to complement Griswold and other show icons like Lee and Chick McGee.
In total, "The Bob & Tom Show" has hired six people in the last year, including writers, producers, on-air talent and ad salespeople. The show is powered by a full-time staff of 21 and an on-air ensemble of nine, several of whom play multiple characters. Kesler said the ensemble is as big as it's ever been.
Radio veteran Ace Cosby joined the show late last year as full-time engineer and on-air talent.
But several new on-air personalities are in their 20s and 30s, including Josh Arnold, Grace Yinger, Alli Breen, Al Jackson and Jessica Alsman.
"We added these on-air personalities after doing a lot of research into what our listeners wanted and didn't want," Griswold said.
Each person, he said, was added for a specific reason—and with a specific audience segment in mind.
Yinger, who is in her early 20s, is the show's pop culture expert. Breen, a New York-based comedian in her 30s, plays Dr. Alli and doles out relationship advice. Jackson is the resident expert on urban America. Arnold is a comedian in his 30s who Griswold said has great chemistry with the other cast members. And Alsman, who is in her early 30s, has a dual role as on-air personality and support to affiliates to help with ad sales. She was previously an account executive at WFBQ.
"While they've introduced some intriguing new talent, I don't know that they have the farm team in place to take over for the aging major-leaguers,"Bryant said.
One thing the show has going for it, Bryant said, is that "it's not easy to replicate."
"Staying topical and relevant with humor that is on point can be a real challenge," he said. "That has extended this show's shelf life."
Even some of the most tried-and-true elements of the show are changing. Many of the skits, for instance, have been shortened—from the seven-minute range to two minutes.
"It's all about the ever-shortening attention span," Griswold said.
And another nod to modernism is the investment the show has made this year on five high-definition video cameras and other equipment.
"That greatly improves the live stream and helps with video we put out via social media," Griswold said. "That's the currency of contemporary culture."
Griswold noted that a recent "Bob & Tom Show" video clip featuring comedian Frank Caliendo had 1 million page views in the first 24 hours it was posted on the show's website and pumped through social media.
The show's changes are already having a positive impact, Griswold and Kesler said. Revenue was up more than 20 percent in 2017 and, in January, the show had more than 20 percent more revenue "on the books" than in January 2017, Kesler said.
"We're not standing still. No one here is resting on past successes," he said. "As a result of that, we're absolutely in a good place."•
Clarification: The original version of this story said the Bob & Tom Show parted ways with Miller Broadcast Management Inc. The Bob & Tom Show did take some operations in house but Miller remains the exclusive agent for the Bob & Tom Show and Tom Griswold.
Please enable JavaScript to view this content.