If Santa left you a virtual reality headset under the tree in 2016, you're not alone.

That was the year the hype about virtual reality exploded onto the consumer market. Oculus had released its Rift and HTC released the Vive, both self-contained but tethered headsets that let consumers virtually ride roller coasters or dive ocean reefs.

Store shelves were cluttered with inexpensive knockoffs that required users to put their phones into headsets and let them have a similar, if less realistic, experience.

Less than two years later, though, many of those headsets are collecting dust in the back of closets, victims of what some now see as a fad that's had its day.

"Everyone is still waiting to see what it is we were supposed to do with [the headsets]," said Edward Castronova, a professor of media at Indiana University. "The software hadn't caught up."

But quietly—as consumers turned their attention elsewhere—virtual reality has been finding its place in business operations, particularly to make education and training more accessible and less expensive.

The health care, retail, sports and real estate industries are also experimenting with the technology, looking for ways an immersive experience can offer new options for patients, buyers, athletes and builders.

"That's the way hype works," Castronova said. "The hype is invalid at the moment it happens, but it's pointing to something that will be happening in the future."



VisionThree, an Indianapolis-based digital marketing firm, saw the possibilities. It had spent more than a dozen years developing websites, three-dimensional models and interactive tools for customers and recognized VR had something new to offer, especially for training.

Today, VisionThree is on the cutting edge, developing training programs for Rolls-Royce (see page 6), Dow AgroSciences and other big firms.

"We're at the very beginning of this wave that's coming, no question about it," said VisionThree partner Jeff Hopler. "It is not going away. It's only going to get bigger."

VisionThree worked with Dow to develop a system to train customers to use pest-control products in food distribution facilities. Using VR, those customers can walk through a virtual warehouse, look for rodent infestation and take appropriate action, such as setting a trap, without ever stepping foot in an actual facility.

The VR training encourages users to be analytical, to make their own decisions and see the results. "It's not so much about showing a product but about the mindset and strategy," said Eric Davis, a VisionThree partner.

VisionThree also develops augmented-reality systems, which project virtual elements into a user's real world. For example, a mechanic in the field could wear a headset while working on an actual engine and see instructions projected onto key parts.

Such technology is especially important as millennials move into the workforce. Young employees don't want to be handed thick manuals they need to read to understand their job; they don't want to sit in classrooms, Hopler said.

"You have to find a new way to connect to that individual," he said. "They want speed. They want fast. … Our solutions are going to connect with them completely."

And—in the long run—VR training is cheaper, Hopler said. There's an upfront investment, but the ability to educate trainees where they are saves time and money. A trainer could be in one place, while students are working from several other locations in a group experience.

Plus, the systems can build in different scenarios that might be dangerous or expensive for trainees to experience in real life.

Another key to VR-based training is that it easily allows for repetition, said Danny Belch, marketing director at VR developer Strivr, based in San Francisco.

"You can super-charge learning by doing," Belch said. "Instead of doing things one or two or three times, you can do them 100 or 200 or 300 times. You can learn so much faster."

Founded by a former Stanford University football player, Strivr focused initially on sports and worked with the U.S. Ski Team to prepare athletes for downhill and slalom runs during the 2018 winter games in Pyeongchang, South Korea.

The VR program allowed the skiers, who had only limited access to the actual mountain, to practice the runs over and over. So when they arrived in Pyeongchang, the site was familiar.

"Think about your commute from home to work and then work to home," Belch said. "The first time, you might need a map, you might make a wrong turn. Now, after doing it 200 or 1,000 times, it's like clockwork. That's what VR does. It allows you to get the experience without having to be in that environment."

Strivr has found the same techniques that work in sports can work in the corporate world. The company has helped develop systems to train phone associates at Fidelity Investments, store associates at Walmart, and servers at Chipotle.

It's also working on VR case studies for United Rentals, so salespeople better understand the construction industry and learn how the equipment the company leases is used. That includes training those salespeople about safety, up-sale opportunities and the construction site itself.

"The normal way to do this would be with a lecture and a PowerPoint," Belch said. "But this is a much more engaging and impactful learning experience."

Challenges remain

David Whittinghill, an associate professor of computer graphics technology and computer and information technology at the Purdue University Polytechnic Institute, also sees the opportunities. But he said VR has plenty of challenges that hold it back from widespread adoption.

"We're still in the Wild West phase on this," Whittinghill said. "This is going to happen, but there are some basic problems we're still chipping away at. We're still figuring it out."

Whittinghill has been working with VR for decades, starting in the late 1990s when the technology had its first big wave of hype. "People thought it would change the world," he said. "But the technology wasn't there yet."

The disappointment made VR toxic for the next 20 years, leaving many people viewing the technology as more of a novelty than a serious field, he said. But then in 2012, OculusVR launched with a Kickstarter campaign and a promise of a better headset. It rolled out early versions and Facebook bought the company. Then it finally came out with the Rift in 2016.

"People started getting excited, which led to the recent hype train," Whittinghill said.

But there were still challenges, motion sickness being chief among them. "That's the billion-dollar problem," he said.

Although the Rift and Vive made significant gains in making VR headsets more comfortable, many users still struggle if they are moving in a virtual world but standing still in real life.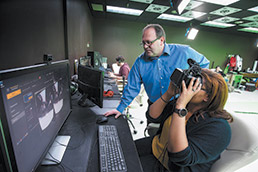 Purdue Polytechnic Institute professor David Whittinghill works with doctoral student Richelle Fosu on a project to add a virtual nose to VR programming to help reduce motion sickness. (Photo courtesy of Purdue Research Foundation)
"You can do VR if you're rotating and looking around from a fixed position, but as soon as your position moves," you can get dizzy, Whittinghill said.

That's because our brains use a number of cues to understand we're in motion. One is visual; others involve, for example, the jostling that occurs in our inner ear when we're on the move. Those cues trigger a balance response. But if one thing is removed from the equation, our brain struggles to react appropriately.

Solving the problem will take a number of changes. Whittinghill is trying to make a dent with technology that inserts a digital nose into a VR scene. The idea is that seeing a nose helps your body balance.

So far, research has shown the digital nose reduces VR motion sickness about 13 percent. That might not seem like much, but it's not bad given it's just one input in the larger equation.

There are other technological challenges as well. The headsets remain bulky, many are tethered, the good ones are expensive, and most people don't see a practical need for the technology.

Parvez Kokan, founder of Fishers-based ShopperKraft VR, is trying to change that last obstacle. He's working on software that allows wholesalers to see what products or buildings could look like once installed or constructed.

"We want to be the Uber of all things decoration," Kokan said. "The highest-value proposition is the ability to look at designs before you spend a penny."

Right now, Kokan is working with wholesalers, although none of his systems have come to market yet.

"On the VR side, there still have to be improvements," he said. "But I think we're at an inflection point where things might be about to take off."

But IU's Castronova said consumers might not get truly interested until the virtual- or augmented-reality experience becomes as easy as putting on a pair of glasses or a ballcap.

"Studies of applications show that, if it takes more than two or three seconds to go from a thought in your head to actuality," users lose interest, he said. Currently, VR takes far more time.

Experiments continue

Still, there's a lot of experimentation ongoing. John Fillwalk, senior director of hybrid technologies at Ball State University, works with students to develop experiential VR for education—such as virtual field trips and museum exhibits.

"You remember a trip, but you don't remember a lecture," said Fillwalk, who directs the school's Intermedia and Animation Institute. "So we do virtual trips where people can go back in time or in space together, collaboratively. It's a shared experience."

The institute is also working with two museums—the National Park Service's Mesa Verde Visitor and Research Center in Colorado and the Buffalo Bill Center of the West in Cody, Wyoming. Both lean more to augmented reality than virtual reality but use the same concepts.

At Mesa Verde, students are working to bring clay models of people and cliff dwellings to life. At the Buffalo Bill Center, they are re-creating Bill Cody's traveling show, which had a tent at the Chicago World's Fair in 1893.

"We've created an app where that comes to life, full of texture and color, grass, bison, the show, the people in the stands," Fillwalk said. "You can walk around in it."

But you do so using a phone to provide the augmented reality experience, something Fillwalk said most people are more comfortable with than a headset.

"The future is not wearing something on your face," he said. "There are some companies that are working more on the edge, on things that project into your eyes or offer a more fashionable pair of glasses. Things that are more discreet."•