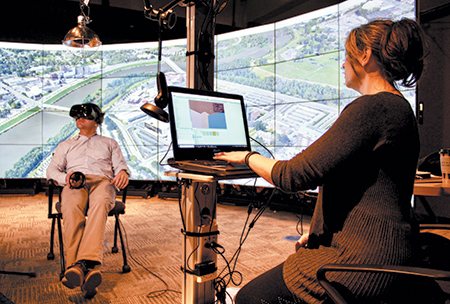 A stay in a hospital's intensive care unit is meant to heal patients physically, but too much time there can have the opposite impact on their mental health and brain function.
That's why Dr. Babar Khan, a research scientist at the Regenstrief Institute, launched the Critical Care Recovery Center at Eskenazi Health. It's a place where patients who spent at least two days on a mechanical ventilation machine in ICU come for outpatient therapy after they're released.
Those patients face "a set of unique problems with memory, attention, brain dysfunction, delirium," Khan said. "We call it post-intensive-care syndrome."
Now Khan is seeking to intervene while patients are in ICU—and virtual reality is one of the tools. His team this spring launched a pilot program in which patients don VR headsets to take walks on the beach, through a park or in other calming locations.
"Delirium or confusion happens because of the lack of arousal and inattention in the ICU," sometimes caused by medication, Khan said. "Patients spend day after day in a hospital room. We're trying to create a different context or different reality, show them something that is more like a normal setting."
Dr. Dmitriy Golovyan, an IU School of Medicine pulmonary and critical care fellow who works with the Regenstrief Institute, hatched the idea with Wen Krogg, an Indiana University media arts and science graduate student, who created the VR content.
"The virtual reality goggles are like the IV," Golovyan said in a statement about the program. "The content that Wen created is the therapy. Luckily, we have the resources at IU School of Informatics, School of Medicine and at Regenstrief Institute to test this therapy to determine if it's effective for our patients." 
Krogg used three-dimensional modeling and game engineering to develop the program, through which she takes patients out of the hospital room in a virtual tram, while a fan provides wind and a heat lamp replicates the sun. The patients can use limited head and trigger movements to control their VR activity.
Golovyan said it's possible VR treatment could help control patients' pain and anxiety, which might reduce the need for medication.
"The initial work is pretty encouraging," Kahn said. "But this is just a start. There's no conclusion yet."
He said the team doesn't have enough information to know how often patients would need to use VR to see results.
"We are doing feasibility and testing it," Khan said. "We're going to start with a very low stimulus to see how they tolerate it."
He said the goal will be to use VR with patients about 30 minutes twice a day to start and perhaps personalize the experiences. But, Khan said, "ultimately it will be up to them."•
Please enable JavaScript to view this content.