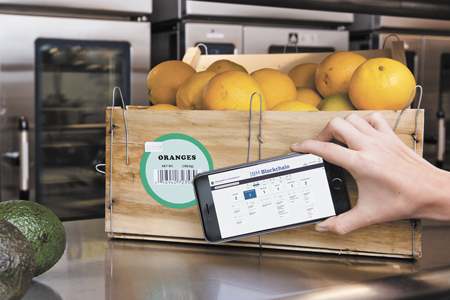 It's easy to get so caught up in what blockchain is or how it works that you forget to think about what it can do. Forget the technical stuff. Think of blockchain as just a more secure way to conduct transactions—be they exchanges of money or assets or information.
That's why it's the backbone of cryptocurrencies and why early adopters say it has the potential to revolutionize everything from executing insurance contracts and conducting financial transactions to assuring food safety, streamlining manufacturing supply chains, paying taxes, and making patient medical records easier to access.
"You keep track of everything in a secure and non-alterable way. No one can cheat," said Julien Nadaud, chief product officer at Carmel-based software company Determine Inc. "It has a huge potential."
Take Walmart, a leader in implementing blockchain as a tool for supply-chain management. The retail giant is now tracking more than a dozen products from the farm to store shelves using blockchain, all part of its effort to ensure food safety.

"We are absolutely believers in it," said Walmart spokeswoman Molly Blakeman. "It's a game-changer for businesses around the world."
But the technology has drawbacks, too. Although tech firms including IBM have invested heavily to develop blockchain platforms, no software has emerged as dominant. That makes it risky to commit to any particular platform.
Also, the computing power needed to maintain the blockchain—which is essentially a shared database that digitally and securely records and confirms transaction—is huge, making it (for the moment) expensive and, critics say, hard on the environment.
Still, some of the world's biggest firms—including Sony, Google, Infosys, Microsoft, Mastercard and Bank of America—are investing big in blockchain research or earned patents for their work in the area.
In fact, more than 1,000 blockchain-related patents have been published in the United States. China has issued 1,500 such patents.
But those patents don't always lead to consumer products. Bank of America, for example, owns or has applied for dozens of blockchain patents but has yet to offer any blockchain-related services.
In a study released in May, the research and advisory firm Gartner Inc. described blockchain as a "massively hyped" technology that to date has seen little adoption.
Only 1 percent of the 3,138 chief information officers surveyed by Gartner said they have deployed blockchain initiatives. Another 8 percent said they are in short-term planning or actively experimenting with the technology, while 14 percent said they were in the medium- or long-term planning stages.
Forty-three percent of respondents said blockchain is on their radar, though they have no actions planned. And 34 percent said they have no interest in blockchain.
"It is critical to understand what blockchain is and what it is capable of today, compared to how it will transform companies, industries and society tomorrow," Gartner Vice President David Furlonger said in a statement.
But Furlonger also warned that "rushing into blockchain deployments could lead organizations to significant problems of failed innovation, wasted investment, rash decisions and even rejection of a game-changing technology."
The Walmart example
A simplified explanation of how blockchain technology works is that it allows for the creation of a shared ledger database in which transactions are recorded and shared with the other parties but cannot be altered. All parties must approve each transaction as valid. Each approved transaction, or "block," is linked to the other transactions to create a chain.
Every participant has a record of all transactions—which creates transparency—and there's no need for any party to hire a third-party broker or payment processor.
Walmart's first foray into blockchain came in 2016, when it opened a food safety center in China. The retailer started working with IBM to test using blockchain technology to trace two items—pork and sliced mangoes—from farm to store shelf.
Blakeman said Walmart decided to start with fresh-food items like produce and meats because they are whole foods without multiple ingredients, making them "something that we can follow really clearly."
Without blockchain, Blakeman said, it can take days to trace the origins of a particular item on a store shelf—where it was grown, when it left the farm, who transported it, and which stores received the product.
"Now, with blockchain, we can do that work in a matter of seconds," he said.
This capability is especially useful in cases of food recalls, which typically involve products from a particular location or production time frame. Using blockchain, Walmart can quickly determine if a recalled item is in its stores. It can then remove that product—and only that product—from its shelves.
Walmart is already using blockchain to track about two dozen unique products through its stores nationwide, and "that number will go up fairly quickly in the coming year," Blakeman said.
Toes in the water
Walmart is further along the blockchain path than most, but other companies are also testing the waters.
Engine manufacturer Rolls-Royce hasn't yet started using blockchain, but the company is exploring its use, said company spokesman Joel Reuter. The manufacturer has a large Indianapolis presence, mostly focused on aerospace.
Rolls-Royce is looking at how blockchain could track high-volume common-stock aerospace parts.
"If we achieve greater real-time visibility into the supply chain, then we can unlock efficiencies in our inventory planning-and-control processes," Reuter said in an email.
Columbus-based engine maker Cummins Inc. is also interested in the technology.
Company spokeswoman Katie Zarich said Cummins is early in the process of studying blockchain and isn't yet prepared to talk about it.
"If it were a year from now, we might have more to say," she wrote in an email.
Ryan Brubaker, chief information officer at Carmel-based travel insurance company Seven Corners Inc., said blockchain shows promise for the insurance industry, too.

Blockchain "creates a distributed way to guarantee something," Brubaker said, so it could eliminate the industry's need for an intermediary to verify information. "Blockchain ties something to you that is immutable so that it can't be tampered with. It can't be mimicked."
For example, blockchain could be used to create encrypted digital ID cards for policyholders—a form of identification that would be impossible to fake.
Blockchain technology could also streamline the claims process, Brubaker said. If, for instance, a customer submits a claim for coverage of an automobile accident, the police accident report or medical bills could be directly added to the digital file, eliminating the need for customers to track down and submit that paperwork.
Early hurdles
Brubaker said Seven Corners isn't ready to jump into blockchain just yet. "It's just so early on right now. We're literally just watching the technology."
An obvious risk in Brubaker's mind: Many companies are developing their own blockchain platforms, they're not compatible with one another, and there's no clear front-runner.
To use an analogy from decades past, early adopters might get stuck with Beta technology instead of VHS.
"It's probably three to five years before we would start to put actual strategic plans in place around this technology," Brubaker said.
Determine Inc.'s Nadaud voiced similar concerns. "There's a lot of things going on right now, but in the end, you have to have the right platform, the right technology, the right partners."
The company started looking at blockchain in 2015, and the following year developed a use case for one of its customers, a French bank.
Based on those results, Determine decided to put its blockchain activities on standby.
Very few customers were ready to use the technology, Nadaud said, so Determine felt it was too early to make an investment.
"It's promising, but still everything is under research and development," he said. "We didn't want to commit to a platform that was not mature."
Legal considerations are another concern.
Blockchain technology can be used to create "smart contracts," in which the completion of one action triggers another to occur. Once a shipper delivers auto parts to a warehouse, for instance, a smart contract could automatically release funds to pay that shipper.
The problem, Nadaud said, is that these types of contracts aren't officially recognized in all countries. For international transactions, parties might be wary of using so-called crypto-contracts.
"It's still pretty early to be very safe," he said.
The federal government has started talking about blockchain and its regulation. The U.S. General Services Administration hosted its first U.S. Federal Blockchain Forum last July. The event drew managers from dozens of federal agencies to talk about blockchain's potential and its limitations.
Five states—Arizona, Delaware, Illinois, Nevada and Vermont—have adopted blockchain legislation to date, according to the National Conference of State Legislatures. The new laws deal with the authenticity of blockchain transactions, the use of blockchain in rules of evidence, and other issues.
NCSL says that, to date, 20 states have considered blockchain-related legislation. Indiana is not among them.
Gov. Eric Holcomb does not appear poised to take up the issue anytime soon.
"At this point, this is not something we're considering for our 2019 legislative agenda," said Holcomb's spokeswoman, Stephanie Wilson.•
 
Please enable JavaScript to view this content.