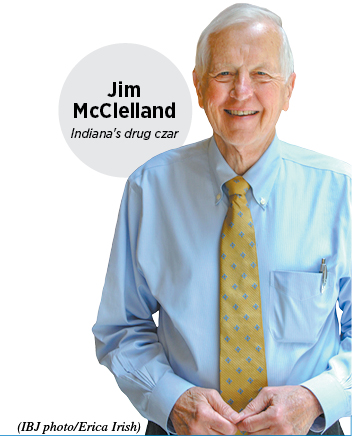 Gov. Eric Holcomb appointed Jim McClelland in January 2017 to the newly created position of executive director for drug prevention, treatment and enforcement. McClelland, better known as Indiana's drug czar, is charged with coordinating state agencies that affect substance abuse to respond to the current opioid crisis and to reduce the likelihood of a future crisis. In 2014, McClelland retired as CEO from Goodwill Industries, where he worked for 45 years.
Why did you want to take on this position?
The governor had decided to make this—attacking the opioid crisis—one of his top priorities. I was asked if I would consider taking this on. I was happily semi-retired and finding things to do 25 or 30 hours a week, enough to keep me out of my wife's hair most of the time. I thought about it, and I thought, "Yeah. Let's see what we can do with this." It's really been a terrific experience. I've learned a tremendous amount, but also I've really enjoyed working with a bunch of smart, hard-working people who are trying to accomplish something that needs to be done.
What progress have you made in the last year and a half?
We decided among all of the hundred different things we need to be doing all at once, we had some top priorities. One of those was to do what we could to help keep people alive. The second was to greatly expand access to treatment, particularly medication-assisted treatment, which is the gold standard for treatment of an opioid-use disorder. We have been sorely lacking in timely access to treatment in Indiana.
Over the last year and a half, the state has certified an additional 34 treatment sites and, on top of that, by the end of this month, we will have opened five new opioid treatment programs, which are the only facilities in the state where methadone can be dispensed.
We have a lot more work left to do. We have a tremendous need for more recovery housing and recovery support—that's high on an agenda, and we'll find a way to make it happen.
What's the ultimate goal?
Substantially reduce the number of overdoses and deaths from overdoses in this state. We also want to do as much as we can to reduce the number of babies that are born with neonatal abstinence syndrome, which happens when a woman is using opioids while pregnant. It's a contributing factor to the high infant mortality rate in this state.
We also want to start putting some pieces in place that can help reduce the risk that we would ever again encounter a similar kind of crisis from the use of an addictive substance.
Are there similarities between this job and your previous one?
[Goodwill] became a sizable and quite complex organization in the last 10, 15 years. During that last decade, the more we had learned about how so many of our social problems are interrelated and reinforce and compound each other, the more we started realizing how we had to start bringing some of the pieces together if we were ever going to substantially reduce some of these problems. Our primary focus was on finding ways to reduce inter-generational poverty. But we found that poverty, low education levels, crime rates, births to young unwed mothers—a whole host of health issues—are all interrelated. So we started finding ways to bring some of the services together internally but also then through relationships with other organizations in the community. And we're doing some of the same types of things here.•
Please enable JavaScript to view this content.