They used to say that downtown Indianapolis rolled up the sidewalks at 6 p.m.

No one says that anymore.

Now they say those sidewalks need to be clean.

Sidewalk cleanliness is important on a day-to-day basis for aesthetic reasons, but even more so when Indianapolis wants to put on its best face for major events like the Final Four, the Indianapolis 500 and the Super Bowl.

Before the NFL championship game comes to Lucas Oil Stadium in 2012, downtown, the interstates leading into the city and other areas will undergo a "white glove" inspection.

Representatives from the city Department of Public Works, the Indiana Department of Transportation, Indianapolis Downtown Inc., the governor's office and, most likely, an NFL event planner, will drive from the airport into downtown. They'll inspect all the major streets, intersections and on- and off-ramps to eradicate graffiti, weeds and other eyesores.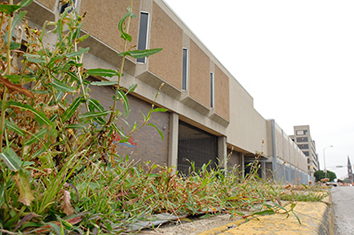 The UGLY: Sidewalks around the former Bank One operations center are overgrown. (IBJ Photo/Robin Jerstad)
"It's always something we're looking at," said Carol Mullins, beautification manager for Indianapolis Downtown Inc., "but we go up one more notch and give it extra emphasis" during major events.

But even when the city isn't putting on its best face for visitors, Indianapolis Downtown Inc. is doing its best to make sure the sidewalks stay clean. Come November, you'll find Mullins walking the downtown Mile Square head down, doing the second of her twice-yearly sidewalk inspections.

"My head isn't all the way down or I'd trip," she said with a smile, "but yeah, that's pretty much how it goes."

For about three weeks, she goes from block to block to block, looking for cigarette butts, weeds growing through cracks, leaky garbage cans and dried gum—those black blotches dotting the concrete—and taking detailed notes to document what she's found.

Properties are rated clean, fair and dirty. Property owners that keep their areas clean get attaboys; those who don't get letters asking them to kindly tidy up. In all, about 1,000 properties covering 370 blocks get the once-over.

This Sidewalk Cleaning Assessment has been going on since 2000. In the first year, 32 percent of downtown sidewalks received a "clean" rating, with 49 percent assessed as "fair" and 19 percent "dirty." This spring, 91.2 percent earned top honors, 6 percent were judged "fair" and 2.8 percent were labeled "dirty."

"When I first came, I thought: Nobody really pays attention to this sidewalk assessment," Mullins said. "Yes, they do. Most of the major property owners pay attention."

Attention to detail

Although compliance is voluntary, they indeed comply.

In the early days of the assessment, the area around 10 W. Market St.—Market Tower—was rated "fair," which is described as some evidence of gum, grease, grime and/or litter. But for the past several years, property manager Colliers Turley Martin Tucker has worked hard to maintain the area.

George Cochran, senior manager in charge of the property, said day porters sweep the sidewalks as many as four times a day in the summer and at least twice a day other times of the year. They also power-wash the sidewalk two or three times a year.

Cochran said it's hard to put a price on how much is spent to keep the area clean, or estimate the number of hours it takes.

"We consider ourselves a premier, class-A facility, and with that goes the fact that you have clean property," he said. "Keeping the sidewalks clean is something that's expected from a building the caliber of ours. It doesn't bother us to have them inspected because we go to great lengths to make sure it looks good."

Adam Boatman, manager of Have a Nice Day Café, 225 S. Meridian St., said he tries to do the same thing. But it isn't easy. Stamped-out cigarettes, spilled drinks and dried gum are the price of doing business when you run a bar.

"They do get dirtier than normal sidewalks," he said. "A restaurant doesn't have the same problem we do, where people are throwing cigarette butts everywhere. But we sweep before the night (begins), sweep at the end of the night and then also wash it down once a week."

Boatman said he considers the sidewalk outside the bar to be clean. Mullins would say otherwise. She'd point out stains on the sidewalk from what look like dried brown liquid and stray cigarette butts.

Mullins walked around downtown with a reporter in tow to explain what she looks for in sidewalk cleanliness. Indianapolis Downtown Inc.'s offices are on the 19th floor of Chase Tower (clean), and Mullins said when she arrives for work at 6:30 a.m., a building maintenance crew is out sweeping with a sidewalk Billy Goat vacuum and brooms.

"Most businesses power-wash first thing in the morning," she said. "They're usually done by 7:30. If you come out early, you'll see them."

Most power-wash up through late fall, after which the water would freeze.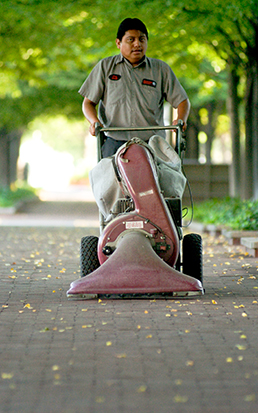 The GOOD:Leonidas Dominguez vacuums leaves at OneAmerica Tower. (IBJ Photo/Robin Jerstad)
At the southwest corner of Ohio and Meridian streets, she notices some dirt. "I would consider this fair to dirty," she said. "There's gunk around the trash receptacle and there's cigarette butts."

Cigarette butts should go into the "ash butlers," those metal receptacles near the trash cans. They've been put in strategic areas that have large amounts of pedestrian traffic—Monument Circle, Washington Street and all around Circle Centre mall. Downtown businesses paid to add them.

OneAmerica outshines all

We get to the OneAmerica Tower, where Mullins is surprised to see a cigarette butt on the ground.

"OneAmerica is the model for cleanliness downtown," she said. "Tree-lined sidewalks, the lawn is well-manicured, the sidewalks are impeccable. They have someone out constantly cleaning and sweeping and going around. I'm surprised they're not out here now."

OneAmerica crews patrol the sidewalks regularly to clean up debris, spills and more, David Marks, vice president of real estate for building owner American United Life Insurance Co., said via e-mail. Marks couldn't put a price tag on how much the company spends on maintenance, but he said the goal is to present a "clean and inviting environment."

Elsewhere along the walk, Mullins notes a faded sticker on the back of a street sign on Illinois Street. "That would be noted" in the sidewalk assessment, she said. When she sees a stray piece of paper on the sidewalk, she picks it up because "if you pick up something from the sidewalk and throw it away, somebody will think twice about throwing it down. Or maybe next time they'll pick it up." And at Monument Circle, she checks to make sure a sidewalk vendor has a grease mat under his cart to keep drippings off the sidewalk.

In the spring, downtown businesses, the Greater Indianapolis Hotel and Lodging Association and the Indianapolis Convention & Visitors Association participated in a cleanup, Mullins said. There's also a cleaning partnership of nearly 700 individuals representing properties downtown. They've agreed to power-wash their walks, pick up litter three times a day and keep their windows clean.

And while businesses on South Meridian Street struggle to keep their sidewalks clean, some have pooled their resources to rent a power-washer.

"I think Indianapolis prides itself on coming together and rallying around the cause and trying to work together," Mullins said. "That's one of Indianapolis Downtown Inc.'s sole purposes—to find that common ground and find solutions for challenges we may see."•