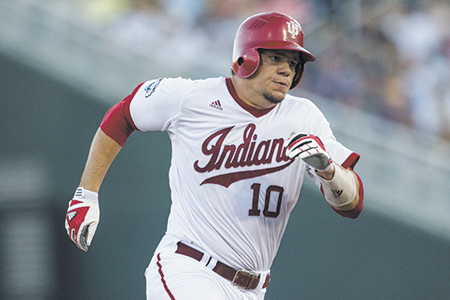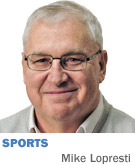 Summertime, and the living is easy—except for college basketball coaches combing through the camps and tournaments, looking for future quick fixes. And we do mean quick. For these are now three of the most troublesome words for the sport:
One-and-done. Aggggggh.
You know how it works. A high school phenom yearns for the NBA but can't be drafted, so he has to put in his year in college, pretending to be a student-athlete. Might even actually go to a class or two. The public hates it (except, of course, for the school's fans on game day). The media hates it. The players hate it. Even the college coaches who owe fame and fortune to the setup—and good morning to you, John Calipari—profess a distaste.
Purdue University President Mitch Daniels wrote a piece for the Washington Post haranguing against it. The commission chaired by Condoleezza Rice, which studied the current mess in recruiting, pointed to one-and-done as a primary culprit. Most major programs have faced it. Indiana might next spring, quicker than you can say Romeo Langford.
The solution? You hear them from all over the sports map. Do this, don't do that. So here's a little thing picked up from the College World Series. You see, high school baseball players dream of the major leagues just as ardently as high school basketball players dream of the NBA. And somehow, the baseball system works.
Which is?
A high school player can be drafted. If he chooses, he's off for professional baseball. If he'd rather develop his game and maybe get a higher pick one day, he can go to college. But once he does that, at a Division I school, he either has to stay through at least his junior season or until he turns 21. No one-and-dones.
The athletes get choices. The colleges aren't forced into being used as one-year layovers. The major-league teams can draft the best high school talent, and if it doesn't work out, they can try again years later. Everyone seems to be happy.
Take a couple of guys with Indiana ties, who took different roads.
Kyle Schwarber was undrafted out of high school, and rather than try to catch on as a free agent in the minor leagues, he chose Indiana University. He stayed three seasons—three great seasons. Then he was drafted in the first round by the Chicago Cubs. Now he has, at last count, 62 big-league home runs and a World Series ring.
Nick Schnell was a highly recruited outfielder this past season from Roncalli. He had chosen Louisville, one of the nation's best college programs. But along came Tampa Bay to take him in the first round. He's going that direction. It's not an easy career path, understand. He's the 14th player to go from an Indiana high school to professional baseball as a first-round pick. Of the other 13, only three have played in a major league game. But it's his call, and it should be.
No muss, no fuss, no controversy. Is it that simple? No, other factors are at work with college basketball—including the ugly underside of unsavory AAU coaches, shoe company influence, street agents. On and on. And there is always the question as to whether one-and-done is a cause of the trouble, or a symptom. Either way, most think it should go. (Just remember, one-and-done is the NBA's rule, not the NCAA's).
So just what to do? Opinions are all over the map. The question was taken to the World Series in Omaha, where some of the finest college coaches in the game had collected. Can basketball maybe learn a little bit from their baseball cousins? Opinions vary with these guys, too.
This was Mike Fox of the University of North Carolina.
"You would think they would at least look at our model and at least ask that question. Now the difference is, you're not looking at apples and apples. But we're so far off with the one-and-done, and [baseball's] three. It seems like they could move a little bit in baseball's direction."
Here was Oregon State's Pat Casey. His team won the national championship, by the way. The first three hitters in his lineup all were juniors who went in the first round of the draft in June.
"I wish I had a good answer for that. I think it is very rewarding to know a young man will go to school for three years. I think you're looking out for his future. Maybe there's a lot more guys drafted in baseball who have a lot less chance of making a living in professional baseball, than a guy who would be one-and-done and a lottery pick [in the NBA]. I think until the NCAA and NBA get together and make a decision, it's going to be difficult.
"I guess I see it from both sides, but as a parent I think I would certainly be comforted by the fact that, if my son was gifted enough to go to school, he had to stay for three years. There's a lot of things going on there beside baseball and basketball that you can learn from. I think that's what kind of gets overlooked."
Now, University of Arkansas' Dave Van Horn.
"There's a fine line there, because you're talking about telling a young man out of high school, 'We can't pay you [as opposed to going in the draft].' I had someone from the Boston Globe call me after Andrew Benintendi [a sophomore who had turned 21] signed, and asked me, 'Coach, how hard did you try to talk him out of not signing?' And I started laughing. He asked what I was laughing about. I said, 'Are you kidding me? I wanted him to sign. I didn't need to deal with the pressure of him coming back, turning down X amount of money.'
"I don't know what college basketball could learn from us. It's a lot different … I would call that a no-comment I guess."
Finally, Texas Tech's Tim Tadlock.
"I think the experience you get in college baseball is a lot better than the backfield on a rookie ballfield. You start comparing it to the NBA, though—it's two different animals. You think of Zhaire Smith at Texas Tech [No. 16 pick in the NBA draft] or Mo Bamba in Austin [No. 6]. I have a tough time telling those two young men not to play in the NBA.
"In each case, each individual, basketball or baseball, you've got to look that young man in the eye and their family and do what's best for them, not what's best for you. And that's where you get in a tough bind, saying, 'Here's the answer,' because it could be different for each family."
No easy and pat way to escape the quagmire, it would appear. But one thing seems clear enough: College baseball's system works a lot better than college basketball's.•
__________
Lopresti is a lifelong resident of Richmond and a graduate of Ball State University. He was a columnist for USA Today and Gannett newspapers for 31 years; he covered 34 Final Fours, 30 Super Bowls, 32 World Series and 16 Olympics. His column appears weekly. He can be reached at mjl5853@aol.com.
Please enable JavaScript to view this content.