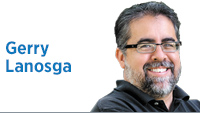 My favorite description of what it means to be a citizen comes from the German philosopher Gunter Grass, who said: "The job of a citizen is to keep his mouth open."
These days, it's getting harder to do that—at least in a meaningful way, with a chance that what comes out of a citizen's mouth might truly be heard by someone in a position of authority.
Public officials at all levels seem to want to minimize their exposure to the voice of the people—unless that voice happens to agree with them—and I suspect it's frustration over that reality that has led to a wave of incidents involving citizens confronting officials in public places.
In recent weeks, citizens at restaurants, movie theaters and other locations have seized the opportunity to address officials, including former Environmental Protection Agency Administrator Scott Pruitt, House Majority Leader Mitch McConnell and Florida Attorney General Pam Bondi.
Some of these officials and their supporters, including President Trump, have responded with cries of harassment and incivility. I agree that officials are people who have the right to eat a meal or watch a movie without being harassed. And sometimes engagement can devolve into harassment.
But incivility isn't a crime, and approaching and criticizing an official in a public place is not harassment. That is simply the price of serving the public in a democratic system.
As the late U.S. Circuit Judge Stephen Reinhart memorably wrote: "Part of our American heritage is the right of all citizens to express their views about politicians, officeholders and umpires, frequently in highly unfavorable terms." Even better: when those officials must actually listen to those views in person.
The guarantees in the First Amendment include the right to petition the government and the right to peaceably assemble. But the ability to meaningfully exercise those rights has been eroding for some time now.
Public protests are often rendered weakly symbolic because of the buffer zones established between demonstrators and those they wish to influence. With security as a catch-all pretext, politicians' tender ears have been far removed from the noise of democracy.
Pruitt, for one, was infamous for his phalanxes of security and first-class travel arrangements that minimized the potential for unpleasant contact with the public he ostensibly served.
Officials from the president on down to an Indiana school superintendent have also silenced the voices of citizens by blocking them on official, publicly funded social media accounts.
We've seen attempts to silence federal employees, efforts to expose the names of individuals involved in Facebook activist groups, and even an attack by a sitting U.S. representative, Greg Gianforte of Montana, on a reporter who asked questions. Hearing of that incident, a Gianforte supporter suggested suspending the First Amendment so legislators could do their work without distraction.
And then there's Milwaukee Sheriff David Clarke, who had his deputies follow and question a man who had the temerity to stop by his seat on an airline and shake his head disapprovingly. "Question for him is why he said anything to me," Clarke told his minions. "Why didn't he just keep his mouth shut?"
These are all of a piece, reflecting a sense of what you might call "ruling privilege," the idea that serving in high office makes officials immune to challenge—except at the ballot box once every two or four years. Otherwise, the message to citizens seems clear enough, contra Gunter Grass: Don't keep your mouth open. Just sit down and shut up.•
Click here for more Forefront columns.
__________
Lanosga, a former reporter, is a journalism professor at Indiana University and president of the Indiana Debate Commission. Send comments to ibjedit@ibj.com.
Please enable JavaScript to view this content.