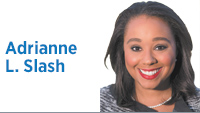 Another summer has come and gone, and the kiddos are on their way back to school. This summer, violent crime has been on the rise, and it's creeping into our teens. We have to do something.
In prior summers, we have seen faith-based and parent patrols of downtown on weekend nights to encourage positive behavior of youth. Over time, teens have moved from mall to mall, to the Central Canal, to random street corners or parks. Nevertheless, one thing remains: They have nowhere that they are encouraged to go and "just be."
Ask any privileged teen and they will tell you they can wander the mall at length or loiter at their leisure. They will also tell you it's not fair that other teens face a militarized presence for merely hanging out. Are they unruly? Sure. So why not use their interest in socializing as an opportunity for growth?
Indy has become an amazing tourism destination for families with school-age children. Our museums, trails and other feature destinations are all you could ask for. What similar accommodations have we made for the teenager who wants to unwind on the weekend or during the summer? I applaud Project Indy and its partners for hiring our teens for the summer and giving them a place to be or a reason to not mess up. But what about the balance of their time?
Boys and Girls Clubs, YMCAs, community centers, parks and other youth hubs close early, and they are underfunded and under-staffed to accommodate activities like album-listening parties, internet cafes, slam-poetry lounges, and open-gym play spaces that are greatly desired by today's teens.
It's easy for us to say that, when those places are closed, teens "should be with their parents." What happens if their parents work on the weekends? What happens when their parents work at night? They find places to be and things to do, many of which are negative.
How much longer will we ignore their need for a place to just be and to socialize? How much longer will we look at roaming teenagers as a problem, instead of a demographic to groom?
If we're not interested in teens taking up "our spaces," let's create them a space. I envision a place where they can operate their own ecosystem under the guidance of youth professionals teaching them to be referees in the gym, to do maintenance and upkeep, to run a cafe, to manage employees and stock, to DJ, to run logistics on an evening show, etc. They'll get what they need (to socialize) and we get what we need (the opportunity for them to learn conflict resolution, community building and relationship building).
Here in Indy, we're innovators and trendsetters in the education world, tourism and sports industries. Who's to say we can't do the same for our teens?
I really #LoveIndy and can't imagine another place to call home. But civic pride doesn't happen overnight. You have to believe that your city loves you back. To countless teens within our urban core, we're constantly sending them the message: "We don't want you here." And yet, we want them to see Indy as the place they choose to live, work and play. If I didn't feel welcomed, wanted or encouraged to live, work and play here, I wouldn't be proud of it, either. Would you?
Keeping young talent here begins with investing inclusively and rolling out the red carpet for all of our youths' developmental needs—character and social development included.•
Click here for more Forefront columns.


__________
Slash is a diversity and inclusion consultant in the health care industry and is president of The Exchange at the Indianapolis Urban League.Send comments to ibjedit@ibj.com.